Apple released its newest version of iTunes, and it's a complete overhaul to the entire program. As you'd expect, that means there are a few cool (somewhat) hidden features. Here are some we've found especially helpful.
With any new iteration of software you're bound to have a bit of a learning curve as you get used to it. iTunes  11 is no different, and the first thing you're greeted to when you launch it is a completely different main screen. The big news with iTunes 11 is the new interface, but hidden beneath that is some pretty cool functionality you might not notice at first glance.
Yes, you can get the old iTunes look back (sidebar and all)
Let's start with what we're guessing is most people's main gripe: it looks different. It's true, it does, and if you're not a fan of browsing your music library with giant covers, and navigating drop-down menus, iTunes 11 is a bit annoying. The good news? You can get the old look back:

Get the sidebar back by clicking View > Show Sidebar (or hitting Alt+Cmd+S).
Get the status bar back by clicking View > Show Status Bar (or hit Command+/).
Click Songs in the top bar, and sort by Artist for the traditional list view.
Now, iTunes 11 should look about the same as iTunes 10.
Scan iTunes gift cards with your camera
Entering in the code from a gift certificate is always a bit annoying. With iTunes 11, all you need is a camera:
Head into the iTunes Store, and Click "Redeem" at the bottom of the screen under the "Manage" list (or click this link)
Click "Use Camera"
Hold your gift card up to the camera and wait for it to register.
That's it! No more fumbling around typing a random string of letters and numbers together.
Expanded view replaces cover flow
Cover Flow is gone in iTunes 11 and it's replaced with the new "Expanded View." When you're viewing your library by Albums, simply select an album, and you get an expanded view right there with all the album info. It works a lot better than Cover Flow and makes it so you can quickly view album info without leaving the place you're at. You can either click the album art again, or the "X" in the right corner to make it go away.

Also, a fun fact: Expanded View uses the album artwork as a background for the view (see image at right), so it creates a different background for each album. You can disable this if you want under iTunes > Preferences > General Preferences. Just uncheck the "Use custom colors for open albums, movies, etc" box.
The 'up next' feature is actually awesome 
Ever have those moments where you're listening to a song and it reminds you of another song? You don't want to stop the song playing, but you do want to cue up the song you're thinking of. That's what "Up Next" lets you do. Instead of creating playlists for everything, you can create on-the-fly playlists of songs or albums.

You can do this from anywhere. Just right-click an album, artist, or song, click "Add to Up Next" and it's added to the queue. You can also click "Play Next" instead to add it to the top of the queue. To see what's in your queue, click the list button in the middle of iTunes, and to view the previously played tracks, click the little clock icon. "Up Next" replaces iTunes DJ/Party Shuffle, so if you're looking for those, you won't find them.
Your place is now saved across devices 
If you use a bunch of Apple products, say, an iPhone, iPad, and iPod Touch, one of the best new features in iTunes 11 is that it saves your progress in your media across all devices through iCloud. So, if you pause a movie, TV show, podcast, audiobook, or iTunes U file on your desktop, you can pick up right where you left off on another device. 

MiniPlayer is more functional
In older versions of iTunes, the MiniPlayer didn't do much except allow you to pause or skip tracks. Now, MiniPlayer allows you to search for new tracks, add new songs to the "Up Next" queue, and even control AirPlay volume.

To enable MiniPlayer, just click the window icon in the top right corner and iTunes will shrink down. When you mouse over the window, you can control playback or search for new tracks. Otherwise, it displays the currently playing track.
Preview history tracks what you listen to in the store 
The iTunes Store now tracks everything you listen to in its preview history panel. When you're in the store, click the list icon in the top right corner, and you're shown all the stuff you listened to recently. You can hit "Clear" to get rid of everything in the list Also worth noting is that provided you're signed in with iCloud, your previewed tracks on all your devices will sync here. So, if you preview a song on your iPhone, it will show in your preview history in iTunes.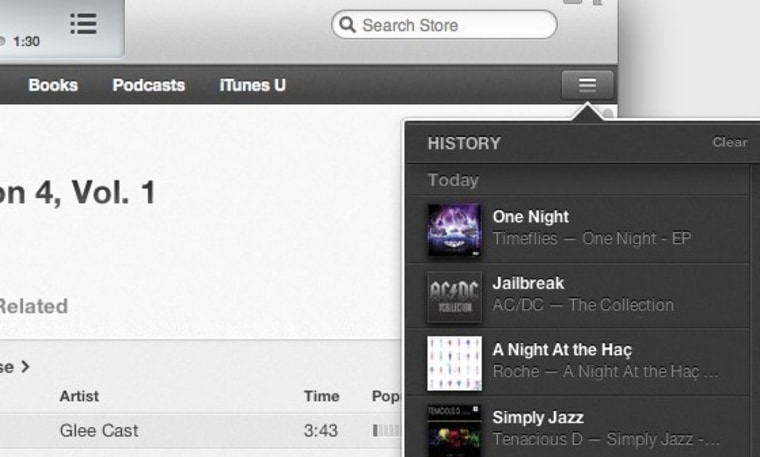 Search is now universal 
This isn't the most earth-shattering of news, but in iTunes 11 you have two main search areas: the store and your library. That's it. In previous versions you had to search separately for video, music, or podcasts. Now, it searches your entire local library, or the iTunes store for everything.

Also nice is the instant search results you get. Start typing a search, and iTunes starts delivering you results. Select what you want, and you're taken there directly. It's simple, but it works really well.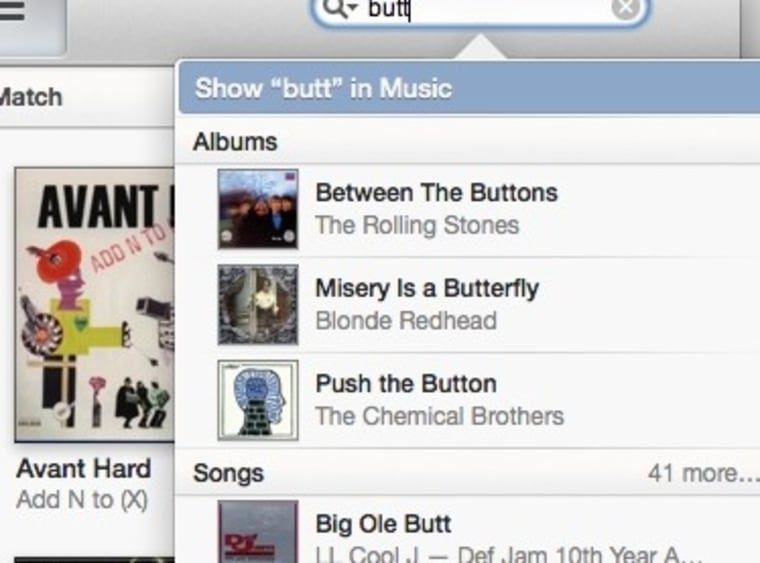 Apps get a list view for easy trimming
One of the most annoying things to do in older versions of iTunes was trimming down the apps downloaded on your computer. You had to do it in the Apps panel with large icons that seemed to take forever to load. Now you can do it with in a List View, and it supports the same basic sort options you get with music (Date Added, Purchase Date, Size, etc).

All you need to do is select the Apps tab, then click "List." This should come in really handy when you're cleaning out old apps you don't use anymore. Reader shafnitz points out this view has been around a little while, but if nothing else it's more prevalent now.