When the iPad Mini first appeared in stores along with the full-size fourth-generation iPad, they came in the Wi-Fi-only configuration. Those who wanted an iPad Mini that ran on a super-fast 4G LTE cellular network had to wait, like, 1000 million hours. Or — in non-fanboy terminology — exactly two weeks. But how (and when) buyers will track them down depends on whether they're an AT&T, Sprint or Verizon Wireless customer.
(Sorry, T-Mobile folk, the no-iPhone thing applies to iPads and all other manner of iProduct as well.)
If you are on AT&T, and you like AT&T service, I've got some good news for you. The $100 "instant savings" AT&T is offering on tablets applies to the iPad Mini, so you'd pay $359 rather than $459. But you have to pledge allegiance to AT&T for two full years. If you are commitment-phobic, you can buy it at $459 and pay as you go.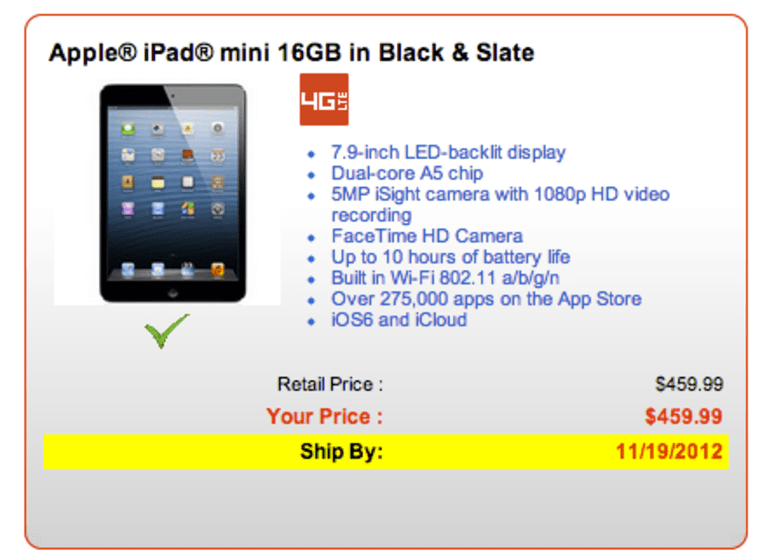 Likewise, the new larger iPad can be had for $529, rather than the typical $629, but only if you enter into the agreement.
Just because they're on sale doesn't mean you'll get one right away. At the time of publishing, AT&T promised that an iPad Mini would ship in 7 to 14 business days, while a fourth-gen iPad would ship in 5 to 7 days.
If you want to skip shipping and get one at the AT&T store, call first. AT&T tells us that some stores did get the new iPads, but they are in short supply.
Verizon — which is only offering the iPad models without contract, at full price — is promising shipping a little sooner, at least for now. Order today and the device will ship by Nov. 19, according to  the Verizon website. And if you like a bigger iPad, guess what? The fourth-generation iPad appears to be shipping right now, with no delay.
It doesn't seem like Verizon is stocking the 4G iPad Mini in stores at this point, though if you call around, you may get lucky. (We've asked Verizon to elaborate on this, and will update if they get back to us.)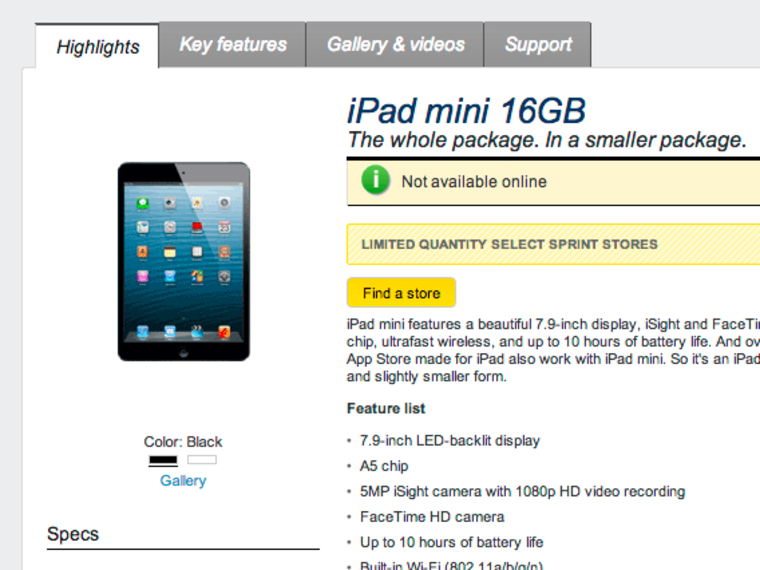 Sprint, like Verizon, is also selling the new tablets at contract-free regular pricing. However, the third-place carrier is currently not offering the iPad Mini online, saying instead that there are a "limited quantity at select Sprint stores." Translation: Call first. And be quick about it!

As for Apple Stores, at this point they do not appear to be carrying the 4G iPads, and the Apple retail website is promising shipping in 2 weeks. If you want one the fastest, it seems that at the moment, your carrier is probably your best bet.
If you don't have a preferred carrier, there are good reasons to shop around. Our friends at Laptop just wrote up a piece detailing the key issues, mainly pricing and 4G LTE availability, so have a read!
Wilson Rothman is the Technology & Science editor at NBC News Digital. Catch up with him on Twitter at @wjrothman, and join our conversation on Facebook.