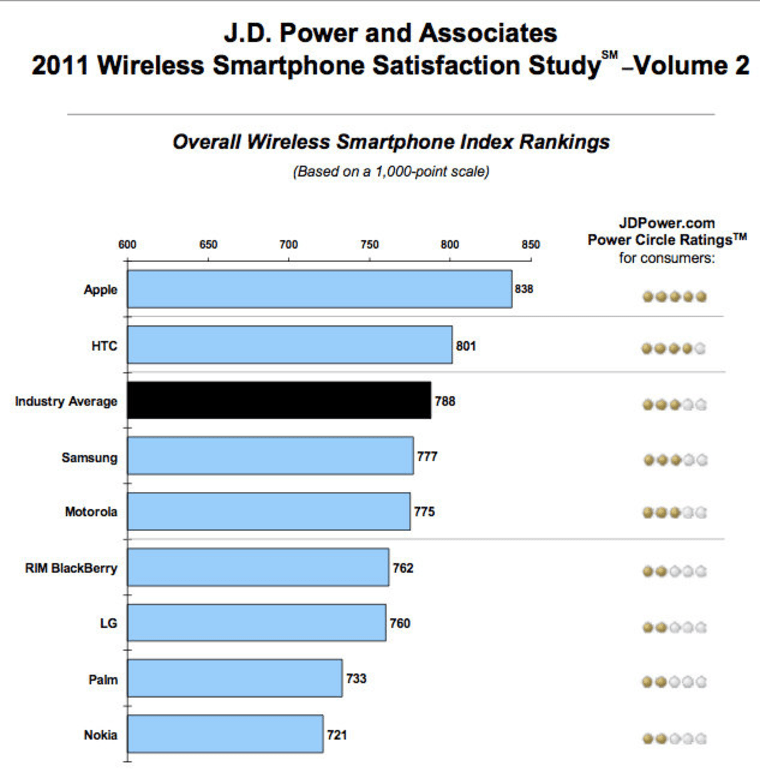 For the sixth straight time in three years, Apple's iPhone ranks highest in customer satisfaction for smartphones, according to J.D. Power and Associates' 2011 U.S. Wireless Smartphone Customer Satisfaction Study. HTC, maker of both Android and Windows smartphones, is second.
When it comes to more traditional cellphones, or feature phones, Samsung ranks highest in customer satisfaction, getting good marks for performance, ease of operation and features. Behind Samsung are LG, Sanyo and Sony Ericsson. Samsung also was No. 3 in smartphone customer satisfaction, followed by Motorola, RIM (BlackBerry), LG, Palm and Nokia.
J.D. Power does the smartphone and "traditional mobile phone" satisfaction studies twice a year. The smartphone study is based on experiences reported by 6,898 smartphone owners; the traditional phone study, on 8,775 cellphone owners; both studies were done between January and June.
In order of importance, the key factors of overall satisfaction for smartphones are: performance (35 percent); ease of operation (24 percent); features (21 percent); and physical design (20 percent). For traditional mobiles, it's: performance (31 percent); ease of operation (24 percent); physical design (24 percent); and features (20 percent).
Among the other findings about mobile phone costs and apps released Thursday:
$71 is the price of a traditional wireless mobile phone, "compared with an average of $81 at the beginning of 2009. The decline is primarily due to discounts provided by handset providers and wireless service carriers to incentivize sales." Indeed, 42 percent of traditional cellphone owners say they got a free phone when they signed up for a contract.
More than two-thirds of smartphone owners say they have downloaded games and social networking apps to their phones; 54 percent have downloaded entertainment-oriented apps; and 52 percent, travel software such as maps and weather apps.
And, while 4G, or fourth-generation, wireless is still becoming a reality for most of the country, those smartphone owners who do have devices labeled as 4G are "highly satisfied" with them, J.D. Power says, more so than customers using 3G, or third-generation, wireless devices (which most smartphones are now, including Apple's iPhone).
Size — both of phones and their screens —matters greatly, giving heft (so to speak) to "the old adage that 'thinner is better,' " says J.D. Power. Highest customer satisfaction is with smartphones that don't weigh more than 5 ounces and are less than .45 inches thick.
Touchscreen-only smartphones "generate considerably higher satisfaction with ease of operation (817 points) than either QWERTY-only based devices or those that have both a touch screen and QWERTY functions (785 and 782 points, respectively)," J.D. Power says.
Phone camera megapixels matter, too, say users. Phone cameras "with at least  5 megapixels achieve nearly as high a satisfaction score as those smartphones with 8 megapixels or more."
"It's not unexpected that satisfaction is higher for devices that have new technological advances or features," said Kirk Parsons, senior director of wireless services at J.D. Power and Associates, in a news release.
"Having the right combination of physical dimensions and operating functions and features for both smartphones and traditionally equipped devices is key to creating an exceptional ownership experience with each type of wireless device."
Below is msnbc.com's Wilson Rothman's report from a few months ago about HTC's phone quality, if you want to learn more about the Taiwanese-maker of popular mobiles.
Related stories:
Check out Technolog, Gadgetbox, Digital Life and In-Game on Facebook, and on Twitter, follow Suzanne Choney.