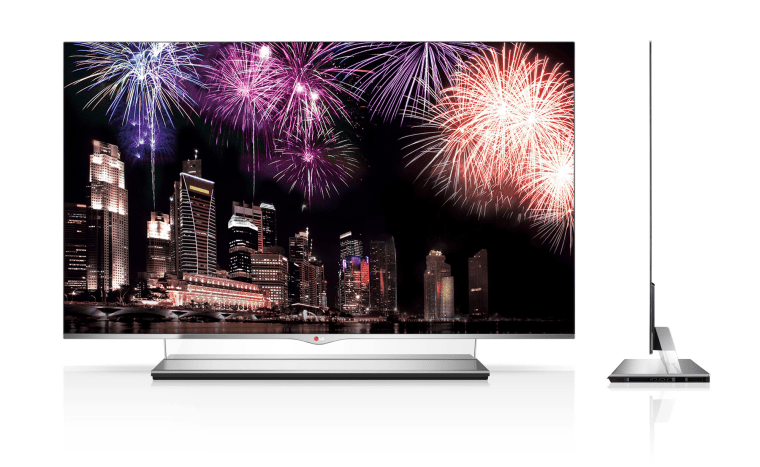 Missing a 2012 delivery date, LG announced on Tuesday that it will release the first 55-Inch OLED HDTVs in Korea in early February 2013, after a year of delays due to reported production problems, at a price of just over $10,000. LG will discuss the TV's U.S. availability and retail price in the next few weeks.
Over 1,400 Korean store fronts will begin taking orders Jan. 3 for February delivery on the 55EM9700. LG said it is going to ramp-up production to take the lead in a big-screen OLED TV market that, according to research firm DisplaySearch, will likely reach 7.2 million units by 2016.
Today's current LCD and LED LCD TVs rely on light bulbs (whether fluorescent or a few dozen white LED lamps) to illuminate the image. The light from these lamps or bulbs must pass through the LCD panel before reaching the surface of the TV, causing most of the light to be beamed toward viewers sitting closest to the center of the screen. As one moves off-center, the LCD image dims, contrast decreases and colors tend to shift and desaturate.
OLEDs emits light directly from the surface, extending the viewing angle to 180 degrees and providing superb, highly saturated colors without the dimming, color shift or loss of contrast seen on LCDs and LED LCDs.
"Organic light-emitting diode TVs offer the promise of the best picture quality ever (and yes, we're including CRT)," wrote HD Guru's Geoff Morrison last year, when the first OLED big screens were shown off. They're all that, while being thinner and more power conserving than today's best flat-panels.
The 55EM9700 is the tabletop version of a similar model that was first shown at the 2012 Consumer Electronics Show almost one year ago. The production version weighs in at 22 pounds and has a screen thickness of just 0.16 inches.

LG U.S. public relations added that "other markets where the TV will be available will be announced over the next several weeks, along with their respective prices." This will include an announcement of U.S. availability.
Have a question for the HD Guru? Send an email.
More from HD Guru: