Microsoft Thursday launched Windows 8, the latest version of its operating system, a version it hopes will be modern enough to keep existing users and draw new ones to it.
Steven Sinofsky, president of Windows and Windows Live, kicked off the event in New York City by saying that Microsoft is celebrating the global availability of Windows 8 on Thursday. 
Sinofsky revealed that WIndows 7, the prior version of Microsoft's desktop operating system, has sold more than 670 million licenses. Yes, over 670,000,000 copies of Windows 7 are out there in the world, on people's computers. Windows 8 uses Windows 7 as its foundation, so naturally there are high expectations. The new operating system has undergone more than 1,240,000,000 hours of testing, according to Sinofsky.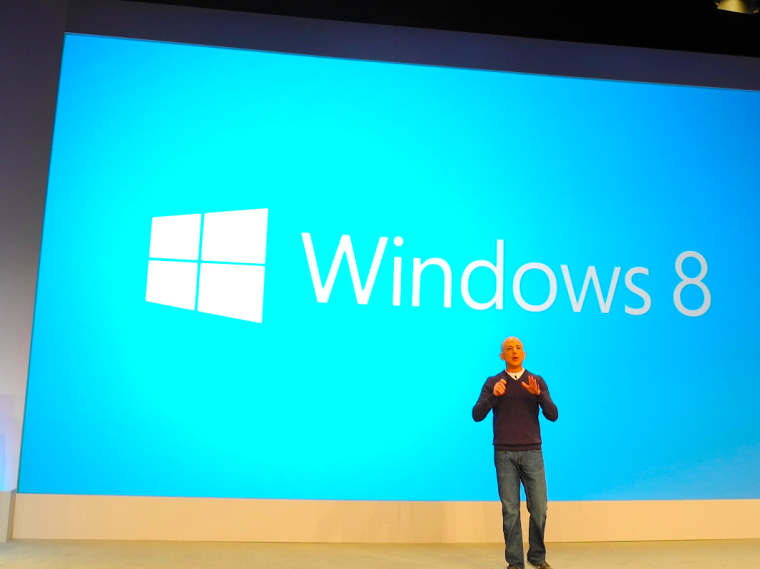 Sinofsky referenced the days when we were basically "living in caves," the time of Windows 95. He used memories of that era to emphasize just how far Microsoft's operating system has come. Now, more than 1,000 PCs have been certified for Windows 8, bringing on what the folks at Microsoft describe as a new era of computing (and of Windows).
Sinofsky did at one point acknowledge that some folks might call out Microsoft's newly launched app store for having a small selection of apps, in comparison to what is available on other platforms, such as Apple and Google.
"We see today as a grand opening, and a very strong one," he said. And he says that there are more apps in the Windows app store than there were in any competitor's at launch.

Microsoft executives Mike Angiulo and Julie Larson-Green offered a demonstration of Windows 8 on older (and updated) devices, as well as on new gadgets. They emphasized how the new operating system runs significantly faster than its predecessor on older devices — cheers were heard from a group in the audience when this detail was pointed out — but focused on all the new Windows 8 devices hitting the market right now.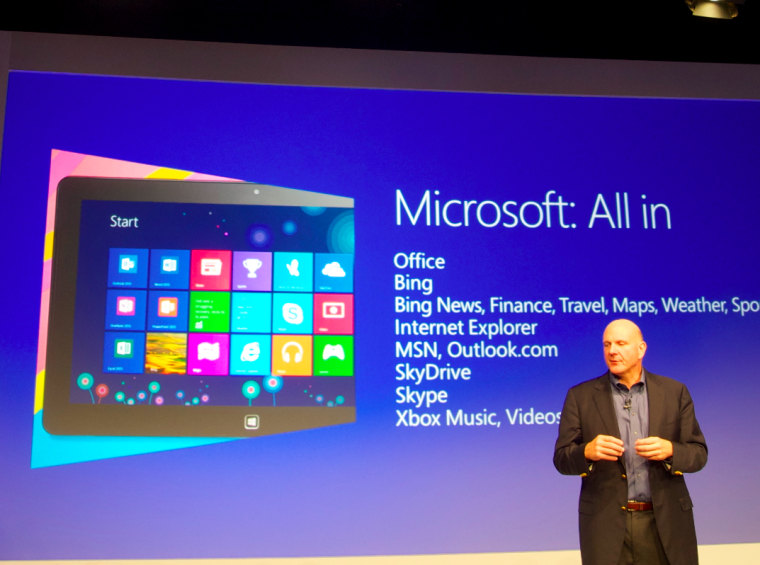 After Angiulo and Larson-Green wrapped up their demonstration, the booming voice of Microsoft CEO Steve Ballmer flooded the event space. "It's an exciting day," he declared.
Ballmer walked everyone, once again, through the basics of the Windows 8 ecosystem, declaring several features as working  "magically."
With Windows 8, "seeing, touching, clicking, and swiping is really believing," Ballmer says. "Welcome to the world of Windows 8."
Want more tech news or interesting links? You'll get plenty of both if you keep up with Rosa Golijan, the writer of this post, by following her on Twitter, subscribing to her Facebook posts, or circling her on Google+.