A new collaboration between notebook maker Moleskine and media syncing app Evernote is a good example of analog and digital in harmony instead of conflict. 
The product announced Friday is a special line of notebooks designed specifically to work with the Evernote, a service and an app that, among other things, syncs documents and media between devices. The app allows you to take a picture of a page of text and art and have it automatically adjusted and scanned for text; the new notebooks have a special dotted rule that Evernote claims is optimized for their image processing.
In addition to the scanning feature, which is useful but not limited to Moleskine products, the notebooks will come with several pages of small stickers which, when scanned by the app, will add tags and other functions to the resulting document. For instance, in digitizing a few pages of logo designs, a check-mark sticker could be placed next to the best one, making it easy to find and link to online.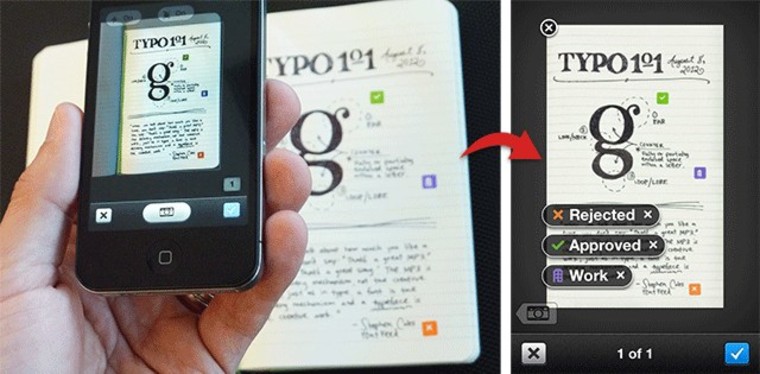 Moleskine's CEO, Arrigo Berni, spoke with NBC News regarding other crossovers between Moleskin's analog paper world and the fast-moving digital one.
Berni confirmed that the company is looking into adding further functionality to the Moleskine ecosystem; when asked about other services and partners that Moleskine might be interested in working with, he said "there certainly will be" other partnerships in the "future." For example, he aid, Moleskine is "working with a print-on-demand company" to enable the movement of digital to analog, just as the Evernote partnership enables the opposite.

But regarding tie-ins and co-branding, Berni is cautious. For items like cases for phones and tablets, the problem is mainly technical: "The challenge for us on that front is keeping up with the pace of innovation in the industry," especially since companies like Apple don't like to share details of new products beforehand. "What we've decided to do now is to design cases that are versatile enough to fit multiple tablets," he said.
Moleskine created an iPad app some time ago, and a new version just went live Friday that Berni believes is a major plus, improving the look and adding Evernote syncing. But as for making or branding their own device? 
"We've given it some thought in passing — but you have to be careful," he said. "With Moleskine you're dealing with a very small brand." What people seek in Moleskine products is what Berni called "the intangible dimension: the aesthetics, the design, the culture." Trying to stretch that too far can dilute the brand and frustrate consumers.

Berni noted that the nature of content creation was changing, though, with powerful digital tools increasingly supplanting pen, paper and brush — "it's not a matter of if, it's a matter of when," he said. But as the company demonstrates, digital and analog don't have to exist entirely separate from each other, and it's happy to be working on tools that help bridge that divide.
The new "Smart Notebooks" are available for pre-order in gridded or ruled versions on Moleskine's website, and buying one will get you access to Evernote's premium services for three months. A pocket-sized version will run you $25, and a larger one goes for $30. 
Devin Coldewey is a contributing writer for NBC News Digital. His personal website is coldewey.cc.