A new survey by children's book publisher Scholastic shows major increases in e-book reading among youths, though fully half have yet to try it. And lovers of paperbacks will be glad to hear that print books are still putting up a fight, even among younger children.
The survey asked more than 1,000 children and teens ages 6-17 and their parents about their reading habits; the first portion pertained to e-books.
Perhaps the most important statistic was that 46 percent of youths have read an e-book, almost double the amount who had in 2010. And e-reading parents nearly tripled, from 14 to 41 percent.
The biggest increases in e-reading activity were seen on portable devices: Just 3 percent of youths reported reading books on an iPad in 2010, and 7 percent had used an e-reader then. Now, one in five is using those devices — no doubt due to their improving quality and plummeting prices.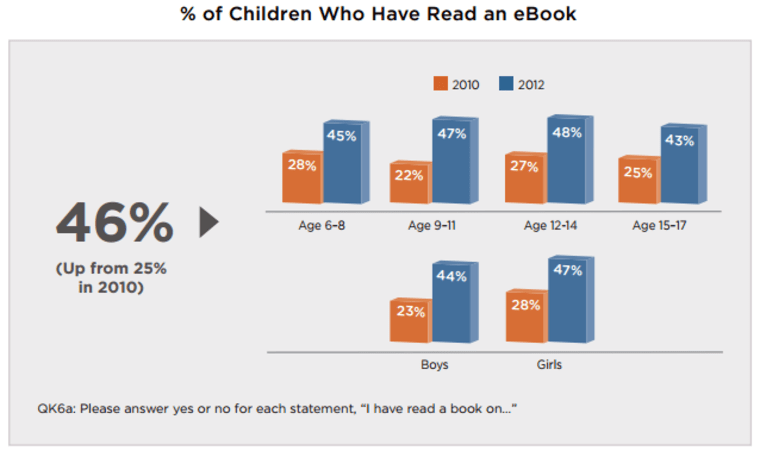 But they're' not using e-readers at school — three-quarters of kids reported reading their e-books at home, while 25 percent said they did so at school. Tight budgets mean difficulty in obtaining the dozens or hundreds of devices needed to equip entire classes, so for now reading on mom's iPad is the more common method.
Paper isn't being left behind, though; in fact, 80 percent of kids reported that when they read for fun, they read print books. They cited being able to share books, the superior text quality, and of course the more intangible benefits of paper: "Books are cozy like a friend," a 13-year-old girl in Georgia told Scholastic in the survey.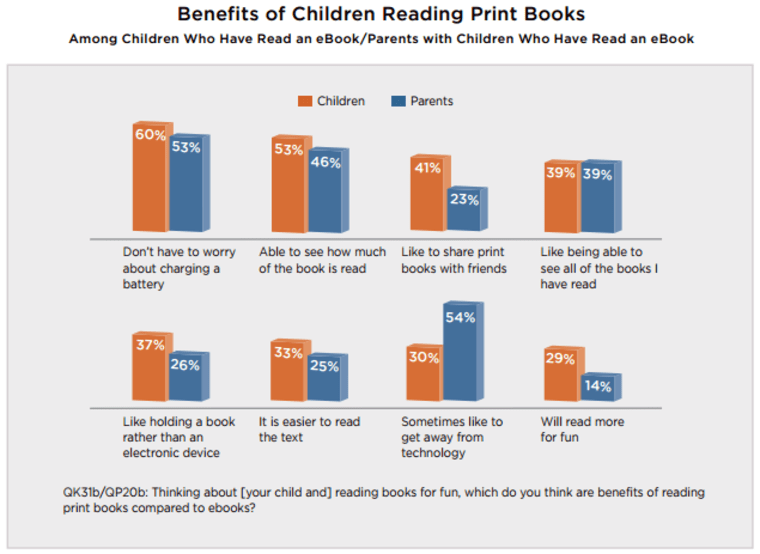 Another survey participant, a 15-year-old girl in Ohio, observes that "Books in print you keep forever." It's telling that even kids are wary of the necessity of keeping your e-books in sync with accounts and devices, while regular ones will be there no matter what.
Unsurprisingly, though, far more parents than kids reported reading print books because they "sometimes like to get away from technology." Perhaps that's because, unlike their children, parents can remember a time before computers existed at all.
The rest of the Scholastic study, which includes broader topics relating to reading behavior, can be downloaded here.
Devin Coldewey is a contributing writer for NBCNews Digital. His personal website is coldewey.cc.