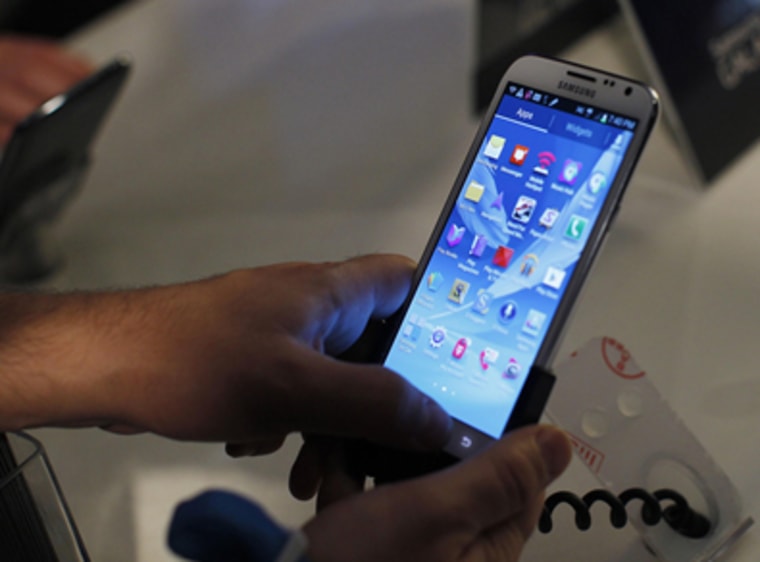 SINGAPORE/HONG KONG —  Call it phablet, phonelet, tweener or super smartphone, but the clunky mobile phone — closer in size to a tablet than the smartphone of a couple of years back — is here to stay.

A surprise hit of 2012, it is drawing in more users, more handset makers and is shaping the way we consume content.
"We expect 2013 to be the year of the phablet," said Neil Mawston, UK-based executive director of Strategy Analytics' global wireless practice.
While Samsung has blazed a trail with its once-mocked Galaxy Note devices, now other manufacturers are scurrying to catch up.
At this week's Consumer Electronics Show in Las Vegas, Chinese telecommunications giants ZTE and Huawei Technologies Co (HTC) will launch their own.
ZTE, which collaborated with Italy's designer Stefano Giovannoni for the Nubia phablet, is scheduled to launch its 5-inch Grand S, while Huawei brings out the Ascend Mate, sporting a whopping 6.1-inch screen, making it only slightly smaller than Amazon's Kindle Fire tablet. 
"Users have realised that a nearly 5-inch screen smartphone isn't such a cumbersome device," said Joshua Flood, senior analyst at ABI Research in Britain.
Driving the phablet's shift to the mainstream is a confluence of trends. Users prefer larger screens because they are consuming more visual content on mobile devices than before, and using them less for voice calls - the phablet's weak spot.
And as Wi-Fi-only tablets become more popular, so has interest among commuters in devices that combine the best of both, while on the move.
According to the latest Ericsson Mobility Report, the monthly data traffic for every smartphone will rise fourfold between now and 2018 to 1,900 megabytes.
The upshot is a market for phablets that will quadruple in value to $135 billion in three years, according to Barclays. Shipments of gadgets that are 5 inches or bigger in screen size will surge by nearly nine-fold to 228 million during the same period, though estimates vary because no one can agree on where smartphones stop and phablets start.
But that's the point, some say.
"I think phone size was a preconceived notion based on voice usage," said John Berns, a Singapore-based executive who works in the information technology industry. He recently upgraded his Note for the newer Note 2 and bought another for his girlfriend for Christmas. "Smaller was better until phones got smart, became visual."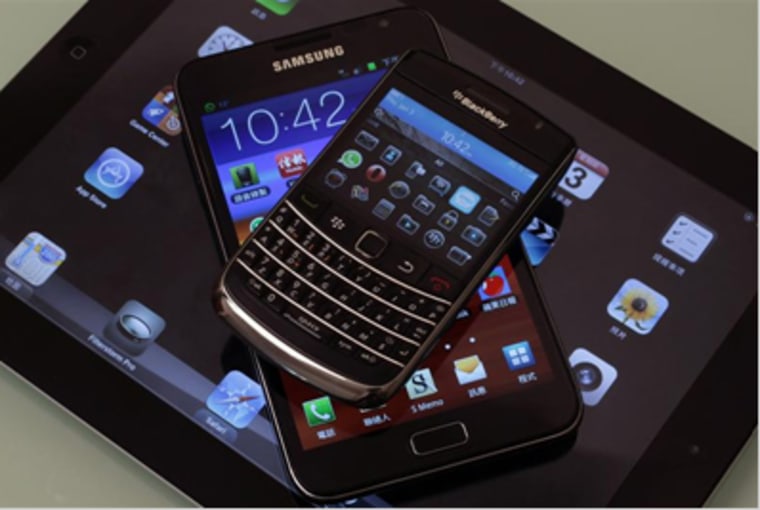 Samsung has been both the engine and beneficiary. While other players shipped devices with larger screens earlier — Dell launched its Streak in 2010 — it was only when the Korean behemoth launched the Galaxy Note in late 2011, with its 5.3-inch screen, that users took an interest.

"The Streak was launched at a time when 3-inch smartphones were standard and the leap to a 5-inch Streak was a jump too far for consumers," says Strategy Analytics' Mawston.
"The Galaxy Note was launched when 4-inch smartphones had become commonplace, and the leap to 5-inch was no longer such a chasm." 
The bigger, the better
Since then Samsung has bet big on bigger: its updated Note has a 5.5-inch screen and its flagship Galaxy S3 — the best-selling smartphone in the third quarter of 2012 - has a screen that puts it in the phablet category for some analysts.

Samsung accounted for around three quarters of all phablets shipped last year, according to Barclays' Taipei-based analyst Dale Gai.
Samsung's marketing heft has paved the way for others. LG Electronics Inc accounted for 14 percent of shipments in the third quarter of last year, according to Strategy Analytics.
HTC Corp's 5-inch Butterfly — called the Droid DNA in the United States — has been selling well in places where Samsung is less dominant, according to Taipei-based Yuanta Securities analyst Dennis Chan. The first batch sold out soon after its December launch in Taiwan.

"I don't think we can say that Samsung invented phablets," said Lv Qianhao, head of handset strategy at ZTE. "But it did do a lot to promote this product category, which helped create tremendous demand."
Phablets are also proving popular in emerging markets.
A poll of nearly 5,000 readers of Yahoo's Indonesian website chose Samsung's Galaxy Note 2 as their favourite mobile phone of 2012, ahead of the iPhone 5.
Kristian Tjahjono, a technology journalist who posted the poll, said phablets were a natural fit for Indonesians who liked tablets but also liked making phone calls.
But while those in such markets who can afford them are going for the high-end devices, the door is opening for cheaper models. Tjahjono pointed to Lenovo's 5-inch S880, which has a lower resolution screen and sells for about $250, which is around a third of the price of Galaxy Note 2. 
Sweet spot
Falling component prices will add to demand. The total cost of an upper-end phablet, its bill of materials, will likely fall to 2,000 yuan ($323) this year, says Gai from Barclays, and will halve within two years.

"One thousand yuan is a very sweet spot for China," he said.
India is also a fan.
Vivek Deshpande, who manages global strategy for Shenzhen-based mobile phone maker Zopo, says that while the Indian and Chinese markets are different, they both share a common appetite for aspirational devices: phones big enough for their owners to show off. This is changing the direction of lower end players.
"Zopo's primary focus is now on phablets," said Deshpande.
Even Samsung is pushing its own creation downmarket: In Las Vegas it will unveil the Galaxy Grand, a 5-inch device that lacks some of the resolution and muscle of its bigger brethren but will be aimed at markets like India. There is a version offering a dual SIM slot, a popular feature for those wanting to arbitrage cheaper call and data plans.
As phablets slide into the mainstream, handset makers are trying to find ways of differentiating.
As well as hiring Italian designer Giovannoni better known for his minimalist, sleek bathrooms, ZTE also came up with an onscreen keypad that inclines to one side of the screen, depending on whether the user is left- or right-handed.
Samsung, however, not only has first mover advantage, it can also build on its expertise in display.
Barclay's Gai says Samsung is expected to introduce a thinner, unbreakable AMOLED screen which will leave room for bigger batteries.
"That will put Samsung in good stead to still dominate the market," he said. Despite pressure in China, Gai estimates Samsung's share of smartphones with 5-inch or larger screens to fall only from 73 percent in 2012 to 58 percent in 2016, which is still the lion's share.
By then consumers will see the phablet for what it is, says Horace Dediu, a Finnish analyst who runs a technology blog asymco.com. Its rise is part of a wider march of computing power into wherever we reside — the living room, the train, bed or work.

"It makes sense that we're moving towards a time where we are served not by a computer or a netbook or a phone, but rather that we have these screens scattered around and available for us to play with," he said. "In a way the phablet is not a bulky phone but a very delicate computer." 
(c) Copyright Thomson Reuters 2013. Check for restrictions at: http://about.reuters.com/fulllegal.asp