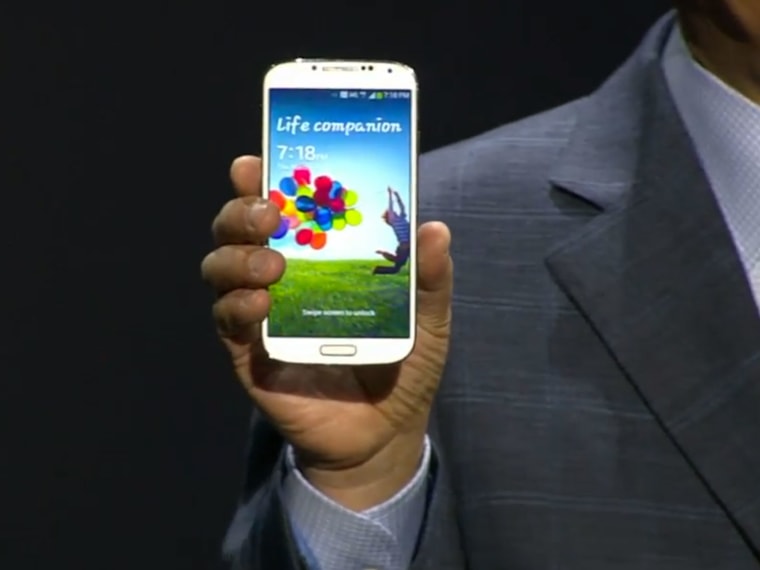 Samsung showed off the all-new flagship Galaxy S 4 in a Broadway-themed stage show at Radio City Music Hall in New York on Thursday.
Though it looks at a distance like the Galaxy S III, make no mistake: It's bigger, but thinner and lighter at the same time. And as you might expect, it comes with a lot of new Samsung-designed tricks to differentiate it from the rest of the Android smartphone herd.
"With a new Samsung Galaxy, you're going to experience life without boundaries," Samsung's master of ceremonies, Broadway actor Will Chase, declared before introducing JK Shin, head of Samsung's mobile communication division to the crowd in Radio City Music Hall.
"We always have smartphones with us," Shin explained, listing off the roles smartphones play in our lives, briefly asking the audience members to imagine just how they can share, capture, and incorporate media before handing the show back to Chase and Ryan Bidan, Samsung's director of product marketing.
Also read: Zero contact: Galaxy S 4 senses your gaze and hovering finger
The theme of the new phone is "less to hold, more to see." The device is ridiculously thin, measuring in at 7.9 millimeters, and weighs only 130 grams. Despite this tiny footprint, the phone has a full 5-inch 1080p Super AMOLED screen with 441 pixels per inch (ppi). The iPhone 5 offers merely 326 ppi, though in truth, there's a point, somewhere around 300 ppi, at which it's impossible for most human eyes to tell the difference.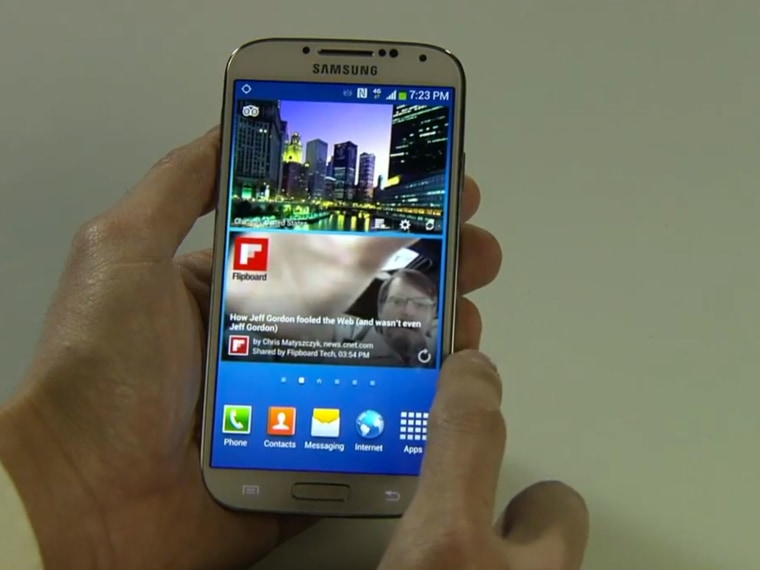 The body of the Galaxy S 4 is made of polycarbonate and it comes in two colors, "black mist" and "white frost." On the inside, there are 2GB of RAM plus 16GB, 32GB or 64GB of storage, but you can add an additional 64GB via the MicroSD slot. (You can see the nerdiest specs in a slide at the bottom of this article.)
The camera on the back has a whopping 13 megapixels, while the front-facing cam has 2 megapixels.
It's hard to ignore that the Galaxy S 4 strongly resembles its predecessor, the Galaxy S III. Samsung focused on the guts and features of its device this time, rather than changing its appearance.
The phone will roll out to 155 countries starting at the end of April. In the U.S., it will be carried by AT&T, Sprint, T-Mobile and Verizon Wireless, as well as US Cellular and Cricket. U.S. pricing has not been announced, but you can bet it won't be a bargain basement model, more likely priced to compete with the iPhone 5.
So, what Samsung-designed tricks will you find? Here are some of the highlights:
Dual Camera lets you take pictures with both cameras at the same time, meaning you can insert yourself into an image.

Dual Video Call allows you to show your video chat companions what you're seeing as well as your pretty mug.
S Translator instantly translates voice or text, meaning that you could carry on conversations while traveling with few issues.
Smart Pause lets you control the device with your eyeballs. If you're watching a video and happen to glance away, the Galaxy S 4 will know to pause the clip.
Smart Scroll recognizes where you're looking and how you're tilting the phone ... and scrolls pages accordingly.
Air Gestures allow you to scroll through items without even touching the screen, you just have to wave your hand over the screen. (You can even control music this way, switching through tracks.)

Air View lets you preview items by hovering your finger over items, such as emails, on the screen.
S Voice Drive keeps you safe on the road by automatically converting text to voice when the phone connects to a car via Bluetooth.
S Health, along with the various sensors built into the Galaxy S 4, turns your smartphone into a fitness tracker.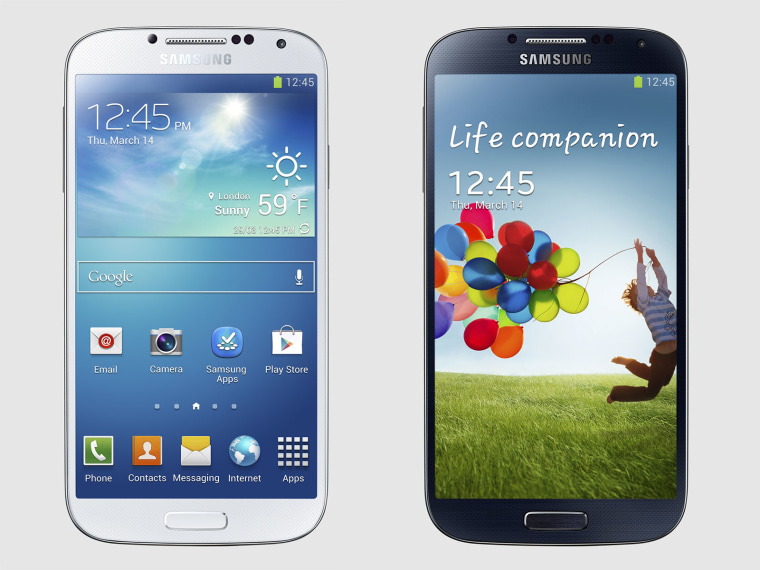 Now, why is this new phone so darn important again?
Samsung's been neck and neck with Apple in U.S. smartphone sales — and trouncing the Cupertino-based fruit company in worldwide shipments. Even though the iPhone 5 caused an Apple sales lurch last winter, the Galaxy S 4 is likely to be an even bigger deal than that.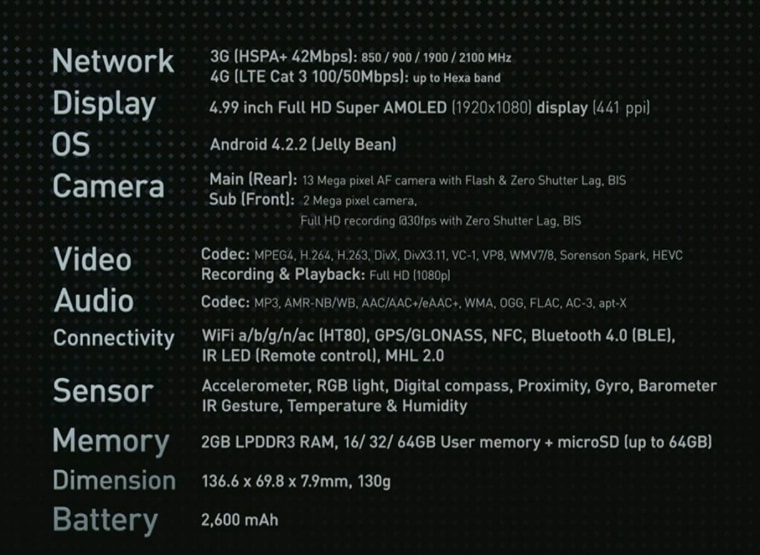 Samsung sold 100 million Galaxy S-series phones by early January, two years and seven months after the first Galaxy S-series device launched. At that time, the Galaxy S 3 continued selling at a rate of 190,000 phones per day. In comparison, Apple managed to sell 100 million iPhones by March 2011, about four years after the original iPhone launched. No other smartphone maker comes close to either in sales momentum.
Want more tech news or interesting links? You'll get plenty of both if you keep up with Rosa Golijan, the writer of this post, by following her on Twitter, subscribing to her Facebook posts, or circling her on Google+.