Samsung's Galaxy Camera may not be the first Android-powered camera on the market (Nikon's S800c was announced last week), but Samsung takes the concept even further, with a 4G cellular connection and a rear panel that's indistinguishable from a phone's.
Rumors of the cam-phone began circulating earlier this week, but the device itself was not announced until Wednesday, during Samsung's press event at the IFA tech trade show in Berlin. It's very much a camera with phone features, though, not vice versa — unlike photography-ready but phone-first devices like the iPhone 4S and Nokia Pureview 808.
The camera portion consists of a surprisingly long 21x zoom that is a fairly bright F/2.8 at wide angle, has a contoured grip, and a combined shutter button and zoom rocker. There's a 16-megapixel 2/3-inch sensor taking the pictures, which is about standard for a point-and-shoot. The design is appealingly minimal, and this is emphasized by the fact that the rear panel has no buttons at all — like a number of Android phones, all the controls are on the screen.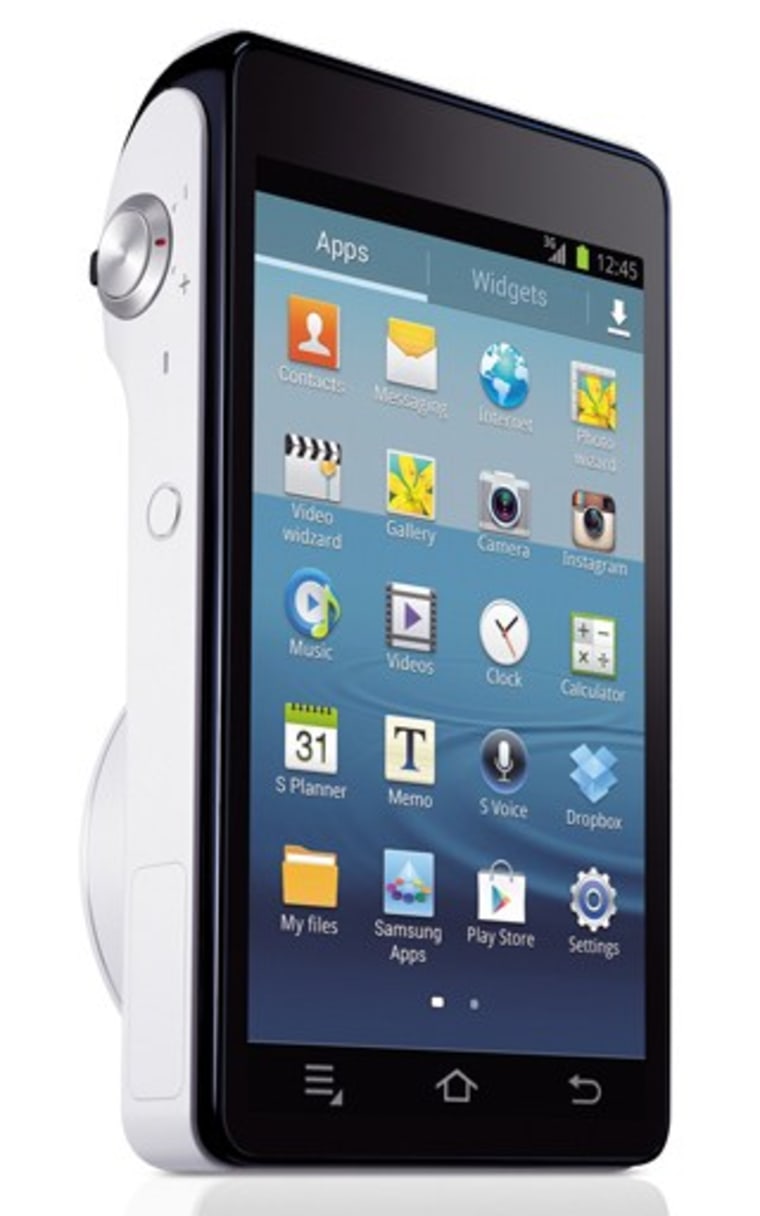 That phone portion acts more or less like a regular high-powered smartphone, sharing many aspects with Samsung's flagship Galaxy S III: a 4.8-inch 720p screen, 1.4 GHz processor and GPS, among other things.
Of course you can download "Angry Birds," check your email, and all that, but Samsung has also included a robust camera app with a number of non-standard features. You can change exposure settings, select interesting photo modes, preview effects, and edit your shots all using the touchscreen.
Not only that, but the Galaxy Camera will take a SIM card and connect to a cell network as well as to Wi-Fi (there are 3G and 4G versions). That means you can easily upload your photos to sites like Flickr and Instagram, and it can be configured to automatically back up your shots to a Samsung or Google cloud storage service. Storage on the phone will be on Micro SD, which means up to 32GB.
The device should be available later this year, and while Samsung didn't talk price, the company said the device will be available from mobile operators. This suggests that, like high-end smartphones, the Galaxy Camera will be subsidized by carriers and may require a contract. Considering the Galaxy S III goes for around $500 without an expensive zoom lens, the full cost will likely be at least that.
Devin Coldewey is a contributing writer for NBC News Digital. His personal website is coldewey.cc.