A new report on mobile data use in 2012 showed that increasing numbers of smartphones, many of them Android-based and capable of 4G data speeds, led to continuing increases in mobile traffic. Last year saw more than 10 exabytes of data sent to and from our devices.
The report, from Cisco, says that last year brought a few notable firsts:
Total global traffic grew 70 percent, and smartphone use grew 81 percent.
A staggering 885 petabytes (1,000 terabytes each) of data were transferred every month, making for a total of about 10.6 exabytes.

Mobile video now accounts for just over half (51 percent) of all mobile traffic.
4G connections used 19 times more data than other connections on average.
Android beat out the iPhone and all comers in terms of total traffic.
Did anything go down? Very little: Not even old technologies like 2G connections and feature phones saw any appreciable drop in use, although their proportion of the total data sent is indeed shrinking as more people buy smart devices.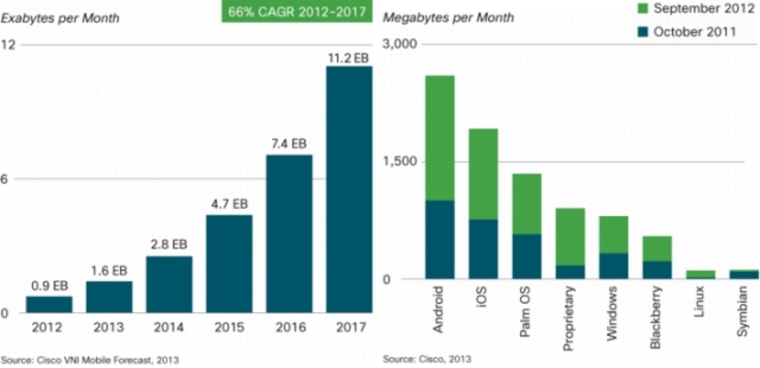 Interestingly, one thing that is definitely going down is the proportion of the network being taken up by its heaviest users. In January 2010, the most active 1 percent of users generated 52 percent of the total traffic. But more infrastructure (and more restrictive data plans) have changed that: In September 2012, that top 1 percent only accounted for 16 percent of the total, Cisco says.
The rest of the traffic numbers are only going to keep going up, as most of Cisco's figures indicate. One key statistic: Smartphones accounted for 92 percent of the world's mobile data traffic last year, but only for 12 percent of the actual devices. With more people buying smartphones, mobile data is set to continue exploding for years to come.
Devin Coldewey is a contributing writer for NBC News Digital. His personal website is coldewey.cc.