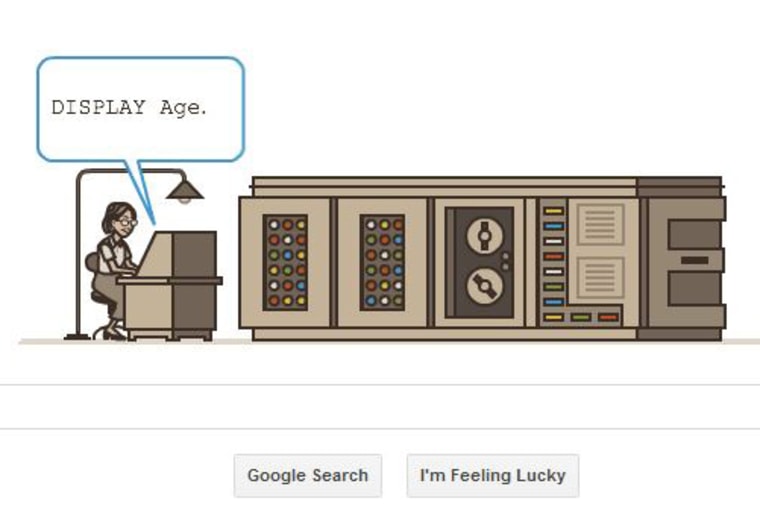 Notice a woman punching in code on a mammoth computer on Google today? That would be Grace Hopper, a computing pioneer known as the "mother" of Cobol (Common Business-Oriented Language), one of the first programming languages to rely on language rather than numerical machine code — a development that paved the way for modern programming. She would have turned 107 years old today. 
Google is celebrating Hopper, who joined the Navy in 1944, as part of Computer Science Education Week. And yes, the computer she is using in the Doodle probably was that big. She was one of the first people to use Harvard's Mark I computer, a behemoth that measured 51 feet long, eight feet deep and eight feet tall. Once, when the computer malfunctioned, Hopper reportedly picked a two-inch moth out of it, which is why we now say a program has "bugs" in it whenever something goes wrong.
Not that Hopper would have probably made a big fuss out of Google celebrating her. As this interview with David Letterman shows, given when she was 80, Hopper was a no-nonsense woman with a sharp sense of humor. 
When she retired at age 76, as a rear admiral, she was the oldest serving member of the U.S. military. She died in 1992 and was buried with full honors at Arlington National Cemetery. 

Keith Wagstaff writes about technology for NBC News. He previously covered technology for TIME's Techland and wrote about politics as a staff writer at TheWeek.com. You can follow him on Twitter at @kwagstaff and reach him by email at: Keith.Wagstaff@nbcuni.com