Google co-founder and chief executive Larry Page — speaking quietly and hoarsely because of his paralyzed vocal cords — was philosophical and reflective Tuesday as he described himself as a "nerdy curmudgeon" who is fed up with the "zero-sum" game being played by competitors.
Page, 40, in a rare appearance, not only spoke, but took questions and answers from the audience of those attending the Google I/O developers' conference in San Francisco. While he covered a range of topics, one that seemed close to his heart was the need for more congeniality among tech companies.
"We, as Google, and as an industry are really at only 1 percent of what's possible, and probably even less than that" in terms of technological achievements, he said. "We're still moving slow, relative to the opportunities that we have."
Page said he is "not interested" in news stories that focus on Google vs. its competitors. "We should be building great things that don't exist," he said. "Most things are not zero-sum."
Specifically, he named Microsoft, a company he said Google is "struggling" with, while in contrast, it has a "great relationship with Mozilla," the creator of the Firefox Web browser, and a competitor to Google's Chrome browser.
(Page's remarks came after a swipe at Apple earlier in the presentation. Daniel Graf, director of Google Maps for mobile, shared changes to Maps that he described as "Simple, beautiful ... and let's not forget: accurate," playing off Apple's woes when it launched its own maps app last fall.)
Future of Glass
"Technology should do the hard work so that people can set out doing the things that make them happiest in life," he said. And he was even more philosophical about Google's latest creation, Google Glass, the futuristic headgear now being worn by more than 800 testers, developers and journalists around the country.

Asked how he envisions Google Glass 10 years from now, Page said he isn't completely sure, because it's too soon to tell. The headgear can be used to take photos, make phone calls and for navigation, among other things.
"Glass is a new category, he said. "It's quite different than existing computing devices. But I think our main goal is to get happy users using Glass."
"The basic use case we have around photography is amazing," he said. "I love taking pictures of my kids with Glass. For me, that's enough reason to have Glass just there. If you didn't have young kids you wouldn't feel exactly that way."
Doubters, he indicated, can take their place in line. He pointed to the launch of Gmail in 2004 (then by invitation-only), and said at that time Google, had 100 employees, with most focused on its growing search engine.
"People said 'You're nuts, why are you doing Gmail, you're a search company?' " he said. "I think almost every time we try to do something crazy, we make progress."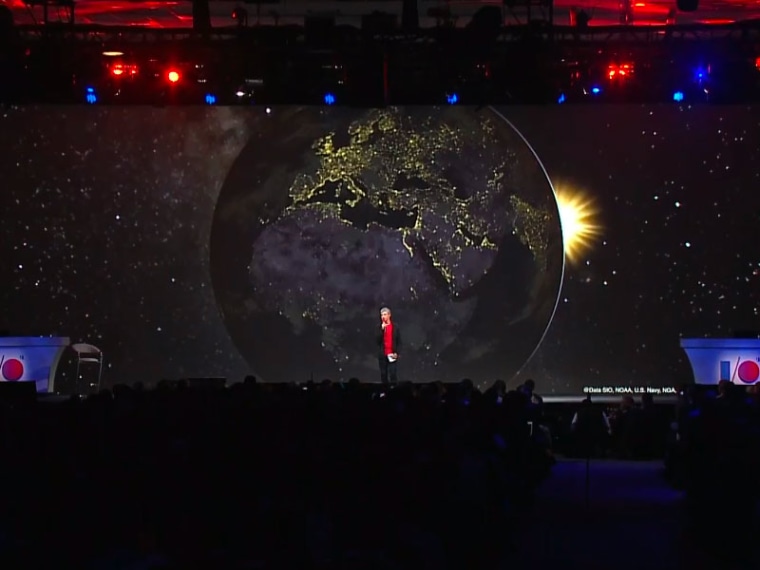 Google in 'the normal world'
Page said there should be a physical place in the world where new technology can be experimented with, tried out, tested.

"We haven't built mechanisms to allow experimentation. There's many, many exciting and important things we can do, but they're illegal," he said. It's not clear whether he was referring to the recent controversy over the 3-D printed gun; the U.S. government recently asked the creator of one such gun to remove downloadable files for the gun from a website.
"Maybe we should set aside a small part of the world," he said. "As technologists we should have some safe places where we can try out some new things and figure out what is the effect on society without having to deploy it into the normal world."
Page also said Google decided to support the new movie "The Internship," a comedy with Vince Vaughn and Owen Wilson as salesman who land internships at Google, because it may inspire young people to pursue technology as a career.
"Computer science has a marketing problem," he said. "We're the nerdy curmudgeons — I don't know about you — but that's what I am."
Check outmoreNBC News Tech on Facebook, and on Twitter, follow Suzanne Choney.
This story was updated at 12:30 p.m. ET May 16