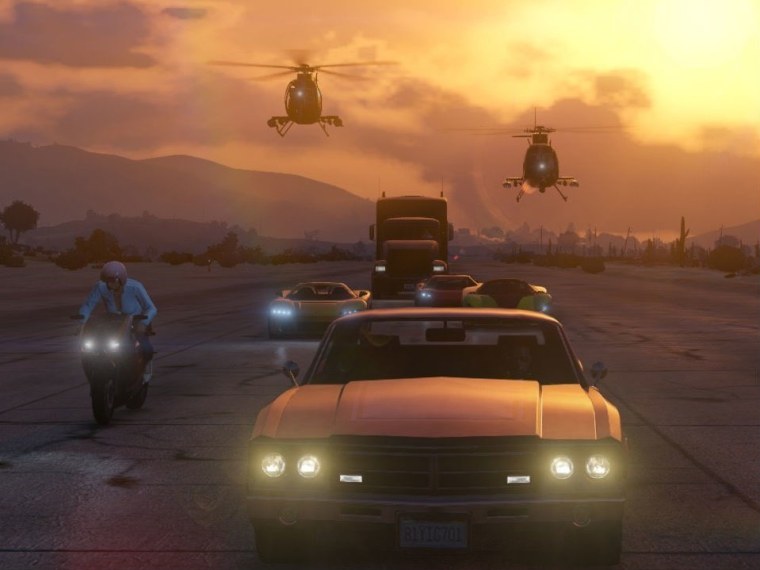 Two weeks after "Grand Theft Auto V" was released to critical acclaim and record-breaking sales, its highly anticipated online counterpart, "GTA Online" arrived Tuesday morning. But some gamers were not able to easily start their engines.
Last week, GTA creator and developer Rockstar Games warned players that "GTA Online's" launch would be chaotic because of a greater-than-expected demand for "GTA V," which sold more than 13 million copies its first day, and created "unanticipated" pressure on the multiplayer game, the company said. Less than a day into "GTA Online," and it looks like Rockstar was right: countless gamers have taken to Twitter and "GTA" forums online to complain while they wait for the new game to get up and running.
"7 hours later still haven't managed to get GTA online working," one disgruntled fan wrote on Twitter Tuesday afternoon.
Rockstar took to Twitter Tuesday morning warning about "day one tech issues" and asked fans to "please bear w/ us."
Launch-day issues are nothing new for the video game industry, which has long supported massively multiplayer online (MMO) gaming environments in one form or another, many of which host more simultaneous players than the 16 that Rockstar allotted for in a given game of "GTA Online." 
Earlier this year, Electronic Arts faced an onslaught of criticism and online petitions for the botched launch of its online city-building game "SimCity," which booted players back to the menu screen whenever they tried to log on even to play the single-player component of the game. A year earlier, Blizzard suffered a similar fate at the hands of furious "Diablo 3" players, who saw an error message pop up when they tried to log into their accounts.
"GTA Online" is different from "Diablo 3" and "SimCity" in that Rockstar Games, unlike EA and Blizzard, did not require all "Grand Theft Auto V" players to always be connected to the Internet in order to play any part of the game — even the single-player components. 
But "GTA Online" is also different from any of these other games in that it's much more popular. With legions of fans all trying to get the game up and running at the same time, Rockstar reasoned, certain problems were inevitable. The company said last week that it was "working around the clock to buy and add more servers" to help support the launch of "GTA Online."
While "GTA Online" is beginning as an online component to "GTA V," Rockstar has said that it plans to eventually spin the game off into a separate game in its own right. Unlike the single-play "GTA V" experience, "GTA Online" allows players to build a unique character from the ground up, play with friends, and even spend real cash on an in-game currency.
Steve Bailey, an analyst at IHS Electronics and Media, told NBC News that the new game could do wonders for Rockstar by extending the lifespan of the already-popular "GTA V" game as well as assist in transitioning the Grand Theft Auto franchise onto Sony and Microsoft's next-generation gaming consoles, both of which launch next month.

"Given the world and feature set Rockstar has formulated, [GTA Online] is a longer-term aspect of the game that can be calibrated to draw out player engagement well into 2014, perhaps beyond," Bailey said.
Now all Rockstar has to worry about is actually getting the thing up and running. 
Yannick LeJacq is a contributing writer for NBC News who has also covered technology and games for Kill Screen, The Wall Street Journal and The Atlantic. You can follow him on Twitter at @YannickLeJacq and reach him by email at: Yannick.LeJacq@nbcuni.com.