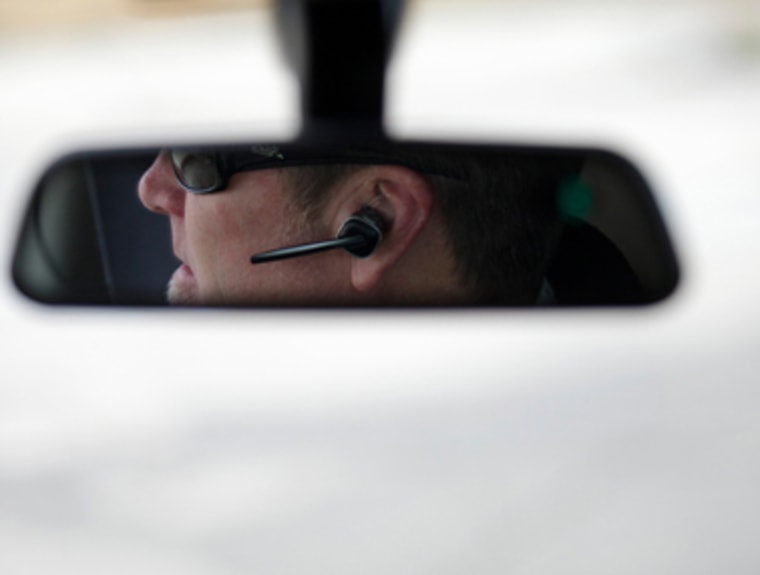 Using hands-free devices to talk on the phone, text or send emails or give some voice-activated commands while driving is distracting, and can "overload" a driver's attention span, hurting their ability to drive safely, a new study says.
Smartphone or in-car speech-to-text systems, especially, can lead "lead to significant levels of distraction," David Strayer, the University of Utah psychology professor who led the study, told NBC News.
"There may well be some things that are reasonable to do in the car with voice commands, things like say 'turn the heat up' 'turn the windshield wipers on' — commands that are short and simple, relatively infrequent and not too distracting," he said.
But driving and checking email or Facebook, he said, while using a voice-activated system, require more concentration, meaning a lesser focus on the road, even with both hands on the wheel.
"There may be some things, no matter how good you make it, that just don't belong in a car," Strayer said.
The goal of the research, done for the AAA Foundation for Traffic Safety, will be to share the findings with the auto and consumer electronics industries. Perhaps, Strayer said, there are better technologies that can be developed that are "less cognitively demanding" on drivers.
Strayer, a cognitive distraction expert, and his team used cameras mounted inside a car to track drivers' eye and head movements. The 38 participants — 20 men and 18 women from the university who ranged in age from 18 to 30 — were fitted with electroencephalographic (EEG) caps to chart brain activity, helping researchers determine the "mental workload." Driver reaction time in response to red and green lights was recorded using a "Detection-Response-Task" device.
The researchers rated mental distractions on a scale similar to the Saffir-Simpson scale for hurricanes. Activities such as listening to the radio ranked as a Category 1 distraction, with minimal risk. Talking on a cellphone, whether handheld or hands free, was a Category 2 distraction, with moderate risk. Listening and responding to a voice-activated email program while driving "increased mental workload and distraction levels" to Category 3. That's considered to be extensive risk.
"Today, roughly 9 million vehicles are traveling the roadways with infotainment systems," Jake Nelson, AAA's director of traffic safety advocacy and research, told NBC News. "That number will grow to just over 60 million in 2018." (Apple just announced that an in-car version of Siri, the voice-activated assistant, would be available starting with 2014 model-year cars.)
Some of those systems, he said, are used for playing movies for the kids in the back seat; some for making a quick phone call. But others let the driver use voice commands "to respond to an email or to book a dinner reservation. We're not against technology being built into the vehicle. If a car is parked and you want to book a reservation, that's great," says Nelson. "But if a car is moving down the road, and you want to do that, or respond to Facebook, that's a bigger concern."
Over 70 percent of Americans think hands-free devices in vehicles are safer, according to AAA's studies. "They think it comes with zero risk, when in fact, we might all be less than safe than we anticipated previously," Nelson said.
Strayer said that even navigation devices, which can be "a lifesaver," can also be a distraction. "Both my colleague and I were looking at new cars and the navigation woke up in the middle of a test drive and started saying, "Turn right, turn right, turn right — and we couldn't disable it."
Elizabeth Waterman, a Southern California psychologist, is familiar with driving the region's busy freeways, and the hazards of in-car technology.
"Driving as a task is very, very complex for the human brain," she told NBC News. "Because we do it over and over, it becomes normal for us. But there is still a complex set of activities attached to it. Our attention span is limited in capacity. So, the more we add gadgets in the car, the more we're likely to lose focus and attention on driving — and more likely to make mistakes.
"I don't know about you, but it's hard for me to look at my Google Maps when I'm driving. I'm not stupid, I'm not blind. But I can't do both things at once and feel safe — the human brain has a limited capacity for attention."

Check out Technology and TODAY Tech on Facebook, and on Twitter, follow Suzanne Choney.