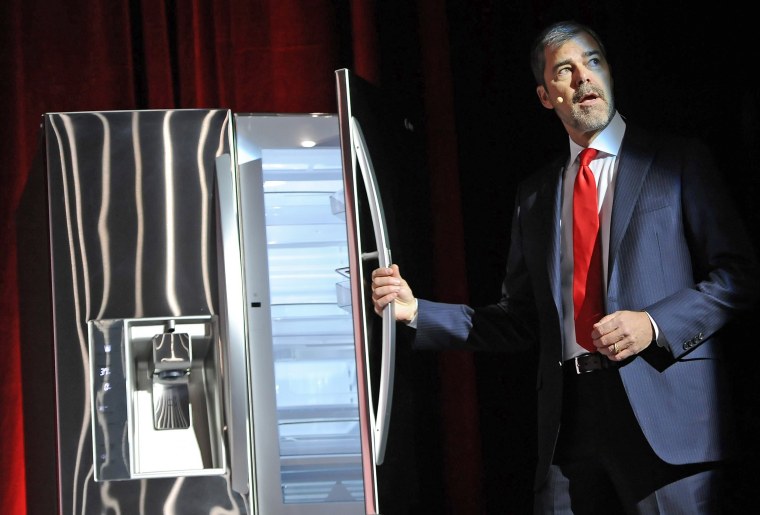 Imagine coming home from a long day of work. In the car, you speak into your smartphone, giving commands to start the vacuum cleaner, preheat the oven and run the dishwasher.

After unlocking the front door with your iPhone, the lights automatically turn on as you walk into a clean living room, with the kitchen preparing itself for dinner.
That is the vision companies like LG and Samsung are selling at the Consumer Electronics Show (CES) this week in Las Vegas. Of course, "smart" appliances are nothing new. The big shift in 2014 will be how they communicate, paving the way for smart homes to become a regular fixturein as little as five years, Dr. Sanjay Sarma, director of digital learning at MIT, told NBC News. 
"With both applications and technology, most of the things that we need already exist," he said. "The challenge now is making them work together seamlessly, in a way that the user finds intuitive and convenient."
That point isn't lost on tech companies. LG unveiled HomeChat, which lets you control all of your LG smart appliances via text. You can even ask your refrigerator questions like, "Do I have any beer?" and get a response — provided you tell the system every time you move beer in and out of the fridge. (Six-pack detecting technology, sadly, isn't standard yet).
Samsung debuted its own platform, Smart Home, which connects the Korean's company's new smart appliances with its roster of smartphones and tablets. That includes its Smart TV, because turning on the washing machine shouldn't mean taking a break from "Sunday Night Football." 
The list of smart home gear displayed at CES 2014 goes on: smartphone-controlled light bulbs, a connected crock pot and even a robot that works as both a mop and a vacuum cleaner.
The problem? If these products are built by different companies, they won't talk to each other, creating barriers toward building a completely connected smart home.
That problem will be solved in several ways, Sarma predicted. 
"One option is that they will bang their heads together in a brutal war until one becomes the dominant design," he said. "Another is that they all declare a truce and decide that they need to set standards. If that's the case, smart homes could be only three years away."
The rise of smartphones, faster Wi-Fi connections, the popularity of the Nest thermostat — all of these have created conditions that make smart appliances seem less like a luxury and more like the natural next step in electronics. 
Now smart appliances have to start talking to other brands — or connect to a common system on the cloud — to make even more progress. Once people know that their smart lock will be compatible with their smart light bulbs and home security system, they may be more likely to buy each, creating more demand and eventually lowering prices. 
"There are no technical leaps required," Sarma said. "What we need is for the right systems to fall into place."
Keith Wagstaff writes about technology for NBC News. He previously covered technology for TIME's Techland and wrote about politics as a staff writer at TheWeek.com. You can follow him on Twitter at @kwagstaff and reach him by email at: Keith.Wagstaff@nbcuni.com