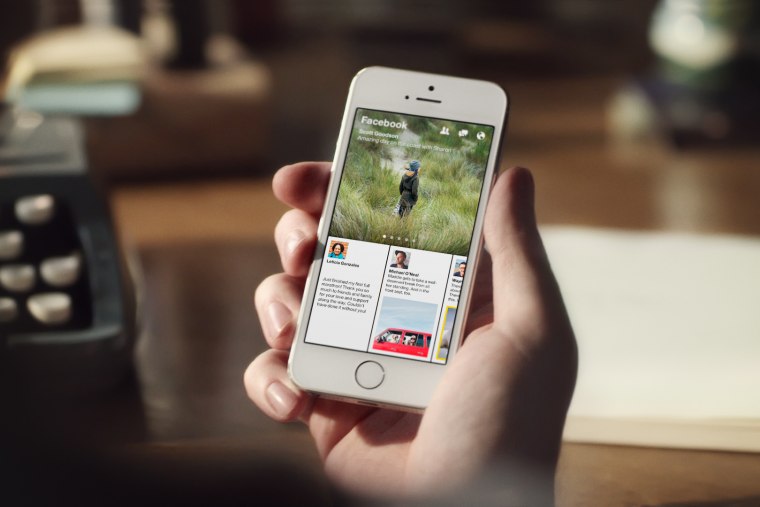 On Thursday, Facebook announced the release of a new iPhone app called Paper. 
Why is that a big deal? Paper isn't so much an accessory to Facebook as it is a whole new way to experience it.
The current Facebook app tries to cram everything around the News Feed, including friend requests, messages, photos, chat and more. Paper doesn't replace that app. It does give iPhone users an alternative, featuring a clean, photo-heavy interface reminiscent of the reader app Flipboard.
(Re/code has the story of how Paper was designed and conceived). 
Users will scroll horizontally through content shared by their friends. Once selected, each story, photo or video will be displayed full-screen, without the clutter that makes reading on the current Facebook app less than ideal. 

One of the cooler features is the ability to tilt the phone left or right to reveal the entirety of a high-resolution photograph. Of course, we won't know how well it works until the app is released on Feb. 3, but the recently released photos make Paper look — at the very least — more aesthetically pleasing than what Facebook offers now. 

In a direct challenge to Flipboard, Paper will also feature the ability to discover stories from newspapers and magazines in custom-themed sections, each one curated by Facebook's own editors. (Importing your own RSS feeds won't be an option). 
If the app takes off, major news organizations might want to take notice. A Pew Research Center study released in October found that 47 percent of Facebook users get news from the social network — which translates into 30 percent of the U.S. adult population. Still, 78 percent of those Facebook users get their news incidentally, meaning that they sign on for other reasons and just happen to read what their friends have shared. This could be the company's bid to get more users to come Facebook directly for news. 
There is no word when an Android version of the app might appear. If Paper is as responsive and intuitive as Facebook claims, however, a lot iPhone users could be making the switch. 
Keith Wagstaff writes about technology for NBC News. He previously covered technology for TIME's Techland and wrote about politics as a staff writer at TheWeek.com. You can follow him on Twitter at @kwagstaff and reach him by email at: Keith.Wagstaff@nbcuni.com