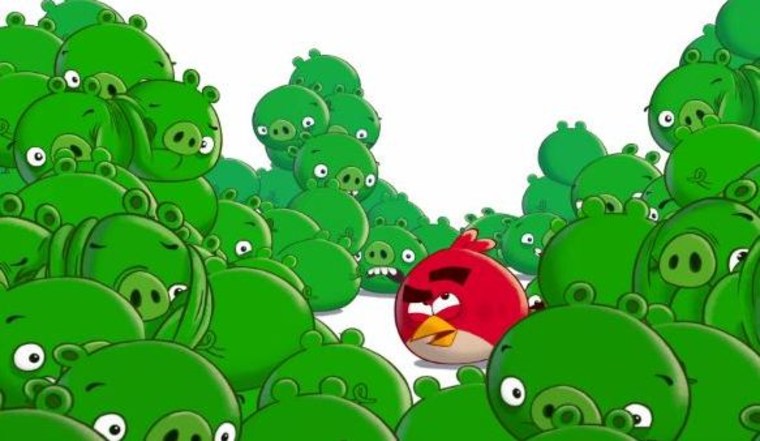 We've had this sneaking suspicion for some time now that we weren't exactly hearing the whole story when it came to the Angry Birds saga.

As anyone who's played the fabulously popular Angry Birds games knows, the backstory is one in which a group of vile, thieving pigs have incurred the wrath of some innocent flightless birds by stealing their beloved eggs (read: their children) and cooking them up for dinner.
But what we don't know is: What do the pigs have to say about this? Is this story true? Are these hateful hogs as evil as the birds would like us to believe?
Looks like we'll soon have the answer. Or at least, the other side of the story. Rovio announced Tuesday that it will be launching a new game app called "Bad Piggies" on Sept 27 for iOS and Android devices as well as for Macs, with Windows 8 and PC versions to follow.
"There's a lot of empathy towards the lovable enemies from the Angry Birds games, and we've been constantly asked: what about the pigs' side of the story?" said Mikael Hed, CEO of Rovio, in the announcement. "Bad Piggies gives you the chance to play as the second-most-loved characters in the Angry Birds universe, and explore this rich world through their green eyes."

Rovio didn't officially announce much in the way of details about how the game would play, other than to say that there would be "all new, never-before-seen gameplay — and not a slingshot in sight."
However, Fast Company reports that Petri Jarvilehto, executive vice president of games at Rovio, gave them an exclusive sneak peek at the game. They described it as a pick-up-and-play physics puzzle game in which the pigs are stranded on an island and "have to build vehicles and contraptions to make their way to the delicious eggs."
Fast Company also reports that the iOS and Android app will cost 99 cents.
It will be interesting to see whether the pigs can parlay their game into the kind of success the fling-able fowl have had with "Angry Birds" and its various updates and spin-off games (which have been downloaded more than a billion times).
Rovio's first non-Angry Birds game — "Amazing Alex" — launched in July to solid reviews and decent sales but nothing approaching the soaring Angry Birds success.
While we wait to see whether pigs can fly, check out the teaser trailer for "Bad Piggies" right here:
Winda Benedetti writes about video games for NBC News. You can follow her tweets about games and other things on Twitter here @WindaBenedetti, and you can follow her on Google+. Meanwhile, be sure to check out the IN-GAME FACEBOOK PAGE to discuss the day's gaming news and reviews.