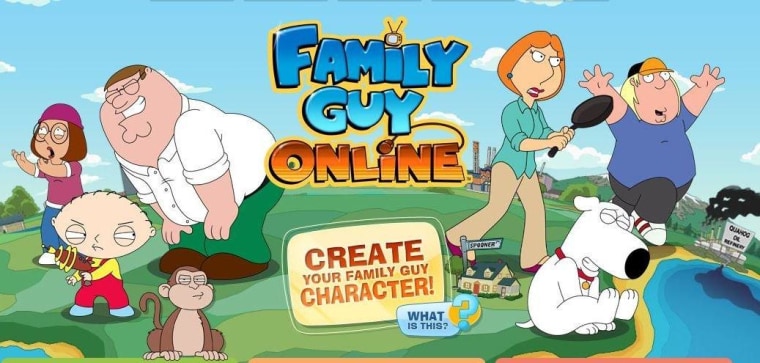 Watch out 'World of Warcraft' ... here comes "Family Guy Online."
That's right, fans of the dysfunctional, disturbing yet undeniably lovable Griffin family will soon have a new way to delve into the flashback-filled lives of Peter, Lois, Meg, Chris, Stewie and Brian. 20th Century Fox announced Wednesday that is launching "Family Guy Online," an online multiplayer game based on the hit "Family Guy" animated TV show.
And apparently, the free-to-play, browser-based game "will launch exactly later this year."
Despite the lack of specifics on the launch date, what we do know at this point is that the game (developed by Roadhouse Interactive) will let players become virtual citizens of Quahog (the town in which the show is set) and that you will be able to "play and interact with your friends and favourite show characters." (By the British spelling on the word favorite there, we can only assume that Stewie wrote up the announcement.)
Gary Rosenfeld, senior vice president of new media for Fox Consumer Product, told GameSpot that two of the show's senior writers — Alex Carter and Andrew Goldberg — have worked on the game and that "Family Guy Online" will draw elements from role-playing games such as character progression and experience points and will have both single-player and multiplayer options.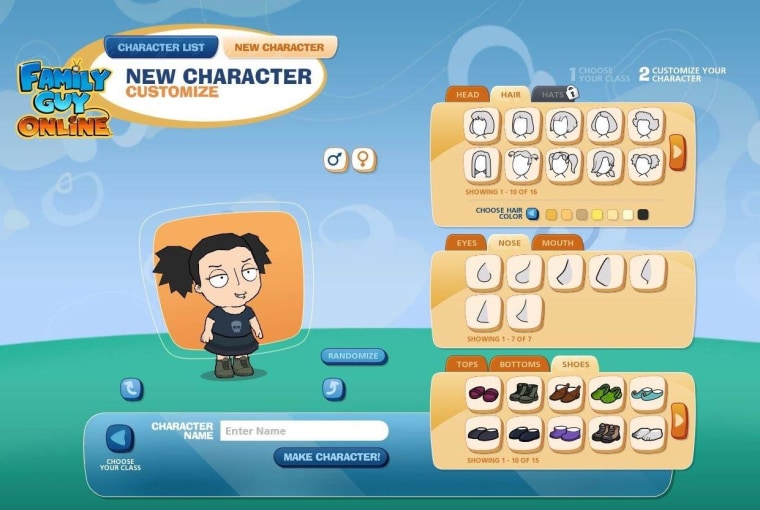 Meanwhile Rosenfeld told Gamasutra the team is targeting the space "kind of between social games and hardcore online games called accessible games."
Though the game is launching at some undetermined time in the future, all of you would-be players can visit the site right here and, using the Character Creator tool, whip up your own Family Guy animated character right now. The character you create will be the one you play once the open beta test starts.
I gave the Character Creator a quick test drive and discovered that, in creating your virtual citizen of Quahog, you'll be asked to choose a "character class" based on Stewie, Chris, Peter or Lois, each with different strengths and skills.
The Peter-class character, for example, appears to be good at up-close brawling. Says Peter himself:
"You ever play'Street Fighter'? I'm like E Honda, but without all the Asian business. I'm like E. Ford. I fight ya up close, I ain't gonna do none of them fancy jumpin' around movies, but I'm tough and I can take a lot of punishment. I'm like one of Gary Oldman's girlfriends. I mean, I haven't heard of any rumors about him, but he seems like a lady puncher, don't he?"
Yeah, so, it looks as if more classes will be unlocked in the future. Which is good, because I'm totally pulling for a dog-based character class based on Brian.
Until "Family Guy Online" launches, you're just going to have to fill your time with "Family Guy" reruns. Because Season 10 doesn't start until September 25.
For more game news, check out:
Winda Benedetti writes about games for msnbc.com. You can follow her tweets about games and other things right here on Twitter or join her in the stream right here on Google+.