In case you were growing weary of slaying dragons and stalking the night as a blood-sucking vampire in the hit game "Elder Scrolls V: Skyrim," a new add-on to the game will let you try your hand at more tranquil and domestic pursuits.

Bethesda on Tuesday revealed the "Hearthfire" add-on which allows players to buy land and build a home from the ground up. 
According to the developer, you can have a simple one-room cottage or "a sprawling compound complete with armory, alchemy laboratory, and more." Want a garden? It's yours. How about a fish hatchery? You can have one of those too.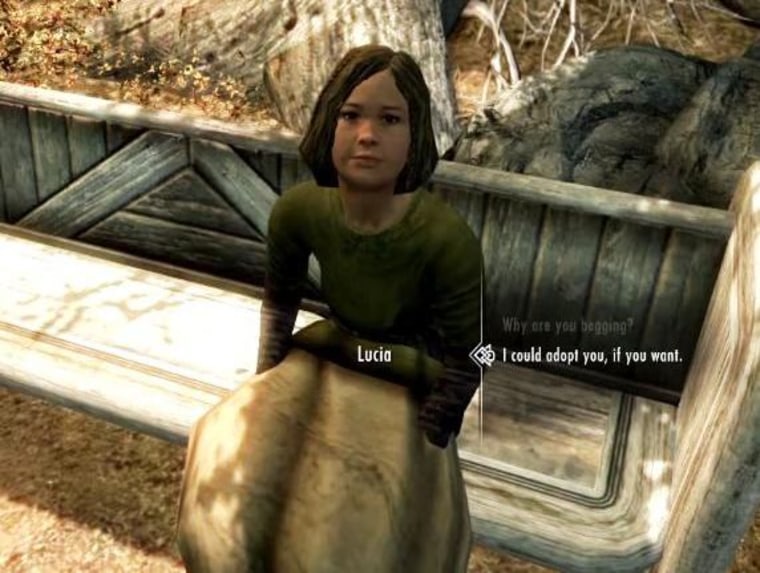 But perhaps things won't be all that tranquil after all, because the add-on also lets you adopt children as well. There's no word on how well-behaved these digital rugrats will be, but you can play games with them and allow them to have pets. And this kind of family business will earn you "new bonuses."
Meanwhile, you'll also have to guard your new digs and your wee ones from unwanted visitors (kidnappers, skeevers and giants among them). Yes, it seems the dragonborn's work is never done. But fortunately, "Hearthfire" lets you hire some help to keep up the house. You can have a steward and even your own bard.
Bethesda says "Hearthfire" will be available for download for the Xbox 360 version of the game for 400 Microsoft Points via Xbox Live starting Sept. 4. No word yet on when it will arrive for PlayStation 3 and PC players.
In the meantime, here's a trailer with some "Hearthfire" highlights:
Winda Benedetti writes about video games for NBC News. You can follow her tweets about games and other things on Twitter here @WindaBenedetti and you can follow her on Google+. Meanwhile, be sure to check out the IN-GAME FACEBOOK PAGE to discuss the day's gaming news and reviews.