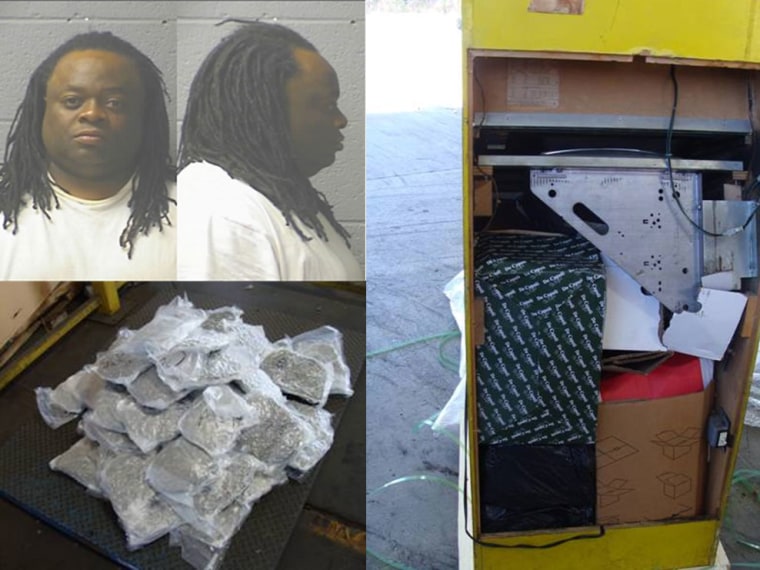 Video games and marijuana may have a rich shared history, but the two came together in an unexpected combination last week in Orangeburg, S.C., when local and federal authorities apprehended a man for smuggling 55 pounds of marijuana that had been stashed inside an arcade cabinet. A Pac-Man arcade, no less.
Authorities first arrested Luis Tyler on April 16 following an undercover investigation, Keisa Gunby, director of media relations for Orangeburg County Sheriff's Office, told NBC News.

"We knew that he was going to be receiving this video game and it was going to have narcotics in it, so we did a traffic stop before he was able to get where he was going with it," Gunby said.
Gunby said she couldn't remember another case involving such a machine, and told us that the Pac-Man cabinet was so tightly packed with pot, it was inoperable as a game console.
"It can't be a functional machine with that much marijuana inside," Gunby said. "It was never going to operate as intended."
While Tyler was apprehended last Tuesday and South Carolina Judge Derrick Dash subsequently set bond at $75,000 the following day, Sheriff Leroy Ravenell didn't announce the bust until Saturday, April 20. Also known as "4/20," that day is widely observed by North American pot smokers as a holiday.
The timing was a sheer coincidence, said Gunby, attributing the delay to remaining questions concerning Tyler's prosecution.
"We are still considering whether he's going to face federal charges or state charges," Gunby said.
The department did make use of the gaming angle, however.
"Our efforts to make Orangeburg safe will not stop," Ravenell is quoted as saying in a press release. "We ... will continue to investigate the criminals in our community and make arrests. You may be looking for a high score but what you'll get is game over!"
— via Kotaku
Yannick LeJacq is a contributing writer for NBC News who has also covered games for Kill Screen, The Wall Street Journal and The Atlantic. You can follow him on Twitter at @YannickLeJacq and reach him by email at ylejacq@gmail.com.