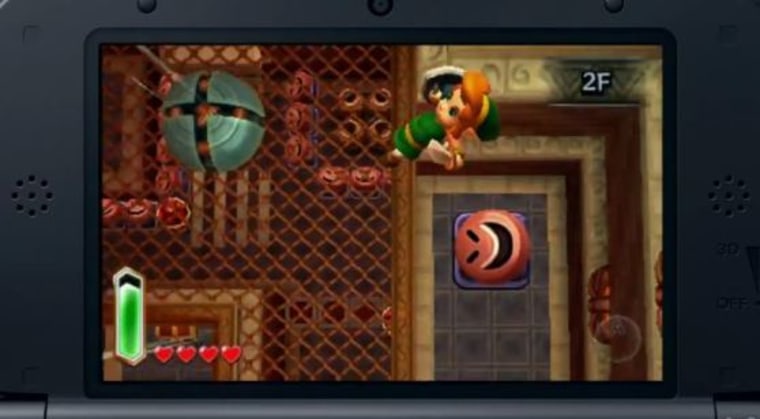 In a move that's bound to delight old-school Super Nintendo Entertainment System (SNES) fans the world over, Nintendo announced today that it is making a direct sequel to 1991's "The Legend of Zelda: A Link to the Past."
The game will come out exclusively on the Nintendo 3DS mobile gaming console later this year, Reggie Fils-Aime, president and chief operating office of Nintendo of America, said this morning in a Nintendo Direct announcement.
The new "Link to the Past" will follow directly in the footsteps of the original SNES classic, featuring everything from the iconic top-down perspective and cartoonish art style of early nineties-era Zelda games and the same Hyrule that series protagonist Link explored more than a decade ago.
At face value, this looks like a younger and more kid-friendly version of "Zelda" (if there is such a thing) than the third-person style that took over much of the franchise beginning in 1998 with the release of "The Ocarina of Time" on the Nintendo 64. But despite any nostalgia factor in its aesthetic and storyline, Fils-Aime said that "Link to the Past" will feature new dungeons and gameplay mechanics designed specifically with the unique two-screen display of the 3DS in mind.
While still isometric in appearance, the new "Link to the Past" has greater depth and variety in its level design than its 1991 predecessor could possibly achieve. A gameplay video showed Link hopping between different height-based levels in a stone dungeon, a mechanic that Fils-Aime said would be central to the game's puzzle system.
Link also has a new ability to "become a drawing," which flattens him against walls to help him to traverse all the nooks and crannies of a given level.
"By moving in the walls, your viewpoint changes and you can see the connections within the area that you couldn't observe before," Fils-Aime said. "This new mechanic will play a key role in solving puzzles in the game."
Never a stranger to churning out endless releases and spin-offs of its most popular video game brands, Nintendo has left "A Link to the Past" strangely untouched since it was first released to universal acclaim over a decade ago. Besides the occasional re-release on a new Nintendo game system, old-school Zelda fans have had to settle for emulators while the "Zelda" series evolved into something of a third-person platformer on the N64 and later the Wii console. For many Nintendo fans, then, the company is returning to its roots in a much-appreciated way.
Nintendo hasn't given specific information about "A Link to the Past's" availability except to say that it will come out later this year. A 3D video of the new game will also arrive on the 3DS itself later today. In the meantime, you can watch some gameplay along with Fils-Aime remarks in the clip below.