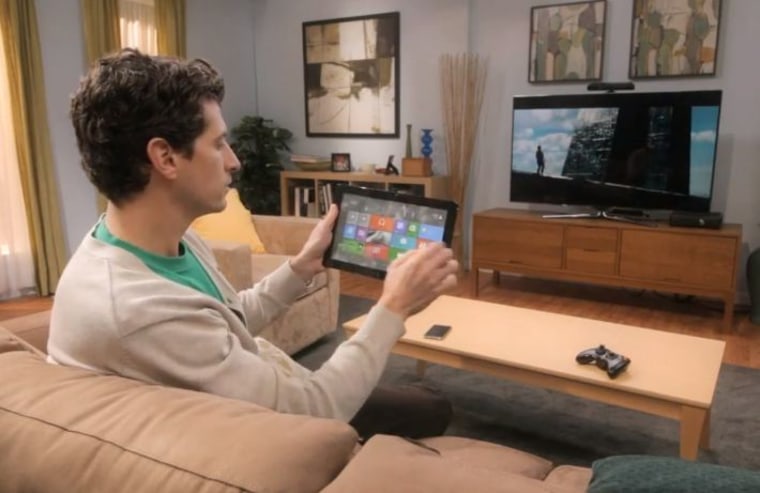 Microsoft wants to spread its Xbox games, video and music well beyond the TV screen -- to phones, tablets and PCs. And on Friday it will launch an application that makes that plan a reality.

Late Monday night, Microsoft revealed that it is launching its Xbox SmartGlass app alongside Windows 8 and its Surface tablets on Friday, Oct. 26.
The SmartGlass app will be free and will essentially turn tablets, phones and PCs into a second screen that you can a) control your Xbox 360 game machine with and b) that you can use to watch and interact with games and videos from your Xbox and connected TV.
"Your phone and tablet will become the best remote controls in your house,"  explained Yusuf Mehdi, corporate vice president of marketing and strategy at Microsoft, in a post to the company's blog Monday night. He said that the SmartGlass app will let you use your phone or tablet's touchscreen to control your Xbox 360 to pause, rewind or play various entertainment.
The SmartGlass app will also let you move a movie or television show you've started watching on your Xbox 360 over to your tablet or PC so you can finish watching it there, and vice versa. Also, if you are watching a movie on your TV via your Xbox 360, the SmartGlass app on your tablet will show you more information about that video -- the names of cast and crew, a list of related films, etc.
When it comes to gaming, Mehdi says SmartGlass will enable you to use your phone or tablet as a GPS device when racing through "Forza: Horizon" or cue up songs while playing "Dance Central 3" or keep track of detailed stats from your "Halo 4" game. 
Additionally, if you're browsing the Web using Internet Explorer on your Xbox 360, you can use the SmartGlass app on your phone as a kind of hand-held remote control for that browsing session. You can also pull that browsing session from your TV screen/Xbox 360 over to your phone.
"We live in a multi-device world. The millions of people enjoying entertainment on their Xbox are doing so within arm's reach of another device," Mehdi said. "We believe your entertainment should travel seamlessly across devices, that devices should work together to make your entertainment more accessible and create entirely new experiences."
For a look at how Xbox SmartGlass will work, check out Microsoft's video overview below.  Also check out these SmartGlass how-to videos and the official SmartGlass web page for a preview of the app's capabilities.
Microsoft says SmartGlass will first launch on Windows 8 and Windows RT devices this Friday. It will be coming next to Windows Phone 8 when it launches (expected later this year). And yes, Microsoft says SmartGlass is "coming soon" to iOS and Android devices as well (replacing the current My Xbox Live app) ... though how soon remains to be seen. Whether the Android and iOS SmartGlass apps will be as full-featured as the Windows versions of SmartGlass also remains to be seen.
Microsoft isn't the only company bringing a second screen into play when it comes to gaming and other media. Nintendo will be making a big second-screen push with the launch of the Nintendo Wii U -- a game machine that comes with a tablet-like controller that has a touch-screen in the middle of it.
As is the case with Microsoft's SmartGlass app, the Wii U will extend gaming content from the big TV screen onto the controller's smaller tablet screen (for more on that, follow this link). Meanwhile, Nintendo is also launching Nintendo TVii -- an app that will let users control, record and interact with TV and movie programming using the Wii U's tablet controller. 
Winda Benedetti writes about video games for NBC News. You can follow her tweets about games and other things on Twitter here @WindaBenedetti and you can follow her on Google+. Meanwhile, be sure to check out the IN-GAME FACEBOOK PAGE to discuss the day's gaming news and reviews.