Nintendo has revealed that it will launch its newest game machine — the Wii U — on Nov. 18. The Japanese gaming giant on Thursday also announced that it will sell the console — which features a tablet-sized touchscreen controller — in two bundles.
The basic set will include the Wii U console with 8 GB of internal storage, a Wii U GamePad controller, AC adapters, an HDMI cable and a sensor bar for tracking the controllers. It will run $299.99 and come in the color white.
The deluxe Wii U set will cost $349.99 and will include all of the above but will have 32 GB of storage as well as a GamePad charging cradle and a stand for the tablet. It will come in black and will also be packaged with the "Nintendo Land" game. (The Wii U's storage can be expanded with external USB devices.)
The news came during a Wii U preview event in New York City during which Nintendo of America President Reggie Fils-Aime further explained that, though the Wii U also uses the standard motion-sensing Remote controllers that came with the older model Wii, the new Wii U machine won't come packaged with them. He said that, considering how many Wiis have sold over the last six years, there are already enough of the Remote controllers "in the wild."
[Also see: Nintendo reveals Nintendo TVii service for the Wii U]

Nintendo also announced some 50 games will be available for the machine during its "launch window," and said that the Wii U would be getting "Bayonetta 2" exclusively. Meanwhile, Activision said that its highly anticipated first-person shooter "Call of Duty: Black Ops 2" will be available for the Wii U and will come with features specifically designed to take advantage of the machine's GamePad controller.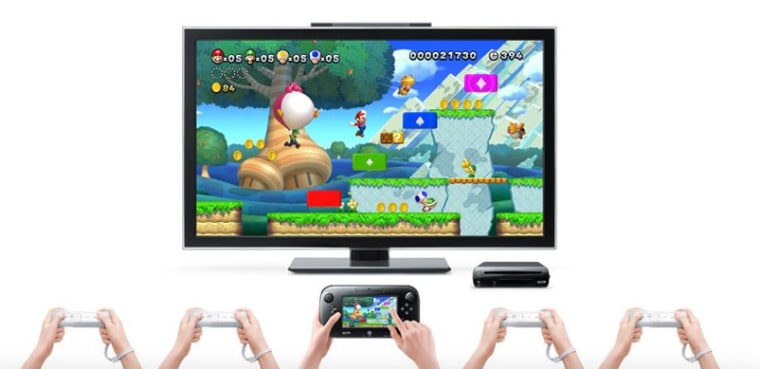 A new machine, a new controller
The Wii U is the successor to Nintendo's famed Wii game console, which launched in November 2006 for $250. It went on to sell more than 96 million units worldwide. The original Wii — which comes with Remote controllers that can sense the player's movements — introduced the world to motion-controlled gaming (hello "Wii Sports") and, in doing so, shot to enormous popularity.

Like its predecessor, the Wii U will also come packaged with a unique controller — the GamePad (pictured above). This wireless touchscreen tablet will not only let players use a touch interface as well as thumb sticks to control their games, it will give gamers a second, unique view of the game that is playing out on the television.
For example, in the highly anticipated horror game "ZombiU," players will see the shuffling undead coming at them on their TV screen, but will examine the contents of their virtual backpacks (looking for weapons and other supplies) by looking at the tablet's screen. They can also use the tablet as a kind of radar screen to detect incoming zombies that can't be seen on the TV.
During Thursday's press event, Activision also showed off how two people will be able to play "Call of Duty: Black Ops 2" together in the same room — with one player using the TV screen and the other using the GamePad screen. That means you can say goodbye to annoying split-screen multiplayer.

Additionally, the GamePad will let gamers play Wii U games on its smaller screen when the TV is busy being used for other things ... like actually watching TV. (For more on how the GamePad works, check out this story.)
Nintendo says that the Wii U console can support two Wii U GamePad controllers and up to four Wii Remotes (or four of the new Xbox-like Wii U Pro Controllers, should the game call for it.)
Two screens are better than one
With tablets and smartphones — and their touchscreens — becoming a powerful force in gaming these days, it makes sense that Nintendo would bring a touchscreen into play. And yet, many gamers and game pundits have expressed skepticism about Nintendo's new console — worrying that it will follow in the path of its predecessor.

That is, while the original Wii sold exceptionally well initially, its sales have taken a significant plunge in recent years. Many seasoned gamers have turned sour on the machine feeling that, beyond Nintendo's own first-party games (Mario, Kirby and the like), the Wii has become home to far-too-many gimmicky, motion-controlled kiddie games and far too few well-crafted games for seasoned players.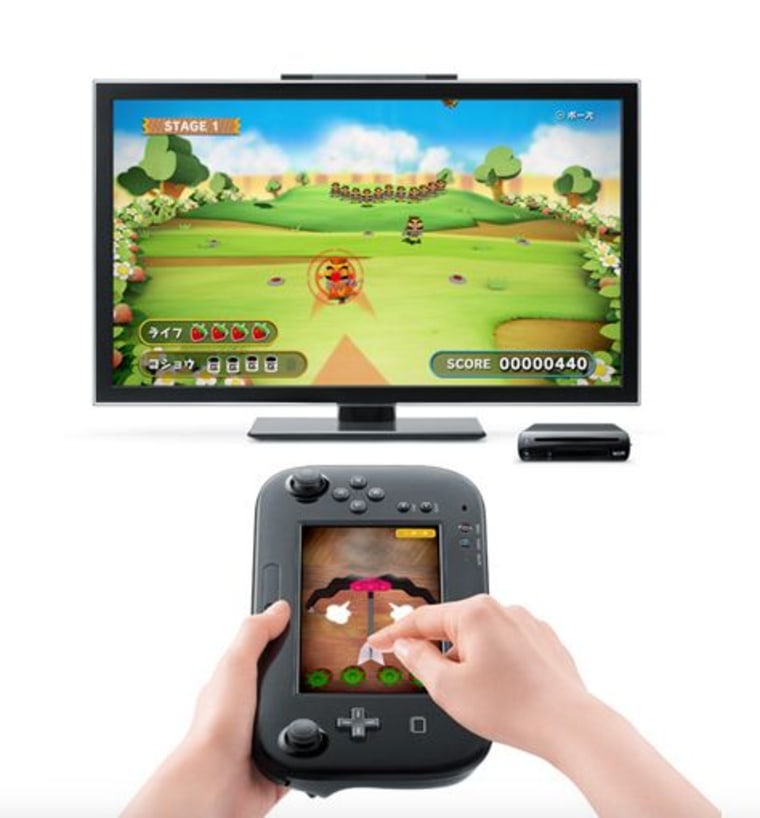 And so with the Wii U, Nintendo must woo back skeptical players — many of whom are concerned that the Wii U and its GamePad will again offer more gimmick than substance.
But while some are skeptical of the Wii U's second-screen approach to gaming, it's worth noting that both of Nintendo's competitors — Sony and Microsoft — are bringing second screens into play with their own home game machines.
Sony has been promoting its handheld game gadget —the PlayStation Vita — as a companion device to the PlayStation 3. Not only can gamers play certain titles on both the Vita and PS3, the Cross Controller feature makes it so the Vita acts like a PS3 controller while its small screen offers a different view of what's happening in the game than what you're seeing on the TV screen. (Check out Sony's demo of "LittleBigPlanet 2" here to see what I mean) .
Meanwhile, at the Electronic Entertainment Expo earlier this year, Microsoft unveiled its SmartGlass app which would, for example, allow a gamer playing "Halo 4" on their Xbox 360 to view in-game maps on their tablet or let someone playing "Madden NFL" on their Xbox draw a play on their tablet and make it happen in the game. 
Taking on the competition
This holiday season, Nintendo's Wii U will go up against the aging PlayStation 3 and Xbox 360, which are six and seven years old respectively. (Both companies are expected to reveal new game machines next year.)
The Xbox 360 is currently priced at $200 for a console with 4 GB of memory and $300 for a console with 250 GB of storage. Meanwhile the PlayStation 3's 160 GB system comes in at $249 while the 320 GB system is $300.
Both the Xbox 360 and PlayStation 3 offer significantly more storage than the Wii U for the money. But Jesse Divnich, game analyst with EEDAR, told me in an email interview that the success of the Wii U will come down to whether third-party game publishers support the the machine with quality titles. 
"We feel confident that Nintendo will develop its own compelling software that will drive initial sales; however, any long-term success will come from third-party developers creating unique and compelling content for the Wii U," he said.  "Simply 'porting" over existing Xbox 360 titles and slapping on some exclusive Wii U features will not cut it."
After following Thursday's annoucements, Divnich said the Wii U's $299.99 price point was not a surprise and was in line with market expectations — though he said there could be some disappointment that the "Nintendo Land" game will not be included with the basic package.
"Nintendo has always been a guiding light of creativity to the rest of the industry," he said. "Overall,  I feel the Wii U is a step in the right direction for Nintendo, but the company is under far more pressure to succeed than ever before."
Winda Benedetti writes about video games for NBC News. You can follow her tweets about games and other things on Twitter here @WindaBenedetti, and you can follow her on Google+. Meanwhile, be sure to check out the IN-GAME FACEBOOK PAGE to discuss the day's gaming news and reviews.