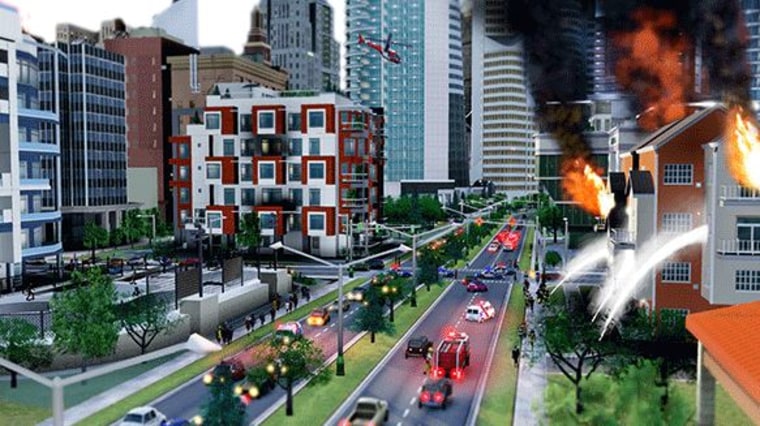 The famed SimCity game series got a long-awaited and highly-anticipated reboot this week, but many expectant players have had to put their virtual city-building dreams on hold.
The newest entry in the PC game franchise — aptly titled "SimCity" — re-envisions the pioneering open-ended, city-simulation game that first brought out the urban planner in all of us back in 1989. But the online game has been plagued this week with lengthy wait times, server problems and other issues.
This new "SimCity" is not only the most expansive, feature-rich and deeply-detailed SimCity game ever created, the creators at Maxis and Electronic Arts consider it a "live service" designed to have a constant flow of updates. But being a live service means the game requires a constant Internet connection to play, even for those who don't want to engage in the multiplayer aspects of the game. And that's where the problems lay.
Players have flooded the EA forums and Reddit with woe-filled tales of not being able to play the game because of overloaded servers or, perhaps worse yet, losing cities due to server issues. Over at Amazon.com, the game's ratings have plummeted to one and a half stars.
"I am extremely frustrated that, after spending over $50 on what looked like a really cool game, I now can't even play," wrote verified Amazon reviewer Elizabeth Kalbers. "All the servers are either busy, full, or 'available' but you can't actually connect to them! The tutorial won't load, I can't create a new city, and I keep getting error messages. This is the worst."
"Guess what? If you'd love to experience the nonstop thrills and excitement of SimCity, then please remove $60 from your bank and promptly pay someone to kick you repeatedly in the friggin' mouth," wrote verified Amazon reviewer Kyle. "I find it incredibly mind boggling that I spent $60 on something that I can't even log into to play. My first city that I spent some time on was lost forever due to server issues at EA."
For its part, EA has apologized and promises that fixes have already begun.
"The 'SimCity'servers are currently inundated with the masses of eager mayors attempting to govern their cities," EA admitted via its help page in a post early Wednesday. "Over the next few hours, we'll be deploying a server update which should help to improve game performance..."
The game's official Twitter account also announced that two new servers had been opened up. And in the EA forums, a 'SimCity' spokesperson said that while a patch to the Oceanic 1 server would take the game offline for a time, it should help resolve some issues players were facing there.
Meanwhile, EA's digital distribution service Origin has vowed via Twitter that the issues will be sorted out in time for the game's international launch later this week.
Of course, this is not the first time that a game that required a constant Internet connection has faced a launch-week crisis. "Diablo 3" players reported similar server problems when that game arrived last year.
Update 3/7/13, 2PM ET: In light of continuing problems with players getting online, Amazon has suspended digital sales of the game. A note on the game's page warns of issues connecting to EA servers and directs players to the game's support site for details.
Winda Benedetti writes about video games for NBC News. You can follow her tweets about games and other things on Twitter here @WindaBenedetti and you can follow her on Google+. Meanwhile, be sure to check out the IN-GAME FACEBOOK PAGE to discuss the day's gaming news and reviews.