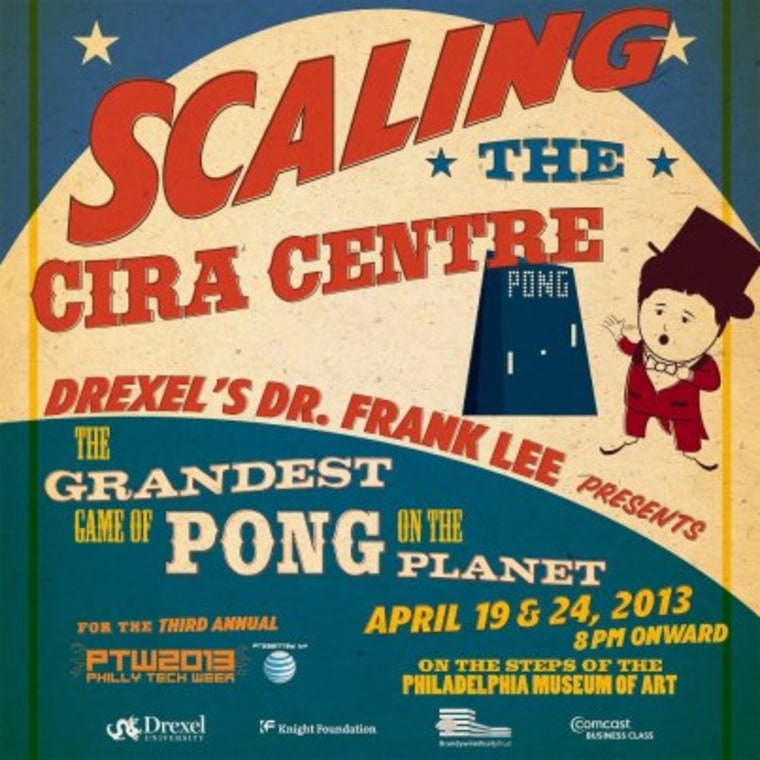 "Pong," the video game that first popularized the very notion of "video games" as a viable form of popular entertainment, is finally coming to the big screen. Except this new version of "Pong" isn't going to appear in movie theaters or next-generation consoles (yet…), but the side of a 29-story, 437-foot-tall skyscraper in Philadelphia.
To kick off Philly Tech Week later this month in the city, Drexel University computer science professor Frank Lee is planning to host a "Pong" tournament using the north face of the Cira Centre building as his screen.
In a video presenting the gigantic version of "Pong," Lee said that he's been working on turning the arcade and Atari-era classic into "the world's largest video game" for the past five years.
"The idea for the project came to me when I was driving down I-76," Lee said. "As the sun was going down, I saw the sparkly lights at the Cira Centre. In my mind, I saw Tetris shapes falling down. That was the genesis of trying to create a game using the Cira Centre lights."
While the Cira Centre's lights may not boast a resolution high enough to appease "Call of Duty" fans (Lee admitted, "you're restricted to 20-by-23 pixels" for the display. "You have to be really creative in thinking, 'what games could fit?'"), Lee said that figuring out how to control their display to make the lights respond to player interaction was the main challenge to turning "Pong" into a skyscraper-sized event.
"We found out that, basically, each one of those lights is on its own IP address," he said. "That's when I knew that it was theoretically possible."
Lee said that the day of April 19 "will be dedicated to Pong — a game that not just people in the gaming community know, but [one] that everyone knows. It's a cultural milestone."
The "Pong" tournament will take place on April 19 and 24 beginning at 8 p.m. each night. The actual players will compete from a position across the river from the Cira Centre, while Philly residents are invited to watch the fierce "Pong" battles unfold from the steps of the Philadelphia Museum of Art.
Roughly 100 people will be allowed to play the giant version of "Pong" on the two days allotted later this month, and those interested in competing are invited to sign up online for a place in the lottery. Winners will be notified by April 17.
Yannick LeJacq is a contributing writer for NBC News who has also covered games for Kill Screen, The Wall Street Journal and The Atlantic. You can follow him on Twitter at @YannickLeJacq and reach him by email atylejacq@gmail.com.