Sony's new PlayStation 4, announced Wednesday, has specs that resemble today's high-end PCs, which puts it far above the last generation of consoles and enables some incredibly realistic graphics and physics processing.
"We've created a platform attuned to the evolving needs of players," said Andrew Hall, Sony Computer Entertainment's president, said at an event in New York. The PS4's lead architect, Mark Cerny, took the stage to provide more details: "It's like a PC in many ways, but supercharged. The processing power of the system is an exponential leap over its predecessors."
The PlayStation 4 uses an 8-core processor much like desktop CPUs — unlike the PS3's "Cell" processor, which was powerful but infamously difficult for developers to work with. The graphics use a "highly enhanced PC GPU" and the system has 8 GB of high-speed RAM. The new PlayStation will have a big local hard drive, so you won't have to stream all of your games off the Internet, as some gamers feared.
That's a lot of alphabet soup, but in fact, Sony was very vague on exactly what type of hardware is in the new console (enthusiasts will want model numbers), although that information will likely trickle out over the next few weeks and months. The PlayStation 4 will launch in time for "holiday 2013," but Sony did not reveal a specific date or a price.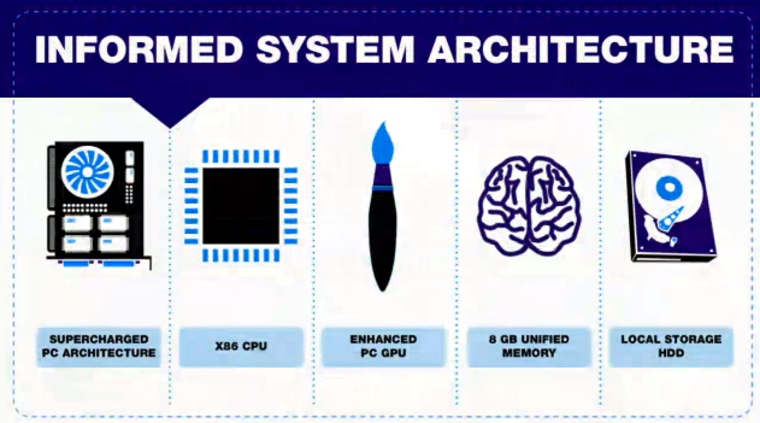 There's more than just more horsepower, though: Sony has added a few interesting features that should make gaming a bit more convenient.
Players can hit the power button to instantly send the console into a sleep state, where the state of the game in play is instantly frozen and can be resumed at any time with just one more button press. As any gamer can tell you, a working "pause" button has been increasingly hard to find over the years, so this will be welcome.
A whole secondary chip has been dedicated to background processing like uploads and downloads, so players don't have to worry about downloads or video recording affecting gameplay.
The controller itself, as well, has been updated with a touchpad and improved wireless hardware. You can even use a PlayStation Vita to stream games, much like the Wii U.
Many more things were added, and games announced and shown — which you can read about at our extensive liveblog of the Sony event here. One thing you won't find, though, is the console itself — Sony decided to wait before showing it off.
Devin Coldewey is a contributing writer for NBC News Digital. His personal website is coldewey.cc.