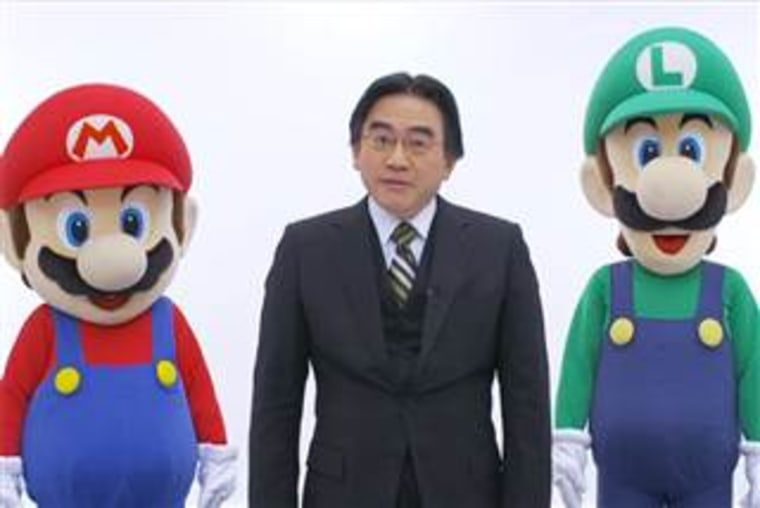 Current president and CEO of Nintendo Co., Ltd. Saturo Iwata was just given a new gig by his struggling employer. In addition to the roles he already has, Iwata will now assume the position of CEO of Nintendo of America (NoA), replacing current chief executive and chairman Tatsumi Kimishima, who is transferring to the company's Kyoto headquarters to serve as the General Manager of both the Corporate Analysis and Administration as well as the General Affairs Division.

Iwata will now oversee NoA president and Chief Operating Officer Reggie Fils-Aime. His and Kimishima's new appointments are just one part of an executive-level reshuffling for Nintendo's board of directors as several key members plan to retire.
In a statement announcing the new appointments, Nintendo said the move will support "the company's unified global strategy" and "allow streamlined decision making and enhance Nintendo's organizational agility in the current competitive environment."
Nintendo announced the executive shifts alongside its 2013 fiscal year earnings report, which saw the company return to profitability after posting its first loss in three decades the previous year.
The news is hardly encouraging for the world's largest video game console maker, however. Nintendo reported a net profit of ¥7.10 billion ($71.7 million) for the year ended in March, up from a loss of ¥43.20 billion in the previous year but nearly half the company's projected ¥14 billion.
Much of this income gap stems from lower-than-expected sales of its new home entertainment console, the Wii U, which was first released last November. The company announced that just 3.45 million Wii U units have shipped worldwide so far—more than half a million units short of its January forecast for 4 million, which was itself a diminished forecast from the original 5.5 million projection. These figures imply that the Wii U only shipped an additional 390,000 units globally in the last three months.
The company predicted that net income will rise to ¥55 billion yen in the fiscal year ending March 31, 2014, saying that it expects to sell 9 billion Wii U consoles in the coming year. Analysts, however, have remained wary about the console's commercial prospects as it faces increased competition from competitors like Sony and Microsoft — both of which are expected to release next-generation gaming devices of their own in time for the 2013 holiday season.
Michael Pachter, an analyst at Wedbush Securities who told NBC News last week in no uncertain terms that he thinks Iwata "sucks" at his job, said the Wii U is "just a baffling thing" that disregards the very interests of the home console market to which it is meant to appeal.
"I've always said that I think they came up with a solution and never identified the problem that they were solving," Pachter said.
"And the proof of that is: how many people call it a tablet when it first came out?" he added, referring to the large touchscreen controller officially known as a "GamePad" that comes with the device.
Pachter didn't doubt the attraction that many gamers still feel to beloved Nintendo game franchises like "Super Mario Bros." and "The Legend of Zelda," but he felt that the fact that Nintendo had to release a separate Xbox 360-style "Wii U Pro" controller showed that the company no longer knows how to appeal to many of the gamers would be willing to make a hefty investment into a new console.
And without a guaranteed audience of dedicated console gamers like Sony or Microsoft has, the company risks losing its already tenuous third-party support to make new games for the Wii U.
"It doesn't appear they're going to get long-lasting third party support," Pachter said. "The ones that did support are going to abandon it if it doesn't sell better," presumably once the PlayStation 4 or new Xbox can offer developers a larger customer base than the Wii U can.
Without that third-part support, Nintendo is left with its many "Mario" and "Zelda" franchises, which have certainly done enough to support the 3DS, but not necessarily an additional console — and a pricier one at that.
"None of us can figure out why exactly we want one," Pachter said. "We don't need a home console that's like the 3DS, and that's just what the Wii U is."