PAX East 2012, which went down this past weekend in Boston, was filled with the games that everyone will be playing later this year, including "Borderlands 2," "Assassin's Creed 3," and "Max Payne 3." But "Ms. Pac-Man," "Stargate," even "Missile Command"? Do games from yesteryear belong at a place that caters  to the current generation of gamers?

The answer is yes, and now more than ever. For three consecutive years, since PAX East first opened its doors, the American Classic Arcade Museum has provided a time machine of sorts, by recreating the golden age of the arcade. And its popularity keeps on growing.

In addition to packing a dimly lit room with machines like "Donkey Kong" and "Robotron: 2084," music from Journey and Quiet Riot helped add color to the space. The end result is a scene that transports those in their 40s back to their childhoods, specifically for those who obsessed over high scores and inhaled a large amount of second hand smoke (minus the latter). But it's their children who seem to dig the classic arcade the most.

ACAM has many aims, such as "bringing a bit of the 1980s to the convention, especially for those who weren't around at that age," according its president Gary Vincent. But the primary, underlying goal is the same one that has driven ACAM since day one: the preservation of video game history.

It is an extension of Funspot, located in Weirs Beach, New Hampshire. The amusement center, currently celebrating its 60th year, is the largest arcade in the world, thanks to their continued effort to acquire and restore the vestiges of gaming's past. As a result, Funspot has become the holy ground for classic gaming aficionados.

But what about the current crop of gamers? "It's amazing seeing younger people react," says Mike Stulir, who is part of the ACAM's board of directors. "These kids, in their high school or junior high school years, are blown away by such a setting."

Such a reaction should not be surprisingly. Artifacts of the 80s are popular with today's youth. Retro gaming in particular has never been hotter. Has the reaction among younger gamers changed since the ACAM first set up shop at PAX East three years ago? Again, the answer is yes.

"I have found that we get more specific game requests," answered Stulir. "To have a junior high kid asking if we have 'Joust' this time is kind of surprising, since three years ago, it was coming from someone 25 to 30 years older than them."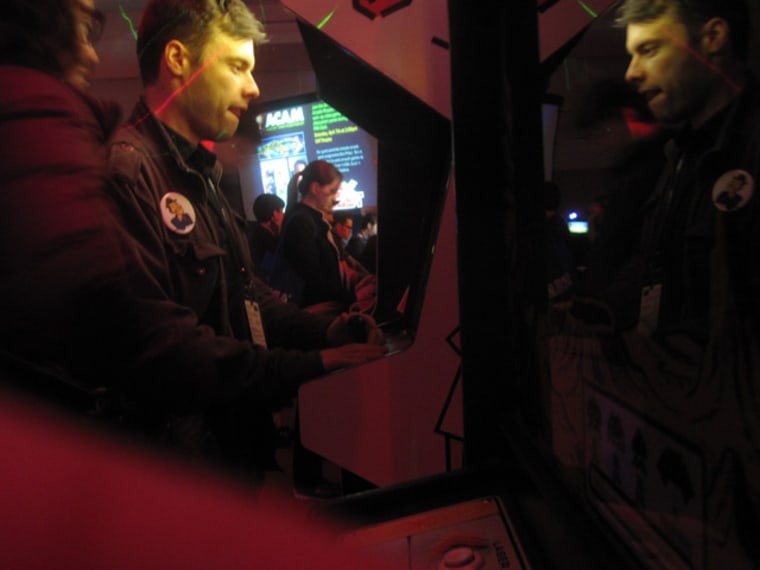 Stulir adds, "The arcade is a testament of how these games [from the 80s] can transcend generations. They're easy to play, fun to play. Anyone can grasp them immediately, unlike some of the games on modern consoles with steep learning curves."

"Today's generation is interested in the roots of video games," theorizes Vincent, further commenting on the popularity of their set-up. "It's also a tribute to the game makers of that time. They were designed to be played for just 6 months and that's it. Yet 30 years later, people still want to play them." 

Aside from younger gamers getting to experience what it was like for their parents to be a gamer at their age, older gamers truly appreciative someone taking the initiative to time capsule the past, and to such a degree.

As Vincent explains:

"There are plenty of others who preserve games, but they're all private collections, with either limited or no public access. People say we're crazy to have such rare items out in the open, and not be behind protective glass. But what's the point in that? They made the game to be played. As Steve Golson [designer of 'Crazy Otto,' which would become 'Ms. Pac-Man'] said, it's like going to an auto museum and getting behind the wheel of one of the exhibits! What's we're doing, in my humble opinion, is a little bit different, and that's letting people have full access to some things that, in their own right, is very valuable."
Game players, regardless of age, applaud the ACAM's efforts, but what about the game makers of today? According to Stulir, "being at PAX allows us to interact with companies face to face, to let them know that we're trying to protect their legacy, and find ways to work together."

Some have lent support, via sponsorships, but, "... we're hoping to work with them to the next level, like preserving source code and documentation, the truly vital parts of the video game history." As both men have discovered, many game makers did not save their work. But what little exists is something the ACAM is hoping to protect, for future generations.

The museum was established in 1998, and when asked if he ever anticipated the resurgence of classic games, Vincent's response was, "I had no idea how far this would go. There was no way to predict that in 2012 we'd be hauling 45 machines 2 hours south to a convention filled with so many kids. People truly understand and appreciate what we're doing, and it's immensely satisfying."

Matthew Hawkins is an NYC-based game journalist who has also written for EGM, GameSetWatch, Gamasutra, Giant Robot and numerous others. He also self-publishes his own game culture zine, is part of  Attract Mode , and co-hosts  The Fangamer Podcast . You can keep tabs on him via  Twitter , or his personal home-base,  FORT90.com .