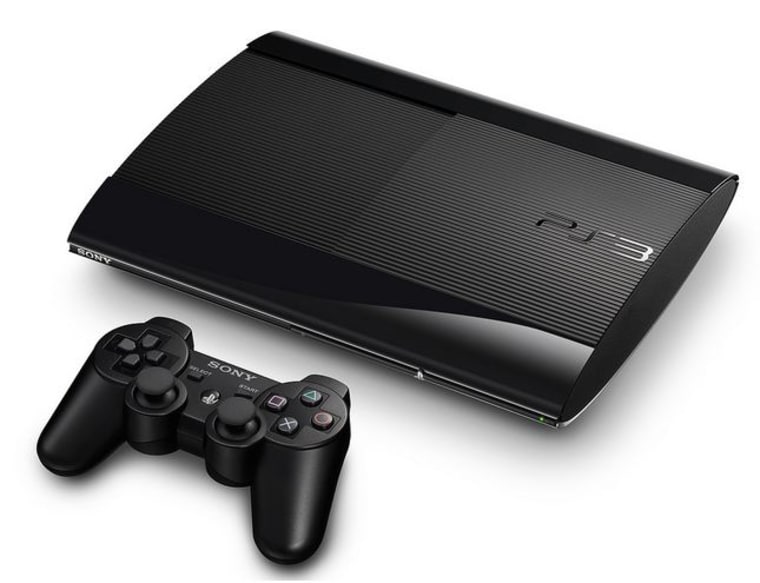 Just in time for the all-important holiday season (and just in time to jab at Nintendo as it prepares to launch its brand new Wii U game machine) Sony has revealed a new, smaller PlayStation 3 game console.
Earlier this year, we heard rumors that a super-slim PlayStation 3 was in the works. And at a press conference in advance of the Tokyo Game Show Tuesday night, Sony finally revealed the revamped PS3, which features a slick new design that is about 20 percent smaller and 25 percent lighter than the current game machine.
But while the new PS3 is smaller, it comes with a bigger hard drive. In fact, Sony will sell two versions of the new PlayStation 3 — one with a 250 GB hard drive and one with a 500 GB hard drive.
The 250 GB PS3 will arrive on September 25 for $270 and will come bundled with "Uncharted 3: Drake's Deception: Game of the Year Edition" and a $30 voucher for "DUST 514" digital content. The new 500 GB PS3 will arrive October 30 for $300 and will come bundled with "Assassin's Creed III."
Sony has been selling the current-model PlayStation 3 with a 160 GB hard drive for $249 and one with a 320 GB hard drive for $300.
This is the second time Sony has redesigned the PlayStation 3 since the machine launched back in Nov. 2006. In 2009, Sony unveiled its first skinnier model,  referred to then as the PS3 Slim. And Sony has offered the PS3 with different hard drive sizes at various times. But the 500 GB version coming this October is the largest so far.
"As developers continue to release deep and rich digital gaming content, providing an option for larger HDD is essential, especially for games with large DLC packs, and full game downloads, as well as personal entertainment content," wrote John Koller, director of hardware marketing, on the PlaySation blog.

The super-skinny PS3 will go up against Nintendo's new Wii U machine, which launches Nov. 18 and will run $300 for a version with 8 GB of storage and $350 for a version with 32 GB of storage.
Meanwhile, the Xbox 360 is currently priced at $200 for the console with 4 GB of memory and $300 for the console with 250 GB of storage. It'll be interesting to see if Microsoft adds fuel to the holiday sales fire and offers up a redesigned Xbox 360 of its own, or perhaps a new price for its 7-year-old machine. 
Winda Benedetti writes about video games for NBC News. You can follow her tweets about games and other things on Twitter here @WindaBenedetti, and you can follow her on Google+. Meanwhile, be sure to check out the IN-GAME FACEBOOK PAGE to discuss the day's gaming news and reviews.