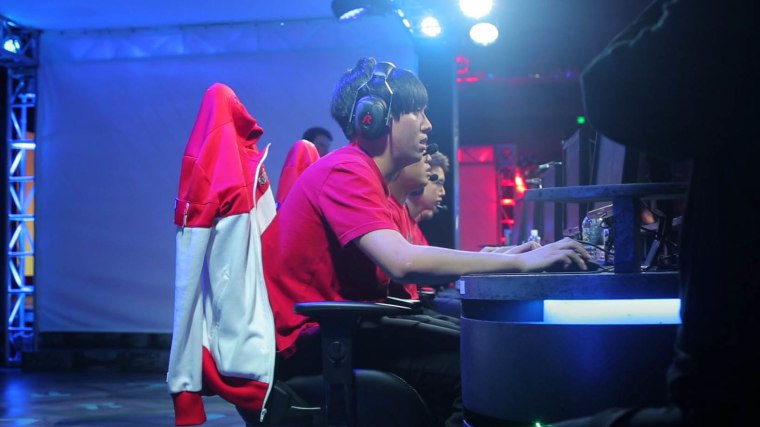 The world's most-played video game has a brand new world champion.

The Taipei Assassins, a team from Taiwan, has won the "League of Legends" World Championship Finals and the $1 million in prize money that goes with it.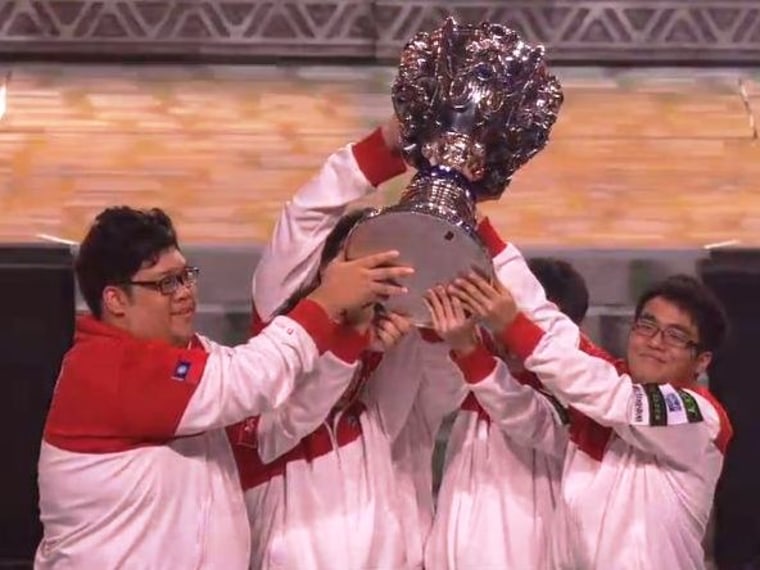 On Saturday, the Taipei Assassins took on South Korean team Azubu Frost at Galen Center in Los Angeles. The finals set the two five-man teams against each other in a best-of-five competition that ended when the Taipei Assassins -- the underdogs -- beat Azubu Frost three games to one. 
"These guys -- against all the odds!" said a thrilled Brandon Beck, CEO and co-founder of Riot Games, as he awarded the enormous Summoner's Cup to the winning team. "They just showed up tonight!"
Launched three years ago, the online multiplayer PC game "League of Legends" -- created by Riot Games -- has emerged as an immensely popular game around the world. And it has shot to popularity especially over the course of the last year.
Back in November 2011, Riot reported that the game was pulling in 4.2 million daily active players and 11.5 million monthly players. But last week, "League of Legends" claimed the title of "most played video game in the world" with Riot revealing that it now pulls in 12 million daily active players and 32 million monthly active players for a total of 1 billion hours of play time per month.
For comparison, "World of Warcraft" currently has 10 million subscribers  and "FarmVille 2" -- the most popular game on Facebook at the moment -- has 8.5 million daily active users.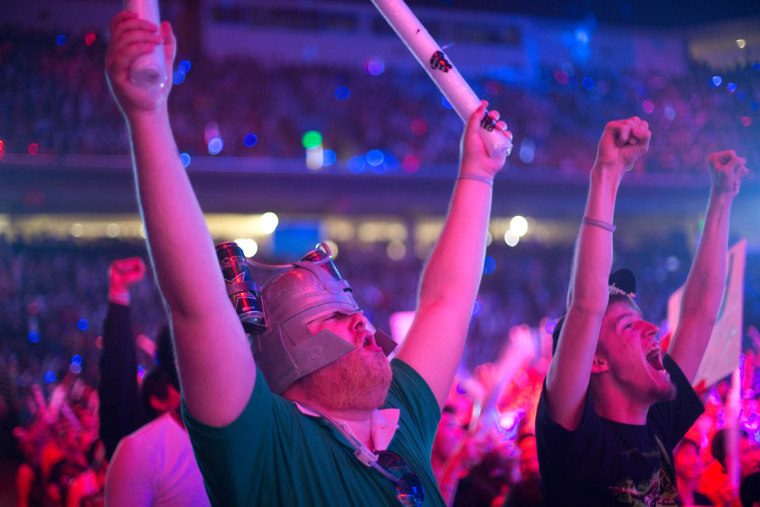 "League of Legends" -- which is a strategy-heavy game that drops players into a fantasy-themed battle arena -- is also a highly competitive game that has become immensely popular as an electronic sport (aka eSport).

Tickets to the Season Two World Finals at the University of Southern California's 10 thousand-seat Galen Center sold out in just three days. And on Saturday evening, the USC basketball arena was packed with cheering fans. Meanwhile, hundreds of thousands of viewers worldwide watched the games play out online where they were being broadcast via Twitch.tv  and Own3D.tv in 13 different languages.
Jon Stein, eSports Coordinator at Riot Games, tweeted during the finals that they had surpassed 900,000 concurrent viewers ... and that wasn't counting broadcasts in Korea and China.  For more on that, see InGame editor Todd Kenreck's video report from Los Angeles below.
David takes on Goliath
Azubu Frost and the Taipei Assassins emerged as the two very best teams in the world after a series of playoff games took place in Los Angeles last week pitting 12 teams from around the world against each other. Teams arrived in L.A. from China, Vietnam, Korea, Taiwan, North America, and Europe.

Azubu Frost and the Taipei Assassins had never faced off before Saturday's event, but Azubu Frost went into the finals heavily favorited to win with announcers calling it "a David and Goliath match-up."

Azubu Frost hails from Korea, where eSports are immensely popular and teams are known for their dedication and extremely high level of skill. And Azubu Frost had dominated throughout the playoffs. They triumphed over North America's Team SoloMid, winning 2  games to 0. And in the semi-finals, they took down European team Counter Logic Gaming EU 2 games to 1.

The Taipei Assassins found themselves going up against the powerful Korean team after surprising everyone with two upset victories during the playoffs. They beat Korean team Najin Sword with a 2 to 0 victory. They then took down the Moscow Five -- a team many had predicted would win the finals -- in a 2 to 1 match-up. 
On Saturday evening with many betting on an Azubu Frost triumph, the Taipei Assassins came out strong and seemed to be ahead early on in the first game. But Azubu Frost came back to win the match, which saw a surprising number of kills -- 54 total. The Taipei Assassins then won the second game and followed that with an even stronger third game, forcing Azubu Frost to surrender after 22 minutes.

With momentum on their side and the crowds cheering them on, the Taipei Assassins sealed their Summoner's Cup win and the million dollar prize with an aggressive fourth game.

The rise of eSports
"League of Legends,' at its core, is a competitive team game. It's a sport. And like any sport, fans don't just enjoy playing it, they want to watch the game at the highest level of competition," Beck told me during an interview before Saturday's finals.
When I asked why he thought "LoL" had become such a popular eSport, he said, "There are a lot of skills to master and there's a ton of depth to the experience. It's also fun to watch for the same reason that any traditional sport might be, which is you can be in awe of the super human feats at the highest level of play." 
Saturday's World Championship Games brought to a close what has been an exciting season of "League of Legends" gaming -- a season in which Riot was far more ambitious with its eSports plans for the game than ever before ... and things were sometimes far more complicated than ever before.

"We're seeing tremendous growth in eSports all over the world,"  Beck said, though he acknowledged electronic sports have not yet reached the kind of mainstream popularity in North America that they have in countries like South Korea.
Beck said that, with Season 2, Riot has tried to significantly advance the "League of Legends" eSports experience for both competitors and fans. For example, last year's Season 1 "League of Legends" World Championship Finals were held at a far smaller gaming venue in Sweden and the winners walked away with a $50,000 prize. This year, Riot decided to bring the finals to a major sports arena and blew the winning prize up to a cool $1 million. 

Meanwhile, Beck said they are trying to create broadcast and live spectating experiences that are approaching the kind of quality and production values found in traditional professional sports. With that in mind, not only were the "League of Legends" finals held before thousands of people in a sports arena, they were broadcast with the kind of well-organized, live play-by-play commentary and analysis one might see during a pro football game.

"We hit an inflection point at  some point between last season and this season where the demand and interest in eSports picked up dramatically," Beck said. "And that, in our minds, gave us a green light to go really big on realizing this phenomenal experience."

And Saturday's event did seem to go off as smoothly as any event organizer could have hoped ... though only after Riot hit a few bumps getting there.

During the playoffs the previous week, Riot ran into technical issues that forced the company to postpone some of the matches. The earlier games also drew accusations that competitors were able to cheat by stealing glimpses of each other's maps -- all because of the way the competition stage had been laid out.
Riot ended up fining Azubu Frost $30,000 for its screen watching behavior during the playoffs and then carefully redesigned the stage layout to ensure players wouldn't be tempted to peek during the finals.

"We had a really ambitious set design that we thought would really improve the live spectator experience, but unfortunately it made it a little easier for players to get information they shouldn't have access to in the game," Beck said. "We take responsibility for creating that temptation and that possibility."
And he added, "I do think that as we sort of break new ground and try to realize our ambitious vision we are going to make some mistakes along the way. But hopefully, overall, we are providing a fantastic experience."
Certainly the enthusiastic crowds at Galen Center Saturday night seemed thrilled with the World Finals, which offered some truly epic "League of Legends" gaming.
As for the folks at Riot, when I asked Beck what he hoped would ultimately come out of Saturday's event, he said, "We want to come away with proof that the notion of eSports being broadcast to millions and played in front of thousands in a sports arena is not a dream off in the distant future but is today's reality."

Welcome to your new reality, Riot.
Winda Benedetti writes about video games for NBC News. You can follow her tweets about games and other things on Twitter here @WindaBenedetti, and you can follow her on Google+. Meanwhile, be sure to check out the IN-GAME FACEBOOK PAGE to discuss the day's gaming news and reviews.