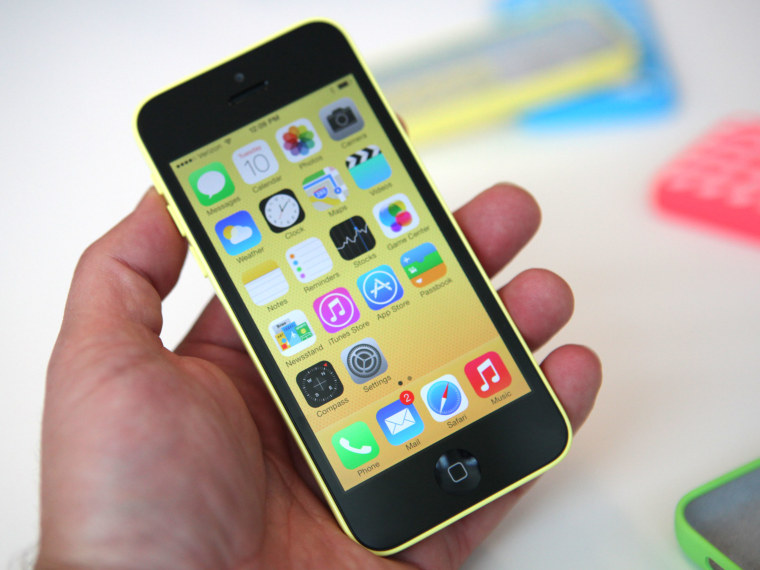 Apple finally introduced a lower-cost iPhone Tuesday, the iPhone 5C, in an array of bubblegum-like colors in green, blue, pink and yellow. A white version is also being made. The phone will cost $99 for a 16 GB model, and $199 for a 32 GB version, each with a two-year wireless contract. 
The phone will be available for pre-order Sept. 13 and for purchase Sept. 20 in the U.S.
A key audience Apple is trying to reach with the 5C is China, as well as other countries where the cost of phones isn't subsidized, like they are in the U.S. The phone will also be available in China on Sept. 20.
"In the emerging markets, without subsidy, the current price (for an iPhone) is $650-plus, so it will be a welcome change," mobile analyst Chetan Sharma told NBC News recently.
The less-expensive iPhone is something consumers have been hoping for, although recent-edition models of iPhones historically have been available at the $99 price point, and sometimes even for free with a two-year contract in the U.S. But this is the first time a new iPhone has been offered for $99.
Apple also said Tuesday that 2011's iPhone 4S 8 GB model will "be available for free" to "qualified customers" with a two-year wireless contract.
While the iPhone 5C doesn't have an aluminum casing, it is made from a lacquer hard-coated polycarbonate material — in other words, "It's "unapologetically plastic," says Apple designer Jony Ive. The phone's lacquer coating will give it a glossy look.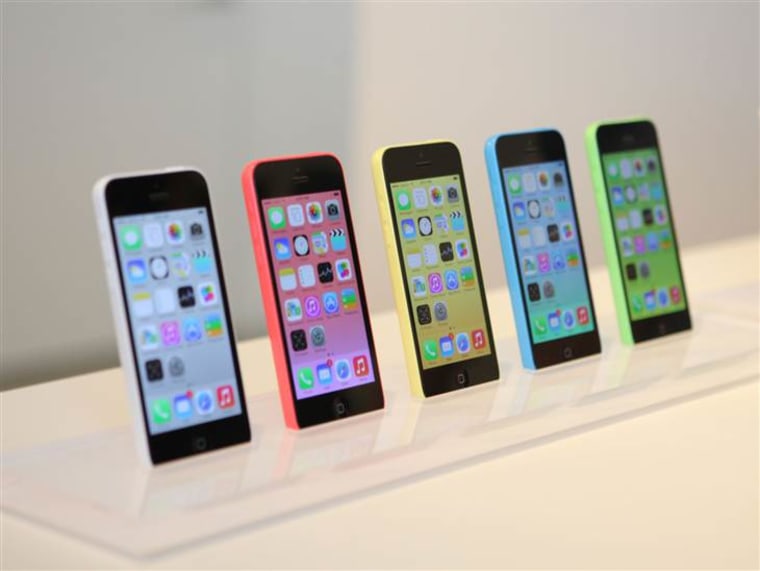 The iPhone 5C has basically the same dimensions as the iPhone 5S, although the 5C weighs a bit more, largely because of its plastic housing. The iPhone 5C weighs 4.65 ounces; the iPhone 5S is 3.95 ounces.
The casing is made from a single part, so that no seams will be visible. The phone's steel frame also doubles as the iPhone 5c's multiband antenna, Apple says.
The iPhone 5C uses many of the same features as the iPhone 5: It has a 4-inch Retina display screen, and the same Apple A6 processor as the iPhone 5. The new iPhone 5S, also unveiled by Apple Tuesday, uses a faster processor. That phone will start at $199 (and sell up to $399) with a two-year contract. Both new phones will come with Apple's updated mobile operating system, iOS 7.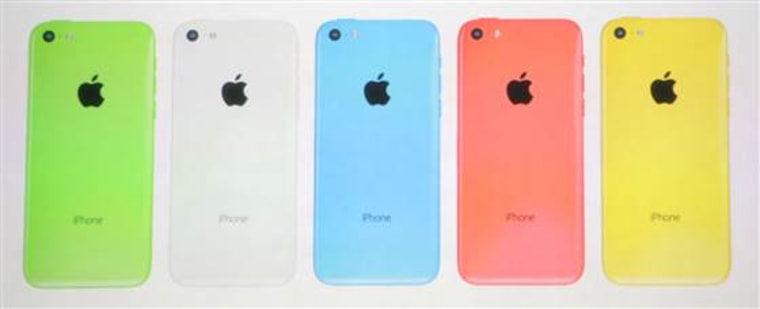 It includes an 8 megapixel iSight camera and a new FaceTime HD camera for FaceTime calls. It does not have the new fingerprint sensor for security that is featured on the iPhone 5S.  

Apple has also created custom cases for the iPhone 5C with a "soft-feel silicon rubber." Those will cost $29.

The iPhone 5C will be available from all four major U.S. carriers — Verizon Wireless, AT&T, Sprint and T-Mobile.
Check out Technology and TODAY Tech on Facebook, and on Twitter, follow Suzanne Choney.