In a compelling combination of the ancient and the modern, a team is hoping to create a milestone human-powered helicopter — and funding the effort on Kickstarter. Atlas is the name of the proposed craft, and with it the team hopes to claim a decades-old $250,000 prize.
In 1980, the American Helicopter Society named a $250,000 prize after Igor Sikorsky, a pioneering aviator and inventor. The challenge: create a human-powered helicopter that can hover 10 feet in the air for one minute. Sounds simple enough, but the engineering challenge is substantial: despite several real efforts over the last 30 years, no one has claimed the prize.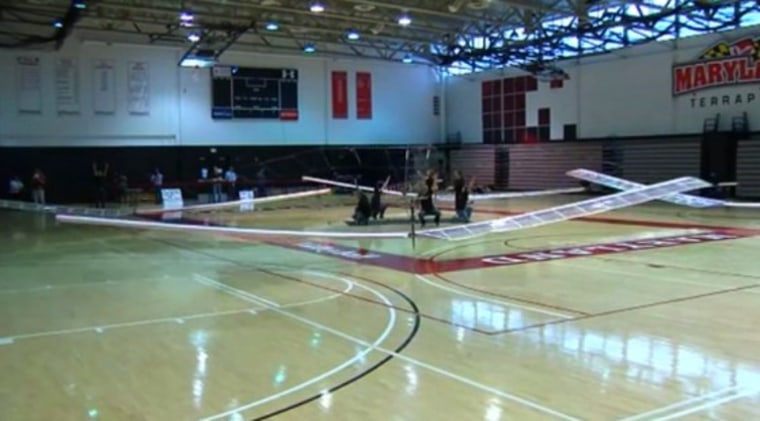 One team at the University of Maryland managed to stay aloft for 11.4 seconds, and a Japanese craft did 19 seconds in 1994, but Aero Velo is planning on using advanced materials and know-how to go all the way. They've already set a few records, one for human-powered, flapping-wing flight (the Snowbird ornithopter) and one for human-powered ground speed (72.6MPH in the Vortex streamlined recumbent bicycle).

This project would be the most ambitious, though they aren't departing from the quad-rotor design found on the previous record-setting craft. By using carbon fiber for the structure and advanced aerodynamic modeling, they think their high-powered human engine (Todd Reichert, competitive cyclist and speed racer) should be able to actually make this thing happen.
The total budget of the project is $170,000, of which they hope $30,000 will come from Kickstarter pledges, and they plan to be flying by August. It's ambitious, interesting and could be a part of aviation history. Check out their plans at Kickstarter or follow the project at their website.
Devin Coldewey is a contributing writer for msnbc.com. His personal website is coldewey.cc.