If folks at the NSA really want to get at your data, they probably can — but that doesn't mean you have to make it easy for them. A new service called MaskMe lets you create new logins, credit cards and phone numbers that act as proxies for your own. If they get compromised, just erase them.
It's done through a Web browser extension, and detects when you are signing up or logging into a service, offering to create a new email and password for it. You just remember a single master passphrase and it does the rest. Email will be forwarded to your real address, and if you start getting spammed you or suffer a security breach, a click means that email address no longer exists.
Of course, your email isn't the only thing you give out on the Internet. Your phone number and credit cards are just as often disclosed when you buy things online. MaskMe will also make proxies for these — for $5 a month (email and passwords are free). Every time you have to put in a credit card, it invents a new one that will be charged instead, passing on the cost to your actual card.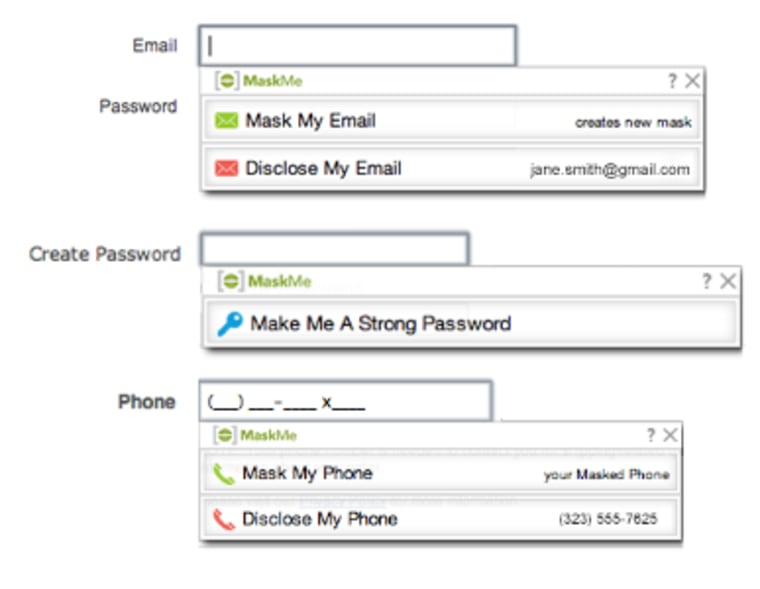 The only question seems to be whether you're OK with entrusting Abine, which makes the extension, with all your private information. Well, it may not be any worse than the 30 or 40 companies that already have that data, and it may help stem losses resulting from future abuses or hacks. And Abine seems dedicated to helping create privacy on the Web.
You can download MaskMe for free here; if you like how it works, you can shell out the $5 per month for phone and card masking as well.
Devin Coldewey is a contributing writer for NBC News Digital. His personal website is coldewey.cc.