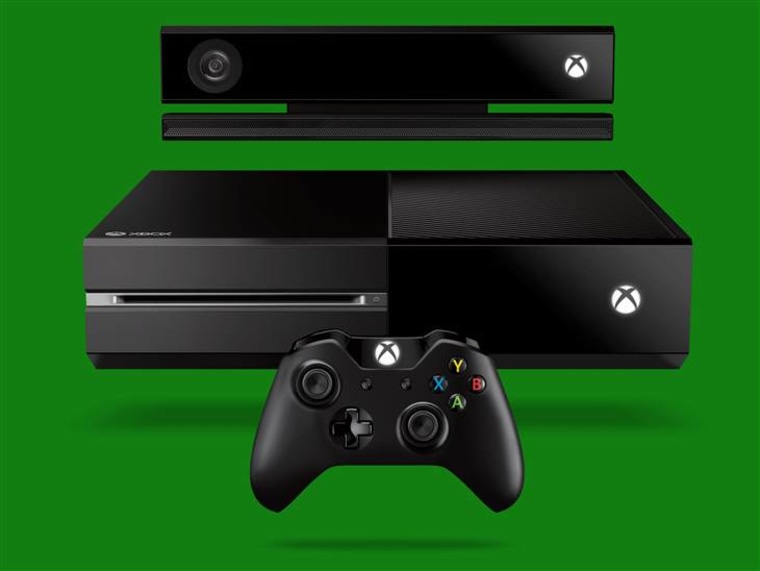 As many a YouTube parody video will tell you, Tuesday's Xbox One reveal was about a lot of things — TV, sports and "Call of Duty" being the main three. But as gamers and critics began to pick apart the new device, they inevitably began to wonder: What about the actual games?
While Sony's PlayStation 4 announcement in February inwas replete with independent game developers singing the company's praises both on and off the stage, Microsoft's Tuesdayevent featured a small number of sleekly polished, blockbuster franchises like, well, "Call of Duty."
Microsoft emphasized repeatedly that gamers have not heard the last word on all of the games coming to the Xbox One. Indeed, the company has already promised some 15 exclusive titles for the console's first year on the market. (Neither availability or pricing was shared Tuesday, although the company said Xbox One will be out later this year.) But while Microsoft may be doing its best to bring powerhouse studios the world over into its developer stable, the company may not be looking as kindly on independent game developers.
When a reporter from the tech site Shack News asked Matt Booty, general manager of Redmond Game Studios and Platforms, if Microsoft will continue to require indie game developers to find a publisher to get their games on Xbox Live Arcade, he said: "As of right now, yes. We intend to continue to court developers in the ways that we have."
"I would also expect that for this new generation, that we're going to continue to explore new business models and new ways of surfacing content," Booty continued. "But Microsoft Studios is a publisher that works with a wide range of partners, as do a lot of other people, to bring digital content to the box."
As Booty's comments suggest, the company isn't exactly departing from its current Xbox 360 strategy. But allowing self-published titles is fast becoming more of an industry standard through services like Valve's PC gaming distribution platform Steam, Nintendo's eShop, and Sony's PlayStation Network.
PC gaming is obviously a different beast entirely, but Sony — Microsoft's closest competitor in the console market — has been particularly aggressive in lionizing independent game developers as a largely untapped bastion of creativity the company wants to dip further into with the PlayStation 4. That may be because the company is finally owning up to its own mistakes in making the PlayStation 3 notoriously difficult to develop games for, but in either case the loss of a vibrant indie community risks giving a creative advantage (if not an immediately commercial one) to Microsoft's competitors.
Many indie developers took to Twitter to air their frustrations with Microsoft and its new console.
"So as someone who doesn't play 'Forza' or any EA Sports games and already has a computer hooked up to my TV, what does Xbox One offer me?" tweeted Tommy Refenes, the programmer behind the acclaimed platformer "Super Meat Boy" that first appeared on Xbox Live Arcade. Phil Fish, who also worked on a celebrated XBLA game "Fez," said that "there was absolutely nothing relevant" to him inthe announcement.
"Nothing about digital distribution or indies," Fish added. "Nothing at all."
Markus "Notch" Persson, the creator of the wildly popular and unprecedentedly profitable "Minecraft" game that also appeared on XBLA, said that he "tried to get excited about the Xbox One, but failed."
So the leaders of the indie game community clearly weren't thrilled by the Xbox One reveal. But does that mean that Microsoft is hanging them out to dry? Possibly. An independent developer who has worked with Microsoft in the past told NBC News that "premium" has become something of a buzzword for the company's new console, as if to emphasize that the company wants to maintain a strong hand in curating all gaming content that appears on XBLA.
NBC News asked Microsoft to comment about its reasons for not allowing developers to self-publish their work. We'll update this post when we hear back.
The production of indie games has also all but dropped off for the Xbox 360 in the lead-up to the Xbox One's release, while Sony continues to push out small and relatively cheap titles for the PlayStation 3 and handheld Vita console throughout this spring and summer.
Then again, it could just be that indie game development isn't the most pressing of Microsoft's concerns for the Xbox One. Many of Sony's games, such as Drinkbox Studios's "Guacamelee," have been warmly received by game critics, but none have made the commercial or cultural splash of a game like "Call of Duty" or even "Super Meat Boy." Sony may be opening itself up to indie developers in the hopes of finding the next "Minecraft," but it's just as likely that Microsoft isn't simply because it doesn't have to.
Update: Microsoft gave NBC News the following statement:
Xbox pioneered digital distribution of console games with Xbox LIVE Arcade opening up the console to entirely new classes of independent developers. Later, we introduced Xbox LIVE Indie Games to provide an outlet for the hobbyist creator. Xbox One is a platform that allows all creators, including those who work on games and apps, regardless of team size, funding, business model, etc. to take advantage of unique capabilities to build amazing experiences that push the limits of technology. We are committed to ensuring all Xbox platforms are the best platforms to help developers realize their visions and we look forward to sharing more details later.
Yannick LeJacq is a contributing writer for NBC News who has also covered games for Kill Screen, The Wall Street Journal and The Atlantic. You can follow him on Twitter at @YannickLeJacq and reach him by email at:ylejacq@gmail.com.