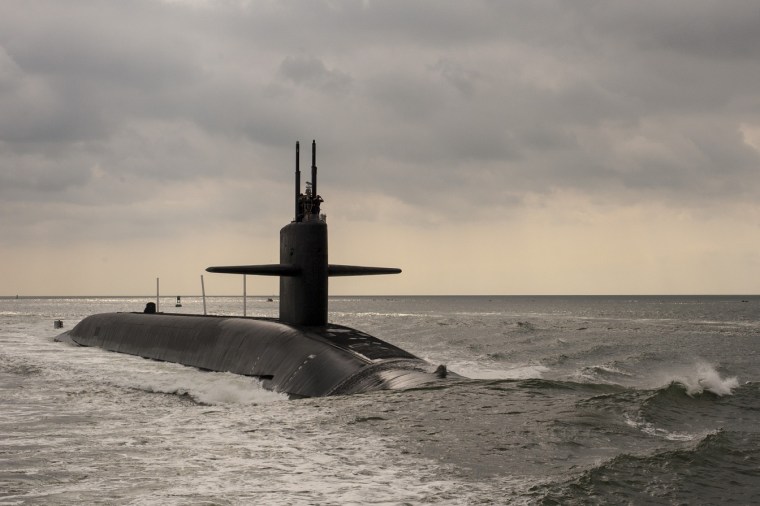 The Navy's next-generation nuclear submarine may have an electric drive and new reactor plant that allow it to patrol the seas with near-silent stealth for half a century, according to emerging details about the secretive program.
The electric drive would replace a direct mechanical connection between the nuclear-powered steam turbines and the submarine's propellers. In the new configuration, the nuclear power source will run electric motors that propel the ship.
"Electric drives could prove to be much quieter than the current direct-drive method," the U.S. Naval Institute explained in a brief detailing the new design. The institute is an independent, non-profit forum on national defense.
The military tried electric drives in the 1960s and '70s, but found them to be too slow and maintenance needy. Technological advancements over the past few decades could provide the hassle-free speed required.
Since Navy submarines rely on stealth to hide from enemies, a nearly silent engine will make them harder to find. The Ohio-class replacement nuclear-powered ballistic missile submarine will also be covered in echo-free tiles that reduce detection from active sonars.
In addition, the program is aiming for a newly designed reactor plant "that will last the life of the boat," Sean Stackley, Assistant Secretary of the Navy for Research, Development, and Acquisition, said in an interview with the U.S. Naval Institute. 
"That's important because what it does is effectively eliminate the midlife refueling associated with the current Ohio class."
That is, current nuclear subs are hauled out for mid-life overhaul that can keep a sub out of the water for three years. To compensate for the downtime, the Navy has 14 Ohio-class ships. 
The new design will still require a mid-life checkup and update, but should be out of the water for a shorter period. This would mean that the Navy only needs to have 12 ships. "That's a significant cost improvement over the life of the program at the expense of the development for that new reactor-plant design," Stackley said.
The Navy is under budget pressure to keep the cost of the boats to $4.9 billion each; that's down from the $6 or $7 billion price tag proposed in 2009. Current plans call for construction of the next-generation submarine to begin in 2021, with first deployment in 2031.
"After that, you may never hear from it again," quipped Wired's Danger Room. 
 – via Wired 
John Roach is a contributing writer for NBC News Digital. To learn more about him, check out his website. For more of our Future of Technology series, watch the featured video below.