Once upon a time, both seasoned travelers and fictional characters full of dreams cataloged journeys — real or imaginary — with wall maps and push pins. Sure, it made for interesting decor, but sharing such visualized adventures was also a somewhat cumbersome process. 
Now, Pinterest — the virtual pinboard photo-sharing website that revolutionized the way we obsess over felting possibilities and Tom Hiddleston — is doing the same for travel. On Wednesday, Pinterest introduced Place Pins, a new mapping tool to help you — among other things — plan the places you'll go and the things you'll do once you get there. You can add a map to an existing board, or create a new board for your interactive map, and start adding photos as you go. 
"Every day people Pin about 1.5 million places, and now there are more than 750 million Pins of these destinations on Pinterest" the social network announced. "You can use your new map-enabled board for anything: planning a vacation, remembering memorable meals, or plotting out your interests (i.e. favorite ramen noodle spots in NYC)." 
Pinterest location data is powered by Foursquare, which means you can put your Place Pins on a specific address, as well as add extra information about what makes these areas special to you. You can also pin information directly from from sites like TripAdvisor, AirBnB, and Jetsetter, among others. Your Place Pins are handily available on mobile, so you can check your boards while on the go. 
TODAY used the new Pinterest Place Pins to share photos of the gorgeous sunrises shared by our viewers, pinned to their locations. 
A few other fun boards: Andrew Zimmerman created a map of Great American BBQ, and EarthXplorer pinned beautiful images across the world.
If you want to create your own, it's pretty easy. Pinterest explains how:

Creating a place board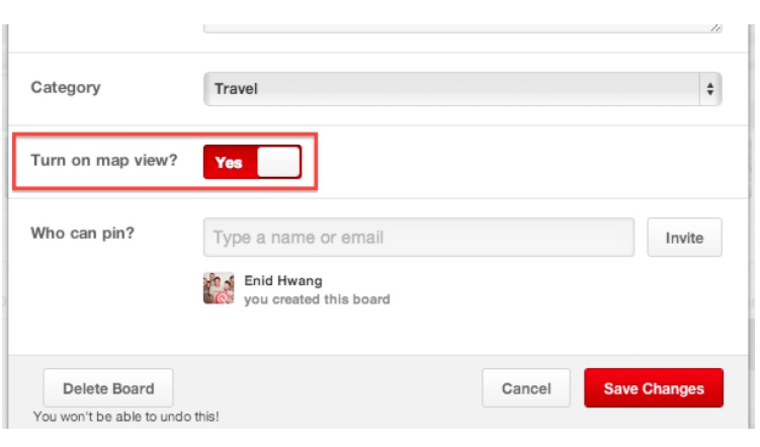 1. Click "Edit" on an existing board you'd like to modify or you can create a new place board.

2. On the pop-up window, toggle the new "Turn on map view?" setting to "YES."
**Note: You'll be able to switch any board back to normal by switching this setting back to NO.
3. Click Save Changes.

Adding Place Pins
From here, there are two ways of adding Pins on a place board. To place existing Pins on the map, click "Add" underneath a Pin. In the pop-up, type in the name of the shop/restaurant/destination and a city to help narrow your search to the correct region. To add brand new Pins directly to the map, click the "location button" on the map. In the menu, type in the name of the shop/restaurant/destination and a city to help narrow your search to the correct region.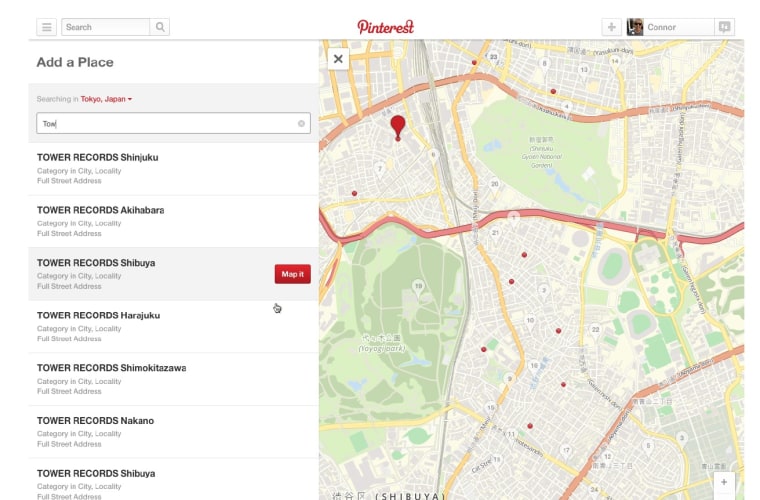 Helen A.S. Popkin writes about the Internet. You can find her on Twitter and/or Facebook.