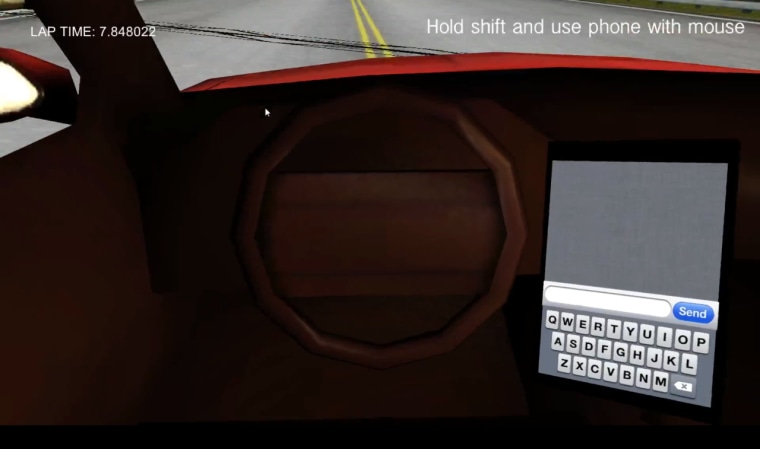 If there was any doubt left about the dangers posed by texting while driving, it was erased this week when a state appeals court in New Jersey said that third-party texters could be held liable for accidents if they sent a person messages knowing that they were behind the wheel. But when it comes to educating the public, fear of legal retribution is only one part of the equation. Actually showing people how hazardous it is to drive and text at the same time before they ever make the mistake of doing so in real life can be just as helpful, if not moreso.
That's the idea behind "SMS Racer," a new video from Ludum Dare game jam, a three-day event where independent developers congregate to turn out rapid-fire games and prototypes. Like all racing games, "SMS Racer" gives players a simple task: make it around the track as fast as possible. The twist? You have to do so while periodically receiving text messages on your phone, diverting your gaze away from the road to type out a frantic "OMG" or "SMH" within ten seconds of receiving the message.
If you don't respond to the message within 10 seconds, the game's narrator informs you that you're being "rude" and invalidates your current lap time. Whenever you take the time to look down at the phone screen, however, you suddenly find yourself a lot closer to the edge of the road when you look back up.
If that sounds difficult, well, so is trying to send real-life text messages (that are probably longer than "LOL" or "JK"). And that's the whole point. Seeing as it was made in 72 hours, "SMS Racer" doesn't have the polish of a game like "Mario Kart" or "Need for Speed" — the game doesn't even have other cars on the road, though if it did, it might have been impossible to finish a single lap. But it gives something different than those kinds of racing games do, which is the actual tenuous experience of driving. Like a growing number of "empathy games," "SMS Racer" uses its gameplay to ask its players to reflect on the decisions they make in real life.
You can download "SMS Racer" for free on the game's website. Watch a video of its gameplay below.
-via Popular Mechanics

Yannick LeJacq is a contributing writer for NBC News who has also covered technology and games for Kill Screen, The Wall Street Journal and The Atlantic. You can follow him on Twitter at @YannickLeJacq and reach him by email at: Yannick.LeJacq@nbcuni.com.