Over the last few years, the evolution of compact, mirrorless cameras (so called because they lack the reflex mirror that distinguishes SLRs) has been progressing rather quickly. The demand for a device that's more capable than a point-and-shoot or phone camera yet less bulky than a DSLR created a minor explosion of designs and systems. Olympus has grasped the opportunity firmly, and its PEN series of cameras are among the most popular.
Having tested out many of them, I often find that they all make too many concessions to the consumer side of the equation. Even Panasonic's GX1, perhaps the most advanced mirrorless at the time of its release, felt more like an overpowered point-and-shoot than a "serious" camera. So it is a great pleasure to review a camera that seems in every way to cater to more advanced photographers.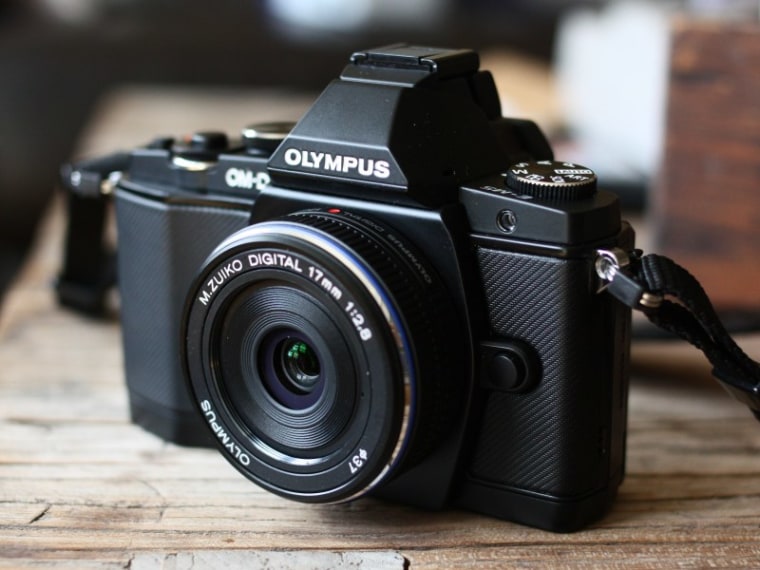 The OM-D E-M5 (an unfortunate naming scheme) is solid, well-designed and customizable. It's the first compact camera I've used that I felt could truly replace my Canon DSLR without serious sacrifices.

Olympus designed this with a retro aesthetic, having specifically in mind the OM system they sold in the 70s and 80s. The design is far from a carbon copy, and of course has to accommodate such things as an LCD and navigation buttons, but the general profile is similar. Everyone who saw it found it attractive, and the understated black and silver finishes project a serious but capable air.
It's on the small side, but with enough grip and sculpting that it fit my medium-sized hands quite well. One-handed operation was easily effected. The rear buttons are safely distant from the thumb grip and there's a nice texture to the front. The whole thing is splashproof, which is to say it'll handle rain and a light dousing, but shouldn't be used when snorkeling.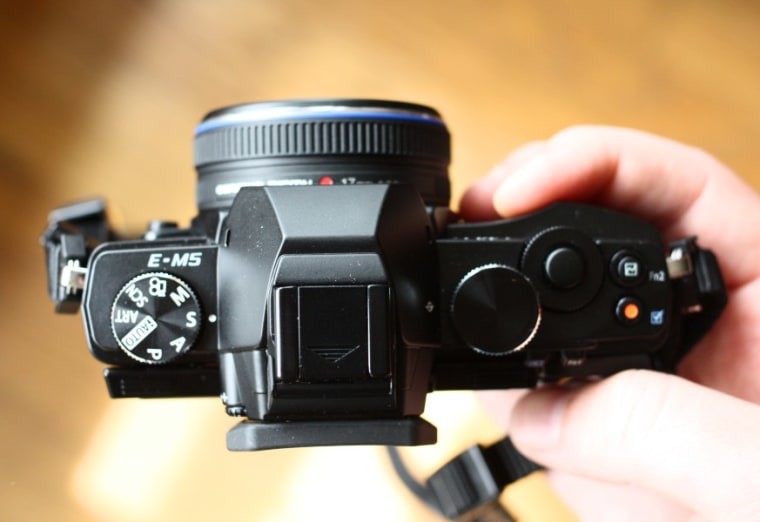 The controls are both straightforward and totally customizable. On top, you've got two blank dials that can be set to any number of functions, from exposure bias to shutter speed. It's settable per shooting mode, too, so in aperture priority mode it can be one thing, and in scene mode another. There are two function buttons that can be programmed as well, handy in many ways. The options are overwhelming at first, but good photographers will soon find their way and create a system that works for them.

Inside the retro-looking dome is the 800x600 EVF and below that is the tilting touchscreen. Both are OLED and high frame-rate, meaning they've got great contrast and don't stutter like some LCD screens do. I put the E-M5 next to a competing camera and the difference was striking, with the advantage definitely on the Olympus side. The EVF could activate a bit quicker, but generally it was speedy enough.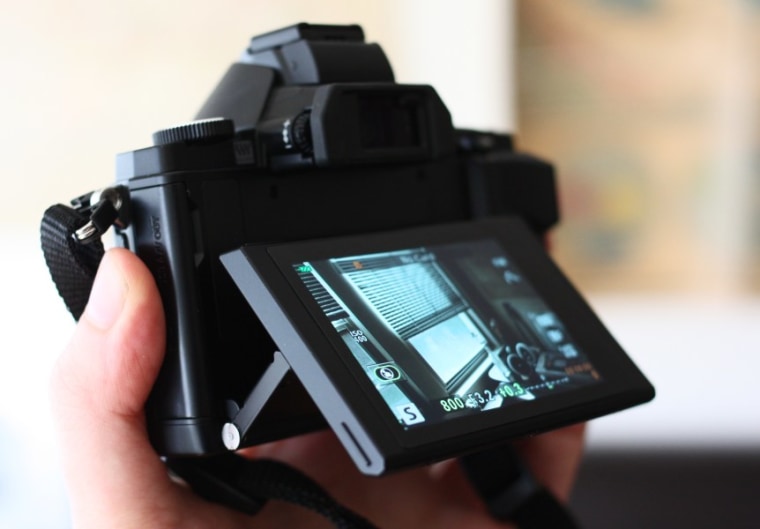 The touch screen is responsive and occasionally very useful. I liked being able to tap on the screen and take a picture instantly, letting it focus where I tapped. The autofocus was so fast that there was hardly any delay between tapping and shutter. I took the two following pictures within the same second: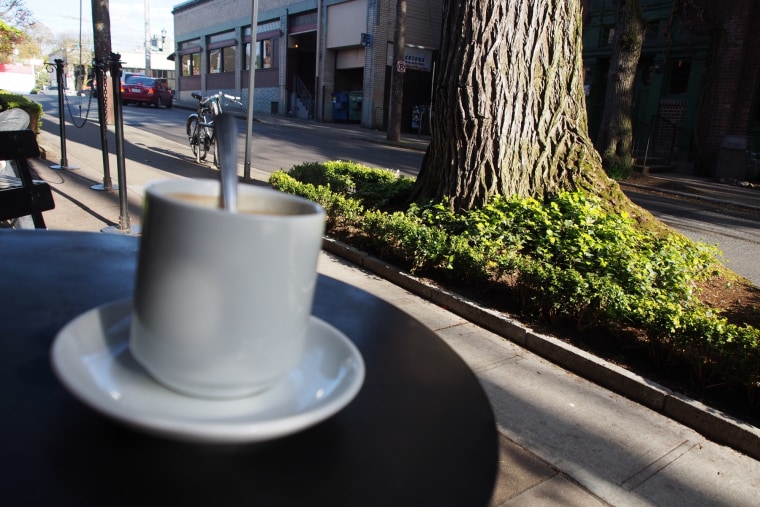 Not that they're the most amazing shots, but it's nice to have a touch-screen picture-taking mechanism that actually works.
Image quality will be assessed systematically by sites more suited to that purpose, but I found the default JPEG images from the E-M5 to be vibrant and crisp, with good representation of detail but very slightly soft on close inspection. The lenses I used (especially the zoom) both showed significant fringing in high-contrast areas, but it was soft and could almost certainly be adjusted for down the line.
If you'd like to see a few shots from the E-M5, check out this Flickr album. The shots haven't been edited except to be resized and recompressed.
Does this camera have any weaknesses? Well, the menu system is a bit uneven, and could use more touch integration. Sometimes buttons move you forward, sometimes back. And I didn't find the D-pad particularly easy to use.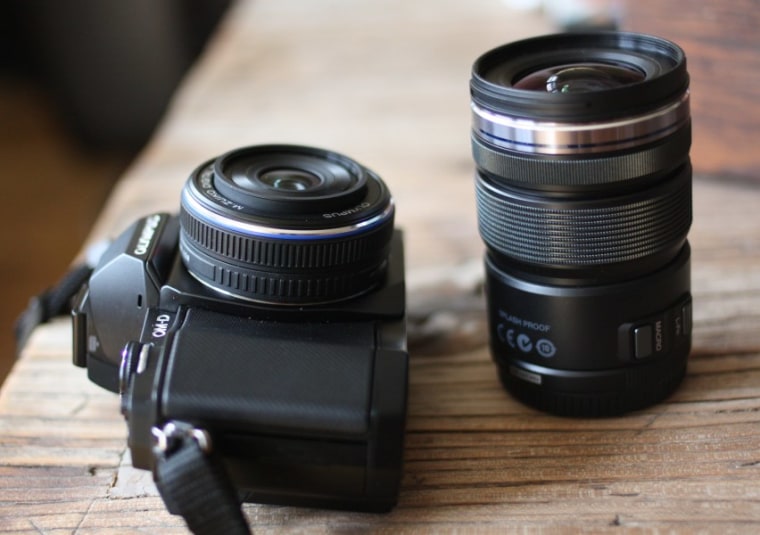 One of the camera's strengths is its compact size, of course, but not every lens shares this advantage. At first I used a 12-50mm zoom, which was perfectly serviceable (even added an extra f-button) but enormous, as you can see (at left). Switching to the fairly flat 17mm (34mm equivalent) prime saved both space and light, making the camera both more portable and more capable in darker situations.
Unfortunately, you'll have to choose between small and zoom, since Olympus doesn't have one that really ticks both boxes. Panasonic made an ultra-compact zoom for the GX1, to its credit, though operating it was no fun.
Lastly, there's the video: it's decent, but limited in terms of framerate and other options. DSLRs from Canon and Nikon are both more versatile in video than the E-M5 for far less money, though they are also of course far more bulky. Olympus would be wise to update the firmware with 24, 25, and 60 frames-per-second settings; the image processor can almost certainly handle it.
Perhaps the E-M5's biggest problem is its price. At just under $1000 for just the body, plus a couple hundred for a lens or two, you'll be spending as much as you would have on an enthusiast DSLR like the Canon 7D. The price is mostly justified, as this is certainly the best mirrorless I've used by a good margin, but it's still a chunk of change. At the very least I can assure the gun-shy mirrorless buyer that they will be happy with this camera; it may not be a bargain, but it is worth every penny.
Devin Coldewey is a contributing writer for msnbc.com. His personal website is coldewey.cc.