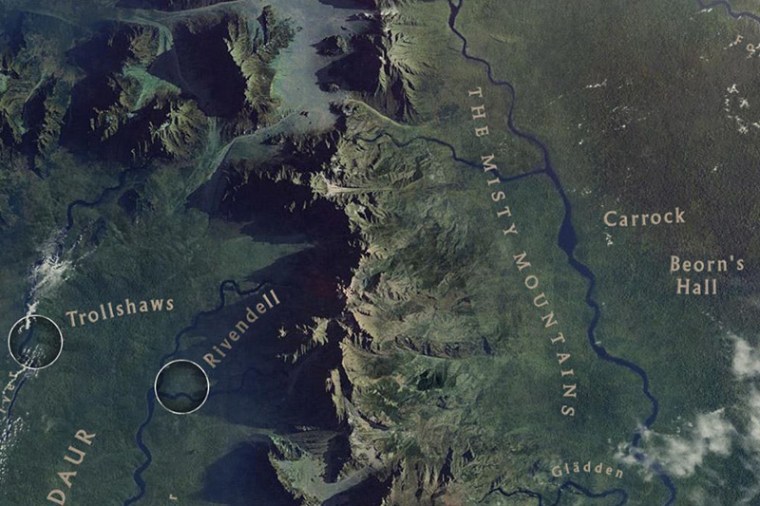 Google is letting users go to Middle-earth and back again with a new Chrome experience based on the upcoming sequel to "The Hobbit."
As anyone who spent their childhood poring over J.R.R. Tolkien's books knows, the detailed maps were a big part of the appeal of both "The Hobbit" and "The Lord of the Rings" series.
Now Google has created an interactive map of Middle-earth as its newest Chrome Experiment, which the company describes as "a showcase of web experiments written by the creative coding community."
Previous "experiments" let you do things like explore endless 3-D landscapes or destroy Google's homepage. This, however, is by far the slickest-looking one yet, thanks to the fact that it was done in partnership with major movie studios in anticipation of "The Hobbit: The Desolation of Smaug," which hits theaters on Dec. 13.
The carefully detailed map includes three interactive locations: The Trollshaws, where Bilbo Baggins and his party encounter, you guessed it, trolls, as well as the Elven refuge of Rivendell and the evil wizard-infested fortress of Dol Guldur.
Clicking on each location brings up an audio introduction along with the ability to swipe through bios of different characters. There are also three different mini-games, which are playable on Chrome for Android thanks to the fact that the 3D graphics were programmed using CSS3 and WebGL. (iPhone users will get to experience "most" of Google's version of Middle-earth, but not the games).
Eventually, new locations will be added, including Lake Town and the Lonely Mountain, where the movie's titular dragon, Smaug, resides. The rest of the map is zoomable, featuring the names of major landmarks and towns as well as drifting cloud animations. 
This isn't the first time Google programmers have explored Middle-earth. In 2011, Google Maps unveiled an Easter egg that let users get walking directions from "The Shire" to "Mordor." Its helpful suggestion? "Use caution – One does not simply walk into Mordor."
Keith Wagstaff writes about technology for NBC News. He previously covered the tech beat for TIME's Techland and wrote about politics as a staff writer at TheWeek.com. You can follow him on Twitter at @kwagstaff and reach him by email at: Keith.Wagstaff@nbcuni.com