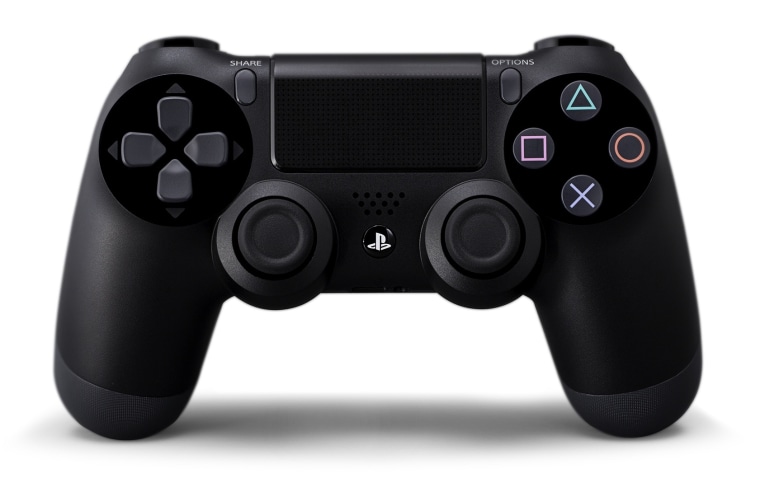 While Microsoft has been continuously swamped with controversies and unclear statements about the Xbox One's potential always-online features, it seemed like Sony had managed to sneak out of the digital rights management (DRM) doghouse — even telling PlayStation 4 fans at one point that company didn't even consider requiring a persistent Internet connection for its upcoming next-generation console.
But the company's brief respite from angry and anxious gamers screeched to a halt this weekend after prominent video game journalist Geoff Keighley reported that Sony was planning to use some form of DRM to control or limit access to used games.
"Right now we're not hearing a lot from the game publishers about what their view is on" used game sales and DRM, Keighley said, adding that "console companies are becoming the bad guys" in the eyes of many consumers.
"And, you know, Microsoft is getting beaten up a lot on it," Keighley said. "Sony, I think, has been seen as this kind of white knight so far that's not going to restrict used games. Based on some of the things I'm hearing, I don't think that's entirely true, because I can't see publishers allowing one system to do one thing and one do another."
That may not seem like much information to take a company to task for, let alone start a de-facto social media campaign to demand an explanation or assurance that the PlayStation 4 would allow its players unfettered access to used games. But that's exactly when PlayStation fans did, quickly taking to Twitter with the hashtags #PS4NoDRM and #PS4USEDGAMES to express their outrage over the console developer's prospective policy. A user on the popular gaming forum NeoGAF sparked the campaign with a post asking, "Is Sony listening?" that implored gamers to target key company executives in a direct and "respectful" manner on Twitter.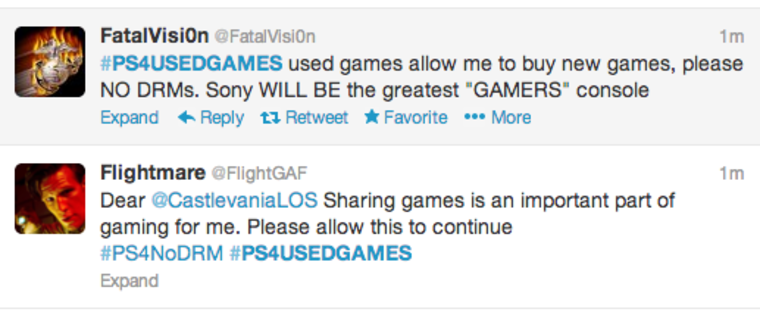 "The gist of it is that Sony is listening to the backlash that Microsoft is getting and they are basing decisions off of this," NeoGAF member famousmortimer wrote on Saturday. "I would assume [Microsoft] is also, but I don't know that for sure. But I can say, for sure, that the past week's PR nightmare for MS has not been lost on Sony and they, in fact, do have a used game 'solution' working and have been going back and forth for months on whether to use it."
Many frustrated tweeters are now threatening to not purchase the PlayStation 4 if Sony doesn't change its policy.
"We all have that scumbag friend who borrows our games and never gives them back," Twitter user Alex Rabina wrote Monday. "Yes, even he deserves to play them."
"I share games with my friends to share the great experience that is gaming," another user wrote to Electronic Arts COO Peter Moore to suggest that major third party publishers should not support controversial console features either. "Please don't block used games."
Microsoft angered many gamers this past week during its Xbox One announcement for (among other things) saying that the next-generation console will require some form of authentication when installing and playing used games. Essentially, Microsoft said that while players will still be allowed to purchase pre-owned copies of games, the company will charge them an additional fee to actual activate the disc on their personal console. Many of DRM's vocal detractors felt that this kind of verification process cheats customers out of the very discounts that lead them to buy used games in the first place.
So far, Sony's corporate face has not answered to the social media campaign directly or in any statements to the press, though several of the company's employees, such as Scott Rohde, Nick Accordino and John Koller, have responded to say that they are taking fan feedback into consideration.

"Humbled by the outpouring of passionate PlayStation fans and their willingness to talk to us directly," Accordino wrote on Monday. "Please know that we hear you."
But will "hearing" them be enough to assuage the many irate PlayStation fans that are now vowing to opt out of the PlayStation 4 entirely if it controls their use of used games? We'll have to wait until E3 to see what Sony truly has in store for its new console.
Yannick LeJacq is a contributing writer for NBC News who has also covered technology and games for Kill Screen, The Wall Street Journal and The Atlantic. You can follow him on Twitter at @YannickLeJacq and reach him by email at: ylejacq@gmail.com.