We've been hearing about "smart TV" for so long, the term is starting to sound dumb. But at Samsung's CES press conference Monday, the more I heard about the newest Smart TVs, the more I wanted one.
Usually, it's the opposite — the more you see and experience, the worse the stuff seems, riddled with caveats. And there are certainly caveats with Samsung's newest sets, but the more we heard today, the more this sounds like what everyone's expecting Apple TV to be.
The 2013 Smart TV interface consist of five screens that you wave through with your remote, the way you'd flick across the screens of a smartphone. (Coincidence? I think not.)
Page 1 is "what's on right now." Live TV personalized to your taste, plus some near-term recommendations. The "S-Recommendation" engine even knows what time of day it is, so it won't try to get you to watch TODAY at night, nor will it try to sell you on a Bond marathon when you're trying to go to work. At least in theory.
Page 2 is movies and TV shows, including on-demand content. Mind you, it's not integrated Netflix or anything like that. It's Samsung's own content offering. Will we all soon have Samsung media store accounts? That's a space to watch, for sure.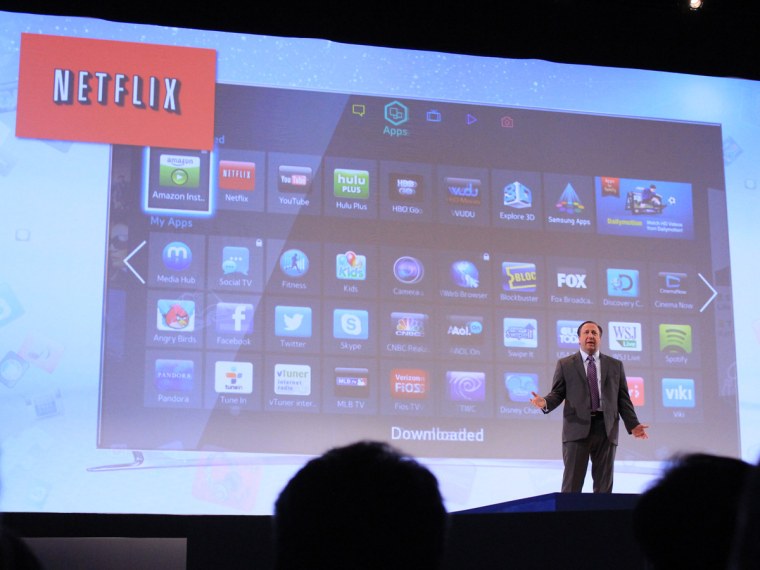 Page 3 is music and photos stored on devices around your home: computers, smartphones and network drives. If you pull up a photo, the camera-equipped TVs let you do a bit of "Minority Report"-like photo zoom and rotate. If they can keep the content organized across all the devices in my house, I'll be impressed.
Page 4 is social networking services and Skype-powered video calling, a coupling that could get powerful on the large screen, especially the part where grandparents get to tune in and talk to their grandkids. That's a powerful thing, more powerful, I daresay, than the draw of Facebook and Twitter. 
Page 5 is apps. Page 5. Like, it's the fifth most important thing. Thank you, Samsung. You are acknowledging that this whole universe of apps thing is neat, but it's not what Smart TV is all about. It's just a piece of it, like it's a piece of our smartphone experience.
My only beef with burying the apps on the fifth page is my overall beef with the system: Unlike, say, Panasonic's new smart TV interface, you apparently can't customize the home screen with your favorite stuff, including apps. I don't like that Netflix and my current favorite, Amazon Instant Video, are ghettoized on Page 5, if it means I have to wade through other stuff to find them.
Samsung is deliberately elevating its own services instead of promoting those of other companies, sure, but ultimately, user preference wins out over all of that. And that's coming from an iPhone/iPad enthusiast who eschews Apple services for those of Spotify, Google and Amazon.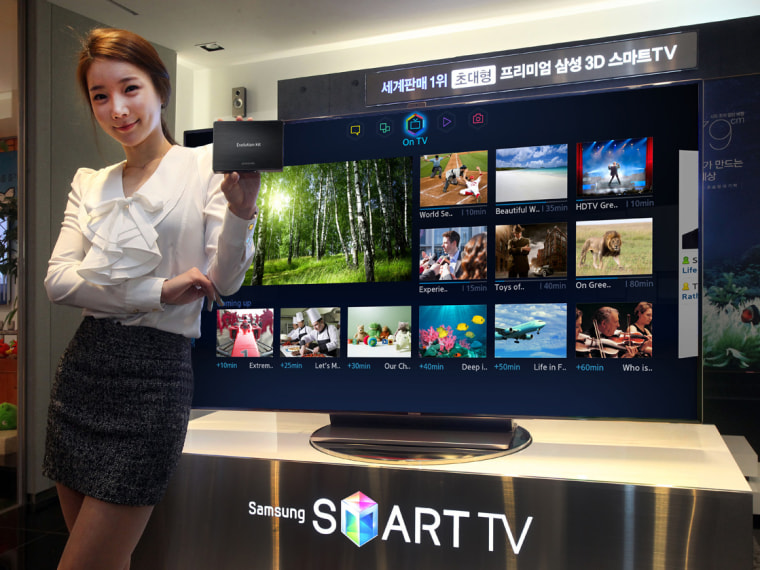 This whole interface thing can't be pulled off without serious hardware underneath. Samsung's newest TVs are the first with quad-core processors, making them three times faster than the last generation.
But if you were a sucker and bought a 2012 Smart TV, all is not lost: Samsung will sell an "evolution kit," otherwise known as "a brain transplant for your TV." You insert this tiny black box into a slot on participating 2012 Smart TVs, and the 2013 features "spring to life."
Not bad, but before I declare it the Apple TV that Apple didn't build, I want to see how it deals with my cable box. This is impressive, but you'll have to stay tuned for the final verdict.
Wilson Rothman is the Technology & Science editor at NBC News Digital. He'll be at the Consumer Electronics Show through Friday in Las Vegas, so feel free to tweet him up at @wjrothman, and join our conversation on Facebook.