I had just finished showering and turned off the water. Soaking wet, I did what millions of Americans do every day -- I reached for my snazzy sliding glass shower door. Seconds later, glass was raining down on me. The door had failed somehow and exploded into a million little pieces. The sound was hideous, something between nails on a chalkboard and a torrential downpour. Only this didn't make me wet, it made me bloody.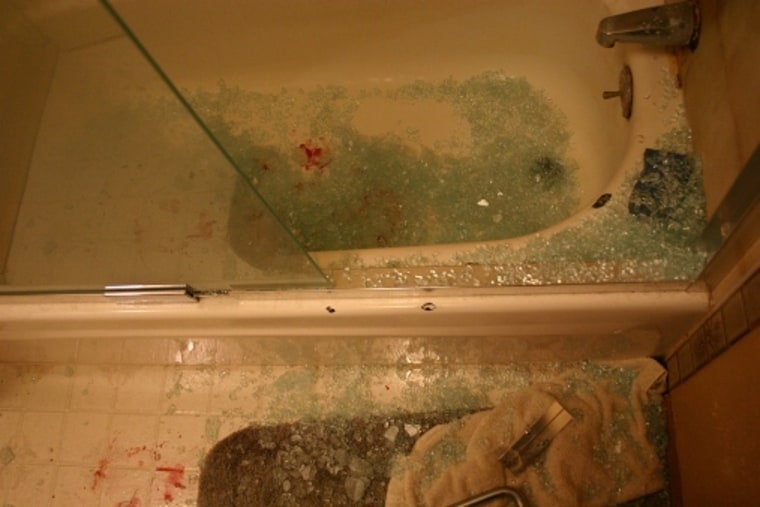 Glass shower doors are a substantial upgrade from old, mold-magnet plastic shower curtains found in many older homes. They look great. They let ambient light into the shower and make the bathroom look larger. If you have fancy tile rimming your tub, they show that off.
The aesthetics come with a cost however, as I recently learned the hard way: Glass shower and tub enclosures can shatter without warning, endangering any person or pet in the path of the raining glass.
Interviews with building inspectors, glass companies and manufacturers -- along with a quick Internet search for complaints -- reveal that it's fairly common for bath doors to shatter, a tendency that isn't made clear in glossy brochures with beautiful images of modern bathrooms.
It's important to note, however, that the doors are made of special tempered safety glass, required by federal, state, and local building codes and designed to break into small, relatively harmless shards. A shattered shower door will produce a pile of glass chips similar to the glass left in your back seat after a criminal breaks a car window to steal a GPS. In doing research for this story, I found no reports of life-threatening injuries from a broken shower door.
In my case, I was left with about 20 cuts -- not much worse than paper cuts -- along the right side of my body and on my feet. I had one fairly large gash on the top of my foot that bled profusely, perhaps because a piece of the door hardware fell on it.  And I had quite a scare. I had to figure out a safe way to climb out of the pile of broken glass without suffering more cuts, and then I had to shower in bath No. 2 to get broken glass shards off my body. Even so, I was picking small pieces out of my skin for the next day or so.
I sent pictures of the incident to Kohler, the manufacturer of my shower door, which confirmed it was their product.
"Glass doors do shatter," said Kohler spokeswoman Kristine Cristina. "We really can't give you an answer to how often because many people don't call to tell us." She said she believed the incidence was very low, however -- in the past two years, she said she knew of fewer than 10 incidents like mine. "It is very few and far between," Cristina said.
But it is not hard to find similar tales of bathroom floors covered in broken glass. In many cases, consumers report shower doors spontaneous exploding even when no one is in the bathroom.
"That's called a spontaneous blow," said Kathleen Bond, president of Sunset Glass in Bellevue, Wash., which occasionally is called on to replace broken shower doors. "Somebody is at the dinner table and they hear this crash."
What would make shower doors suddenly explode?  It turns out that their greatest strength – safety -- is also their greatest weakness. When glass is heated in the tempering process, its tensile strength is altered. While it becomes much stronger and resistant to direct impact, it becomes much more susceptible to a side impact. As a result, tempered glass dropped on its edge will readily shatter.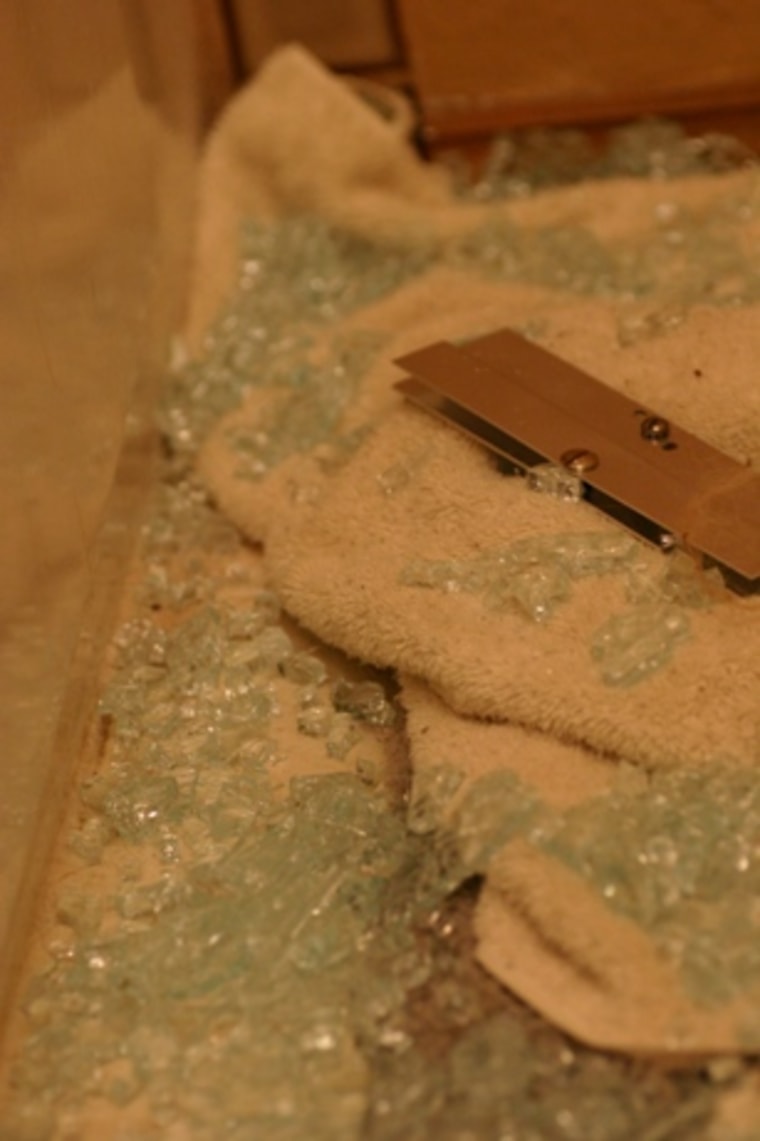 "I've broken tempered glass just trying to remove it," said Terry Love, a Seattle-area plumber. "When it pops, it's just instant. It's pretty amazing when you see it, how quickly it happens."
Cristina, the Kohler spokeswoman, said that sometimes a small fracture will occur on the edge of a shower door that won't immediately cause it to shatter. Hours or days later, the door will then explode, creating the appearance of a spontaneous blow, she said.
"It can happen for 100 different reasons," she said. The door could be incorrectly installed, rubber stoppers might be missing or cracked or the runner which lets the door slide is damaged. Or abusive treatment by consumers, such as rough openings and closings, could cause such a crack.
Bond said many incidents of breakage she's heard about involve cleaning staff who improperly handle the doors.
I don't know why my shower doors broke; there's not enough of them left to do honest forensic work, and the Kohler company declined to inspect them. I installed the doors myself about five years ago, using one of Kohler's "EZ Install" systems, and they worked flawlessly until last week. Still, it's possible there was some kind of operator error.
My memory is distorted by the surprise of the event, but I remember it this way: I grabbed for the door, felt it slip down slightly and then it exploded. I believe my door fell off the overhead runner, perhaps because a plastic wheel supporting the door broke. Slipping just an inch or so onto the bottom frame of the door could cause an explosion, according to several people interviewed for this story.
Still, after expressing concern for well-being, Cristina noted that "the tempered glass did what it was supposed to do."
My still-swollen right foot doesn't necessarily agree, but in truth, my injuries are remarkably negligible given the amount of glass that showered over me, and I am lucky that the tempering worked as well as it did. I shudder to think about the injuries I might have sustained were this normal glass.
It's important to note that there's nothing special about Kohler shower doors. There are scattered complaints about shower doors and tempered glass involving several manufacturers.
The Consumer Product Safety Commission, the agency charged with tracking complaints and issuing voluntary product recalls, uses a variety of statistical methods to estimate the number of injuries caused by thousands of consumer products to build a database it calls the National Electronic Injury Surveillance System. The information is generated from actual consumer complaints as well as sampling of data providing by hospital emergency rooms, said agency spokeswoman Nychelle Fleming.
The system tracks and estimates injuries caused by "glass bathtub or shower enclosures," and a query showed that they were involved in an estimated 1,986 incidents during 2009. There were another estimated 4,470 injuries involving "bathtub enclosures" where the word "glass" was not used by the consumer or hospital. Reading a random sample of those reports, however, made it clear that most involved glass enclosures.
But accidental shattering is not the only cause for those injuries. The supporting reports suggest that about half of the injuries were caused by a direct impact with the door, such as slipping and falling into it.
For perspective, there were an estimated 86,000 injuries related to toilets during 2009 -- most involving some variation of "falling off."
There have been no recent voluntary recalls of shower door products, but Kohler voluntarily recalled 41,000 doors with swinging hinges -- different from the sliding doors on my shower – in 2001. In its press release about the recall, the Consumer Product Safety Commission said the hinges of the door could fail, "causing the shower door to fall and injure nearby consumers."
WHAT TO DO
Glass in the home is a hazard, as any family with an aspiring athlete will tell you.  Glass doors and windows are no match for thrown baseballs or footballs – or even a child who falls into one.  There is no such thing as an injury-proof home. Glass shower doors are hardly the most dangerous glass in the house. Consumer Reports last year made the case that glass coffee tables pose a far greater risk, precisely because tempered glass is often not used. It said the tables cause approximately 20,000 injuries per year.
"This is a serious safety hazard with a simple remedy," wrote Donald Mays, senior director of Product Safety and Technical Policy for Consumers Union.
Still, the risk posed by glass shower doors is real. Russel Ray, a San Diego-based home inspector, said he believes injuries from falling into doors – as opposed to spontaneous shattering -- are a greater concern. As a result, he thinks glass doors probably aren't suitable for homes with elderly residents. "In assisted living facilities, you just don't see them anymore," he said.
Parents with small children might also consider the added risks of glass shower doors.
In case of a spontaneous blowout, Love, the plumber, said it's important to have a bath towel handy and to use it to throw over broken glass on the floor to create a safe route out of the bathroom.
Bond, of Sunset Glass, said she believes frosted or otherwise less transparent shower doors tend to shatter more often.
Kohler also offered this set of safety tips for long-term care of shower doors:
Ensure moving panels are securely attached to the door system.  If concerned, consult your instructions or contact the manufacturer.
Periodically check the shower door hardware to ensure fasteners remain secure.  Tighten them if needed.
Ensure moving glass panel is not directly contacting the wall or metal during operation. That means checking the panel alignment and making sure the bumpers and seals are in good condition.
Inspect glass regularly for any chips or cracks, paying special attention to glass edges, notches, and around holes in the glass for hardware.  If there is any evidence of a crack, replace the glass panel immediately.
Do not use the shower door towel bars as a safety grab bar or as a lift assist when getting in and out of the bath, or lowering and lifting off a toilet.
Become a Red Tape Chronicles Facebook fan and follow RedTapeChron on Twitter.