At Friday's house hearing on privacy and domestic drones, government representatives and civil rights advocates tried to wrap their brains around a drone-filled future.
Once drones are a common sight as scheduled in 2015, activists have suggested that privacy laws need an update. Police drones, for example, are already proving their use, but will privacy be threatened by more capable technology? Who should regulate their use, and how?

But some who attended the Subcommittee on Crime, Terrorism, Homeland Security, and Investigationshad questions beyond the issue at hand.
Rep. Louie Gohmert, R-Texas, asked the assembled panel of drone tech and privacy experts: "Can you shoot down a drone over your property?" Without answering the senator directly, the expert panel pointed out the obvious safety issue of a plummeting drone.
Representatives in government, like many Americans, are still coming to grips with the reality of drone technology, which today spans the range from missile-hurling Predators that land themselves to hobbyist quadracopters with an hour-long battery life that can be carried in a backpack. At a Judiciary Committee hearing on domestic drone regulation in late March, assembled senators were tickled by the idea of a mini drone with a camera in hands of an adolescent child. On Friday, committee participants asked serious questions they hope will be answered long before the drones are flying.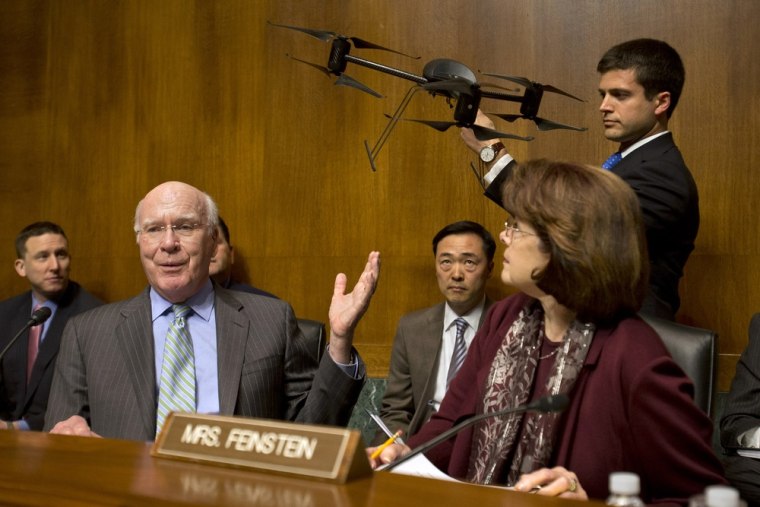 Rep. Bob Goodlatte, R-Va., posed a hypothetical question about evidence collected against the Boston Marathon bombing suspects.
"[I]f the Tsarnaev brothers had been detected by a drone," would that evidence be inadmissible in court? , brought up the FBI's shutdown and search for the Tsarnaev brothers in Boston among his first questions to the panelists.
In the immediate aftermath of the bombings, street cameras recorded footage of the event, Rep. Trent Franks, R-Ariz., said, later in the hearing. "Does it matter to you constitutionally if those images came from a street camera or unmanned surveillance?"
Christopher Calabrese, legislative council at the American Civil Liberties Union, said that warrants should be required for all law enforcement drone work, to prevent mass surveillance by the government. But his fellow experts argued that a blanket warrant requirement could have serious drawbacks.
"Suppose that law enforcement is monitoring a traffic accident [by drone] and on the sidewalk a terrible assault takes place," said panelist John Villasenor, a non-resident senior fellow at the Brookings Institution, a non-profit policy think tank, and a professor at UCLA. "Suppose the video evidence is the only evidence," he added, suggesting that a drone-approved for traffic monitoring would not be able to provide that evidence against the perpetrator of that crime.
Rep. Bobby Scott, D-Va., described a similar situation: "If you were watching traffic and you saw a drug deal, what then?" A warrant for traffic watching would prevent that drone's footage from being used in court.
Rather than defining when drones would and wouldn't be used, Gregory S. McNeal, an associate professor at Pepperdine University School of Law, recommended addressing the activities themselves. Defining the scope of search and watch activities would be more effective than making rules about devices, he said. For example, defining the duration of surveillance would be better than deciding if a wall-mounted or drone-carried camera can be used.
The senators had a laundry list of other concerns:
Racial profiling. Rep. Sheila Jackson Lee, D-Texas asked one panelist if racial profiling would be something to be concerned about in videos collected by future drones. "We've seen it applied in video cameras and it seems logical to assume that it would be applied here," Tracey Maclin, of the Boston University School of Law replied. The ACLU's Calabrese had said earlier, video surveillance even today wasn't perfect — operators "look for pretty girls and they follow their biases. We think it's very probably that that will happen with drones."

Drones with guns. Though the FAA currently bans the use of weaponized drones in the U.S., the thought of a drone carrying a gun still concerned some senators. "Are weapons ever appropriate with drones?" Rep. Scott asked. "By and large, no," ACLU's Calabrese responded.

Companies flying drones. Rep. Goodlatte asked if Congress should regulate the future of commercial drones, which are illegal in U.S. airspace now, but will be permitted by 2015. Calabrece responded that for "big time" drone users, like Fedex, for example, " privacy isn't the big issue there, it's safety."

The FAA is working on integrating commercial drones into the U.S. air space by 2015, acting on a 2012 mandate from Congress. If all goes according to plan, the international industry association for drones projects that the air crafts could have economic impacts for agricultural use and public safety that at the very top end will run into more than $300 million (in California).
While waiting for more drones in the sky, new drone legislation is cropping up around the U.S. Idaho and three states are the first among them, scheduled to have drone legislation enacted later this year. Meanwhile, cops across the country are already putting them to use.
Nidhi Subbaraman writes about technology and science. Follow her on Facebook, Twitter, and Google+.