I don't wear a watch. I haven't worn a watch since the aluminum band on my 1998 Swatch had a disagreement with the aluminum wrist pad on my 2008 MacBook Pro, and the MacBook won. Besides, the laptop, my cellphone, my cable box — even our newest car — all have clocks that set themselves. Don't get me wrong, I like watches. Watches are cool. But they're kinda … dumb. Enter the smartwatch.
Now that Samsung's Galaxy Gear is officially on its way, along with Qualcomm's Toq and Sony's SmartWatch 2, wrist-tops suddenly have gravitas. No longer is the market just novel products from startups like Pebble and I'm Watch: Smartwatches are real, and they'll only get more real once Apple joins in. It's time to ask yourself: "Would I ever wear one?"
My first response, a knee-jerk one, was "Nope." Why would I put something chunky and plastic on my wrist, long after I ditched a far sleeker, more beautiful watch? Maybe the Galaxy Gear's rubber band won't scuff up my computer like my old Swatch, but it's still an encumbrance, and encumbrances are for shedding, no?
As I pondered, I pulled out my phone to check the time. Then I pulled out my phone to see who was calling. Then I pulled out my phone, while out at a business dinner, to see what my wife texted me. Then I pulled out my phone and I pulled out my phone and I pulled out my phone and … you see where I'm going with this.
Wearing a "smartwatch means you look at your phone less," Philip Berne — who recently started working for Samsung but has long had smart opinions on mobile products — told me on Twitter, where I turned for outside opinions. "Faster glance, less obvious/obtrusive."
I challenged Berne: "Yeah, but won't we just become the guys staring at our wrists all the time??" I worry that a smartwatch will be a lot harder to ignore than a stifled phone in a pocket or purse.
He replied, "As a step back from staring at phones all the time, it definitely feels like progress."
While my other Twitter commentators were divided — traditional wristwatch lovers and those who have ditched watches were the most vocally opposed — the enthusiasm for smartwatches was surprising. It's not necessarily a win for Samsung, though.
"If it's from Apple, yes. Samsung's offering is too expensive and limited," tweeted one friend, likely referring to the fact that the $300 Galaxy Gear, at launch, only works with the upcoming Galaxy Note 3 smartphone. "There will be newer and better ones available for less money soon," wrote another. 

The smartwatch movement may encounter a bit of a gender gap, too.
"The Samsung looks big, bulky and just ugly, regardless of strap color," wrote another Twitter friend. "The size of the Samsung is just enormous for a woman's wrist." At one point in our Twitter conversation, she said she's looking forward to Apple entering the fray.
"I'd be considering [a smartwatch] if it was even slightly appealing. Apple generally integrates form and function extremely well," she said.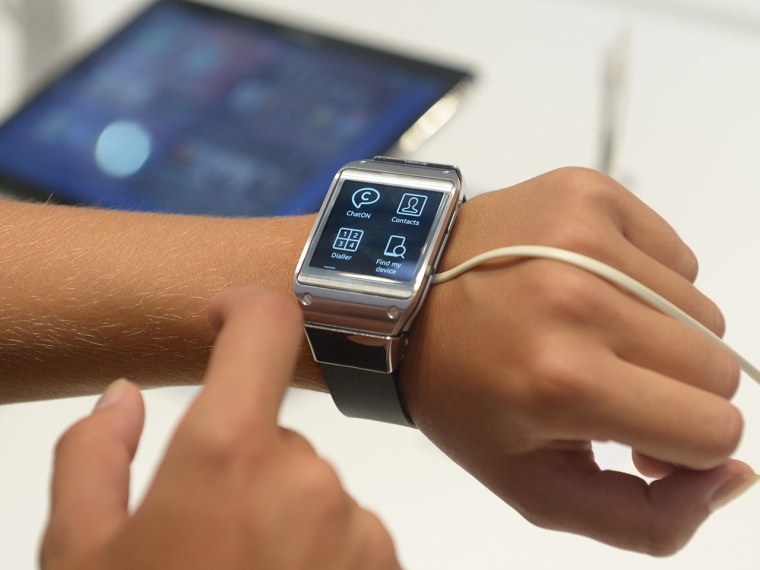 With all this in my head, I turned to Jeff Orr, the senior practice director of mobile devices at ABI Research. Orr's firm predicts that between 1.2 and 1.4 million smartwatches will ship worldwide by year's end, before any Apple products appear.
It's not about telling time, says Orr. "I don't think people are going to buy this product because they're suddenly interested in seeing time. It'll just be one of the many uses for a smartwatch."

And despite the price, this will not be a new kind of mobile platform, Orr explained. "Initially these smartwatch products are accessories," he said. "They're reliant on the host device, a phone, to make calls, receive alerts, etc."
Smartwatches aren't ready to be a whole new category of mobile device, like tablets, Orr says, but one day they may grow up, and even gain cellular functionality. That's a few years off — 2015 at the earliest — because of electronics, mainly battery and heat constraints.
For now, more companies like Samsung need to enter the business, Orr says. The best contenders would be Apple and Sony, because, like Samsung, they have the brand, the product and software ecosystem, and the sales channels to pull it off.
Perhaps the best reason for a surge in smartwatch interest is that the most cutting-edge alternative is, well, awkward. Yes, I'm talking about Google Glass. 
Not for a moment have I been interested in wearing Google Glass — no, not despite Google's repeated, ridiculous attempts to sway the fashion industry into convincing us that we won't look like total dweebs wearing it.
Google Glass may point to the future, one where we'll probably have miniature low-cost electronics embedded in most of our personal belongings (and in most of our persons, too). But the current system is not for me, or pretty much anyone else I know.
So here I am, turning the corner on this smartwatch thing. It's not an awkward return to the wristwatch era, but rather a smart pathway to wearable computing. The current crop is a bit clunky so I can wait for cheaper models and slimmer, better designs. But I'm finally willing to admit that in the next year or two, I'll be wearing one — and there's a good chance you will, too.
Wilson Rothman is the Technology & Science editor at NBC News Digital. Catch up with him on Twitter at @wjrothman, and join our conversation on Facebook.