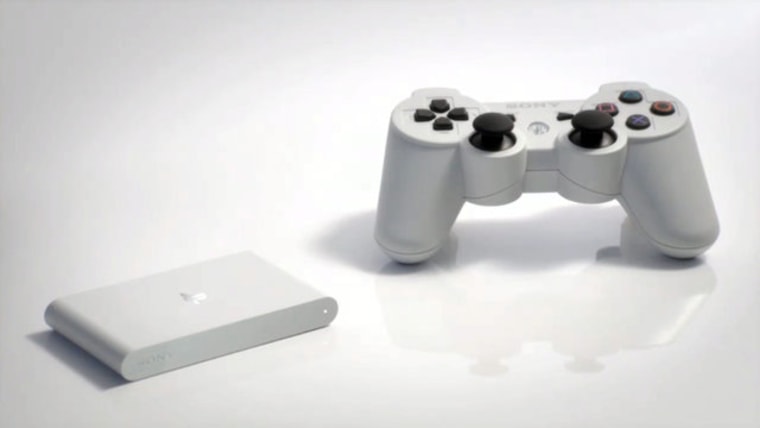 In a surprise move Monday, Sony unveiled a cheap set-top box that will let users play PlayStation Vita games on their TV sets along with a slimmer, faster Vita, both due out this fall.
In a move that's already drawing comparisons to Apple TV, Sony's newest piece of hardware, the PS Vita TV, bridges the gap between the company's pricier high-end gaming hardware and the world of multi-purpose media streaming. 
Like Apple TV or Google's new Chromecast device, the PS Vita TV is tiny both in its physical size (measuring just 6 x 10 cm, it's about the size of a pack of cards) and its sub-$100 price tag. The unique proposition Sony brings to the table, however, is that unlike these competing gadgets, the Vita TV also comes with an impressive library of video games. 
So far, Sony has only announced plans to release the PS Vita TV in Japan, where it also said it will not be introducing the PlayStation 4 until February 2014. Despite the gap in timing, however, the company said it thinks the new device will bring added value to the PS4 ecosystem by allowing users to stream content from the PS4 onto another TV if they're fighting with family members for screen time, and will also act as second Vita system for multiplayer gaming.
While Sony said that the Vita TV will support some 1,300 games to start, it will not be universally compatible with all PS Vita games since it uses the company's DualShock 3 controller, which lacks some of the Vita's bells and whistles like touch-enabled screen and back panel. The PS Vita TV will also support regional Japanese video services including Hulu, Tsutaya TV, Nico Nico Douga, and the company's own Video Unlimited, and will also offer Vita-like apps for social media and e-reading.
Seeing as Sony recently announced that the PlayStation 4 will officially arrive Nov. 15 and that the company is also dropping the starting price of the PS Vita by $50 to $199, the timing of the PS Vita TV's announcement might seem peculiar. But Michael Pachter, a game industry analyst at Wedbush Securities, told NBC News that the new device could help generate interest in the Vita from gamers and game developers alike.

"I think it's intended to keep the Vita relevant, encourage more games for Vita, and have a multi-functional use in the home," Pachter told NBC News.
Piers Harding-Rolls, head of games at IHS Electronics and Media, agrees, telling NBC News that Sony is making the new device to compete not just with Google and Apple, but also to secure its position in the TV-based gaming space against up-and-coming competitors like Ouya and PlayJam, whose smaller and cheaper "microconsoles" threaten to usurp the PlayStation 4 and Xbox One's position atop the console gaming food chain. And when it comes to games, Sony has a key advantage against all of these competitors: decades of experience.
"Where Sony's device differs from the independent competition is in its extensive back catalogue of games, its entertainment offering, the strength of the PlayStation brand and its interoperability with other consoles in Sony's lineup," Harding-Rolls told NBC News.
Sony also announced a new version of the PS Vita that's 20 percent thinner and 60 percent lighter (219 grams, or slightly less than half a pound) than the original version. At $200, the new version doesn't change much about the actual hardware or performance of the Vita except to add another hour to its battery life, bringing the total to six, and making it available in six new colors: white, black, blue, yellow, pink, and olive green. The company is also cutting the price of the Vita's propriety memory cards in Japan and introducing a new 64GB card, up from the current maximum of 32GB.
The new PlayStation Vita launches in Japan on Oct. 10, Sony said, with no details about an international release. The PS Vita TV launches on Nov. 14 for ¥9,954, or roughly $100. The company will also offer a bundle that comes with a DualShock 3 controller for ¥14,994, or about $150. 
Yannick LeJacq is a contributing writer for NBC News who has also covered technology and games for Kill Screen, The Wall Street Journal and The Atlantic. You can follow him on Twitter at @YannickLeJacq and reach him by email at: Yannick.LeJacq@nbcuni.com.