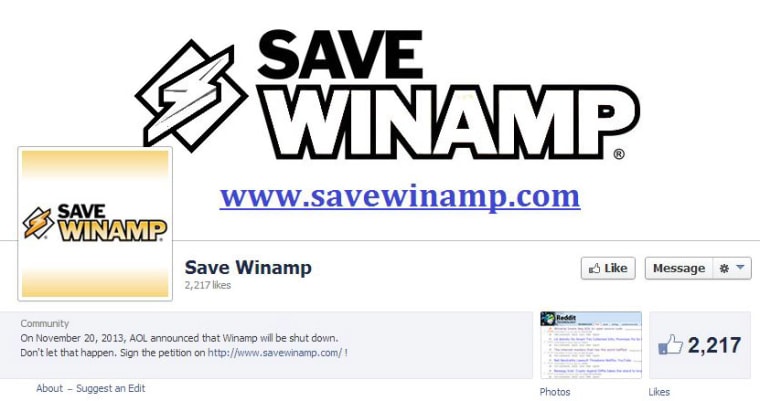 Last week, AOL announced that it was shutting down Winamp, ending the audio player's 16-year run.
In response, a group of developers has launched a "Save Winamp" campaign aimed at convincing AOL to release the program's source code. 
For the younger readers out there, yes, something existed before iTunes and Spotify. It was called Winamp, and it played new-fangled MP3 music files, which were best downloaded through Napster.
Released in 1997, it featured changeable skins, just in case you wanted some "Matrix"-themed downtime while listening to music in your dorm room.
The effort to save it started with a Change.org petition demanding: "AOL, Keep Winamp alive or let it go open source." It currently has more than 23,000 signatures. 
AOL was reached for comment but did not respond.
The company acquired Winamp in 1999, when it bought Nullsoft, Inc., for an estimated $80 million to $100 million. Two years later, Apple released the first-generation iPod, along with iTunes.
For many people, Winamp slid into obscurity after that point . In interviews with former and current Winamp employees, Ars Technica found that the program's user base slipped from a peak of 90 million to 30 million today, with less than a million of those in the United States.
Winamp tried to adapt by releasing an Android app and Mac desktop version in 2010 and 2011, respectively, but apparently it wasn't enough to save it, especially as streaming music services started to become more popular. 
Still, the group of developers behind the Save Winamp campaign — who are also pushing their cause on Facebook and Twitter — maintain that there are a lot of people who don't want to see it disappear.
"Winamp is the best media player ever built. It can't be left to die," their petition reads. "If AOL allows it to go open source it will live on forever and be in the hands of people who love it and use it every day."
Keith Wagstaff writes about technology for NBC News. He previously covered the tech beat for TIME's Techland and wrote about politics as a staff writer at TheWeek.com. You can follow him on Twitter at @kwagstaff and reach him by email at: Keith.Wagstaff@nbcuni.com