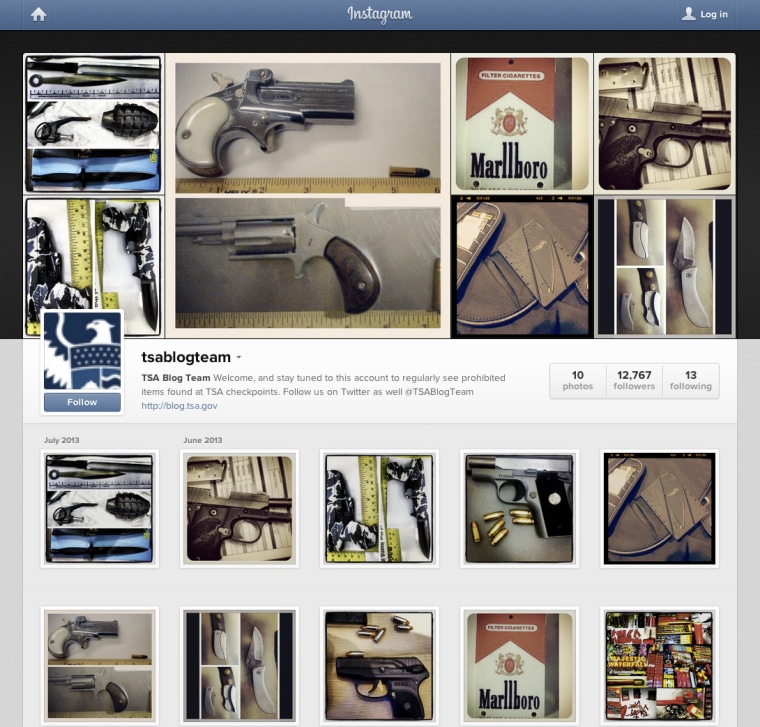 You know all of that stuff you're not supposed to carry on an airplane? It may seem obvious to most travelers that they shouldn't bring fireworks, revolvers, stun guns, hunting knives, grenades and the like into the cabin — but as the Transportation Security Authority's new Instagram account reveals, that doesn't stop 'em from trying anyway.
The images you can see on Instagram have captions with quick descriptions along with details regarding where the pictured items were found "Loaded firearm discovered in a carry-on bag at Austin Bergstrom airport. #guns #austin #texas #travel #aviation #airports #tsa #instatsa See and read more at http://blog.tsa.gov," a typical caption might say. (Yes, the TSA really seems to love hashtags.)
The TSA's "Week in Review" blog posts put the photos into greater perspective. One, for example, explains that in the week ending with June 28, 44 firearms were discovered at checkpoints around the country; 35 of those firearms were loaded and six had rounds chambered.
Bob Burns — the blog post's writer — additionally notes that a passenger at Chicago O'Hare blurted out: "I'm going to blow up this ####### place up if no one tells me where my flight is." None of the images on Instagram appeared to be related to this incident, but Burns explains that statements like this are a big no-no at airports as they can "not only delay the people who said them but can also inconvenience many other passengers if the checkpoint or terminal has to be evacuated."
So, other than to entertain and shock us with what some might dub "weapons porn," why is the TSA posting about prohibited items and other airport shenanigans?
"It's great to share the things that our officers are finding, but at the same time, each time we find a dangerous item, the throughput is slowed down and a passenger that likely had no ill intent ends up with a citation or in some cases is even arrested. The passenger can face a penalty as high as $7,500.00," Burns writes. "This is a friendly reminder to please leave these items at home."
About those hashtags
While the TSA (and most travelers) wish that folks would leave their weapons at home, we are wishing that the TSA would leave its hashtags at home.

One of the photos the agency posted to Instagram — which shows what looks like a pack of cigarettes — is captioned "#StunGun #disguised as a pack of #cigarettes discovered at #Cleveland - #cle #stun #stunguns #tazer #tazers #shock #shocking #travel #aviation #tsa #instatsa #tsablogteam #tsagram #instagood #instacool #webstagram #instagramhub #photo #gov20 #gov #all_shots See and read more at http://blog.tsa.gov."
Yes, someone on the TSA's typically Web-savvy team saw it fit to add the #photo hashtag to ... a photo.
"The worst thing is what I might call 'poor hashtag grammar,'" Chris Messina, a Google engineer who is believed to be the first to suggest hashtags as a Twitter tool back in 2007, recently told NBC News while speaking about hashtags in general. "Like #when #people #tag #every #word #in #a #sentence! That's not the point!"
You hear that, TSA? You need to clean up your act before the father of the hashtag sees what you're doing to his baby.
In the agency's defense, it has managed to keep things limited to as few as eight hashtags in more recent Instagram posts. Still too many hashtags for this writer's taste, but certainly a tiny bit more reasonable than two dozen hashtags in a single post.
Want more tech news or interesting links? You'll get plenty of both if you keep up with Rosa Golijan, the writer of this post, by following her on Twitter, subscribing to her Facebook posts, or circling her on Google+.