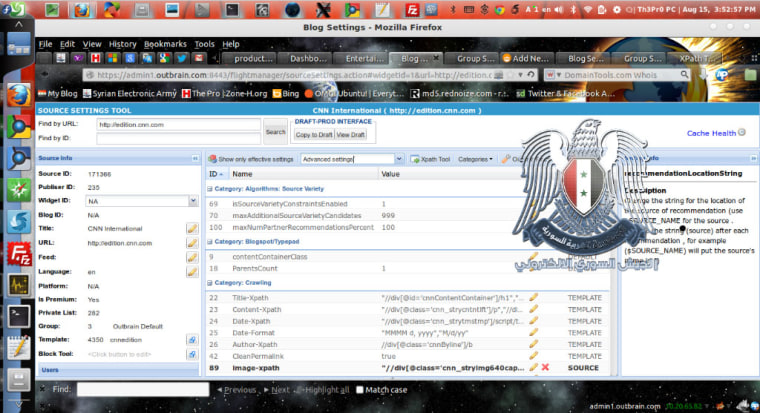 The Washington Post website was hacked and some readers were being redirected to the website of the Syrian Electronic Army, the newspaper said on Thursday. The "intrusion" lasted about 30 minutes, the Post said.
"We've taken defensive measures, and at this time there are no other issues affecting the site," said Emilio Garcia-Ruiz, The Post's managing editor-digital. 
The Syrian Electronic Army is an online group that supports Syrian President Bashar al-Assad. 
The group has also been linked to several high profile attacks including taking control of the Associated Press' official Twitter feed and sending out a bogus message about two explosions at the White House. 
The Syrian Electronic Army is also believed to be behind the attacks on Twitter accounts and websites of The Financial Times, BBC, and Reuters News. 
In another story about the hack, the Post said that the SEA attack against the paper was successful "because of a vulnerability in Outbrain, a third-party content recommendation service. Outbrain works by embedding a widget on websites filled with sponsored links, and it seems as though once the SEA had hacked Outbrain, that gave them access to redirect readers on certain pages to SEA-controlled sites."
The newspaper's engineers "have confirmed that Outbrain was the source of the vulnerability. Outbrain has also confirmed that its systems have been attacked, presumably a reference to the SEA."
On Wednesday, the New York Times website experienced about a two-hour outage most likely due to a scheduled maintenance update. 

The New York Times said it had no reason to believe the outage was the result of a cyber-attack. 
The Washington Post Co. last week agreed to sell its flagship and newspaper division to Amazon founder Jeff Bezos for $250 million.