Amazon is used for more than shopping; it's also a huge provider of cloud-based services, and on Monday, some of Amazon's higher-profile clients — including Netflix — went offline. This temporary outage was a result of what Amazon called "connectivity issues and degraded performance" from servers in Virginia.
"We are investigating the root cause," Amazon Web Services said on its status-of-service page, relating to one of three data centers having problems.
Other sites that experienced outages included Reddit, Airbnb, Flipboard and Fast Company, as well as Minecraft's gaming site. Bulletin-board site Pinterest was still down as of 4 p.m. ET on Monday, according to the tweet it shared on Twitter:

Then, later in the day, the popular website said things were looking better:

At 5:20 p.m. ET, Amazon noted that for one of its data centers, "We've now restored performance for about half of the volumes that experienced issues. Instances that were attached to these recovered volumes are recovering. We're continuing to work on restoring availability and performance for the volumes that are still degraded."
NBC News contacted Amazon for comment. When we hear back, we will update this post. 
Meanwhile, a person calling themselves "Anonymous Own3r" on Twitter, and claiming to be part of the Anonymous hacktivist group, said on Twitter he or she was responsible for Amazon's problems Monday. 
The same person claimed responsibility previously when Web-hosting company GoDaddy's service went down last month.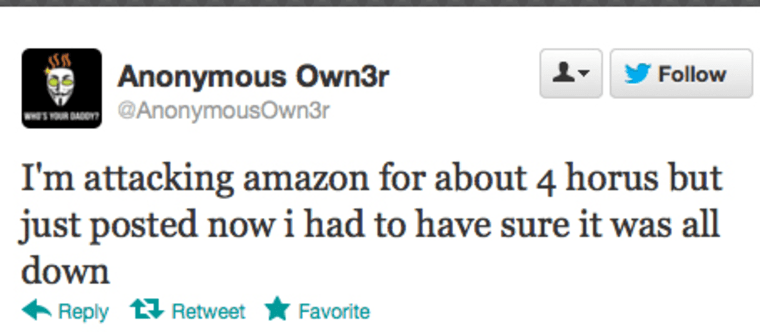 GoDaddy official Scott Wagner said after the outage the problem was "not caused by external influences," and "was not a 'hack' and it was not a denial of service attack (DDoS)," but rather was tied to a "series of internal network events that corrupted router data tables."
It's not the first time Amazon's data centers have had a significant interruption. There were two outages last June, and in 2011, an outage put Reddit, Quora and Foursquare, among other sites, out of commission for a few days. 
This story was updated at 8:34 p.m. ET. As of that time, Amazon is still showing problems with two of its data centers, down from three earlier in the day.
Check out Technolog, Gadgetbox, Digital Life and In-Game on Facebook, and on Twitter, follow Suzanne Choney.